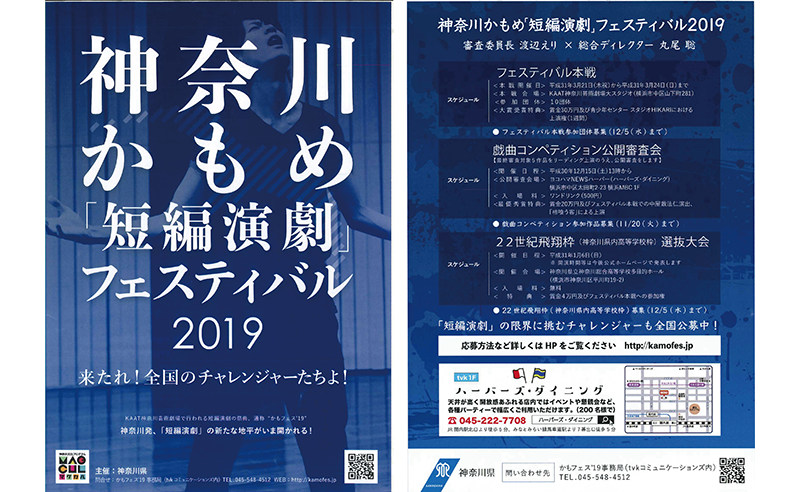 Other Theater / dance
Festival '19! Come it! Challengers nationwide!
神奈川かもめ「短編演劇」フェスティバル2019
2019.03.21〜2019.03.24
Kanagawa Kamome "Short Stories" Festival 2019 (nickname "Festival" Festival '19 ") will be held to foster diverse creative playmakers who will be responsible for the next generation as well as a 20 min" short story " To do. For that matter, we are looking for participating organizations of 'Festival' Festival '19', so please apply for everyone involved in the theater.
* For details on how to apply etc please visit the official website .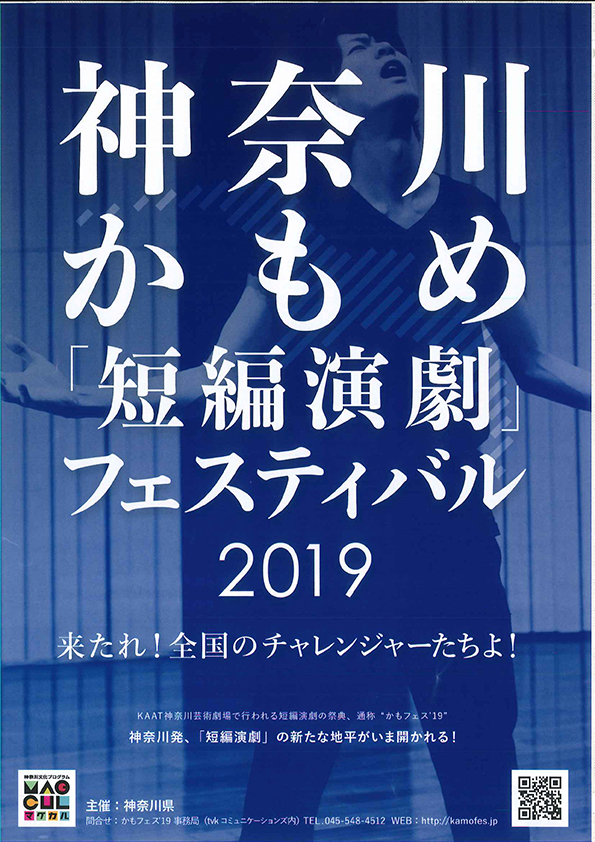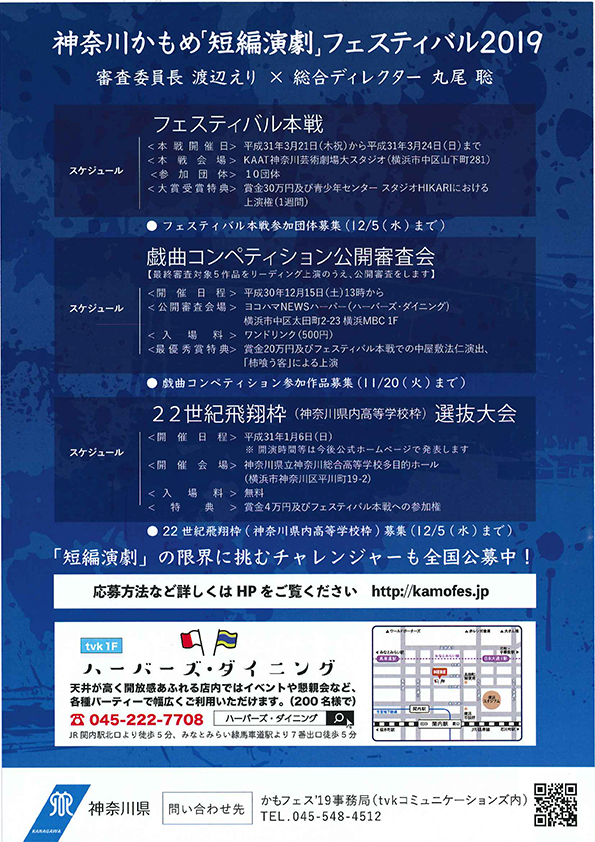 Kanagawa Kamome "Short Story Theater" Festival 2019
■ Festival final selection ■
[Date and time] 21st March (Thursday, congratulation) 2019 to 24 (Sunday)
[Venue] KAAT Kanagawa Art Theater Large Studio
[Judging Committee Chairman] Eri Watanabe (Actress), Satoshi Maruo (General Director)
[Participating Organizations] 10 organizations
[Grand Prize Winning Benefit] Prize of 300,000 yen and right to perform at HIKARI Youth Center Studio HIKARI (1 week)
"FestivalWanted Participant Organizations for Fighting Fight "
(5 of them participated in the fight)
[Recruitment Period] October 1 (Mon) – December 5 (Wed)
[Selection method] We will select about five organizations of the finalist participation group by proposal documents, performance images etc submitted by the public recruitment organization at the executive committee.
[Publication of selection results] January 7, 2019 (Monday) (planned)
[Benefits to Final Participating Organizations] Assist in the range of 40,000 to 150,000 yen, taking into account the amount of travel expenses
"Recruitment of work participating in drama competition"
(Of which one work participates in the fight)
[Submission Period From Monday, October 1 to Tue 20, November
[Selection method] After the leading performance, the final judging 5 titles will be openly judged by the judging committee and the Best Work Award will be decided.
[Screening date] December 15 (Saturday)
[Jury meeting place] Yokohama NEWS Harbor (Yokohama Media Business Center 1F -2-23 Ota-machi, Naka-ku, Yokohama)
[Bonus for Best Work Award Winning Works] Prize 200,000 yen
* Theatrical company "Kaki eating customers" directed by Mr. Nakayashiki Mr. Noriya is going to perform the best work in the main festival festival.
"Recruitment of the 22nd Century Flight Frame (Kanagawa Prefecture High School Frame)"
(Participation participated in the main battle)
[Recruitment Period] October 1 (Mon) – December 5 (Wed)
[Screening meeting date] January 6, 2019 (Sunday)
[Selected tournament venue] Kanagawa Prefectural Kanagawa Senior High School Multipurpose Hall
[Benefits to winning group] Prize of 40,000 yen, participation in festival main battle
Area

Yokohama Bay Area (Naka-ku and Nishi Ward)