Other Art and photography
2019.04.12
Let's make an "Aikawacho 2020 Calendar" with everyone!
「Good ❤ Aikawa-cho Monthly Photocon」
(Please note that this page was created using Google's automatic translation service and understand that because of this, its translation may not necessarily be accurate.)
This is a photo contest that aims to raise awareness of Aikawa Town and increase the sensitivity of Aikawa Town by soliciting photogenic photos from Instagram that capture the charm of Aikawa Town in Kanagawa Prefecture.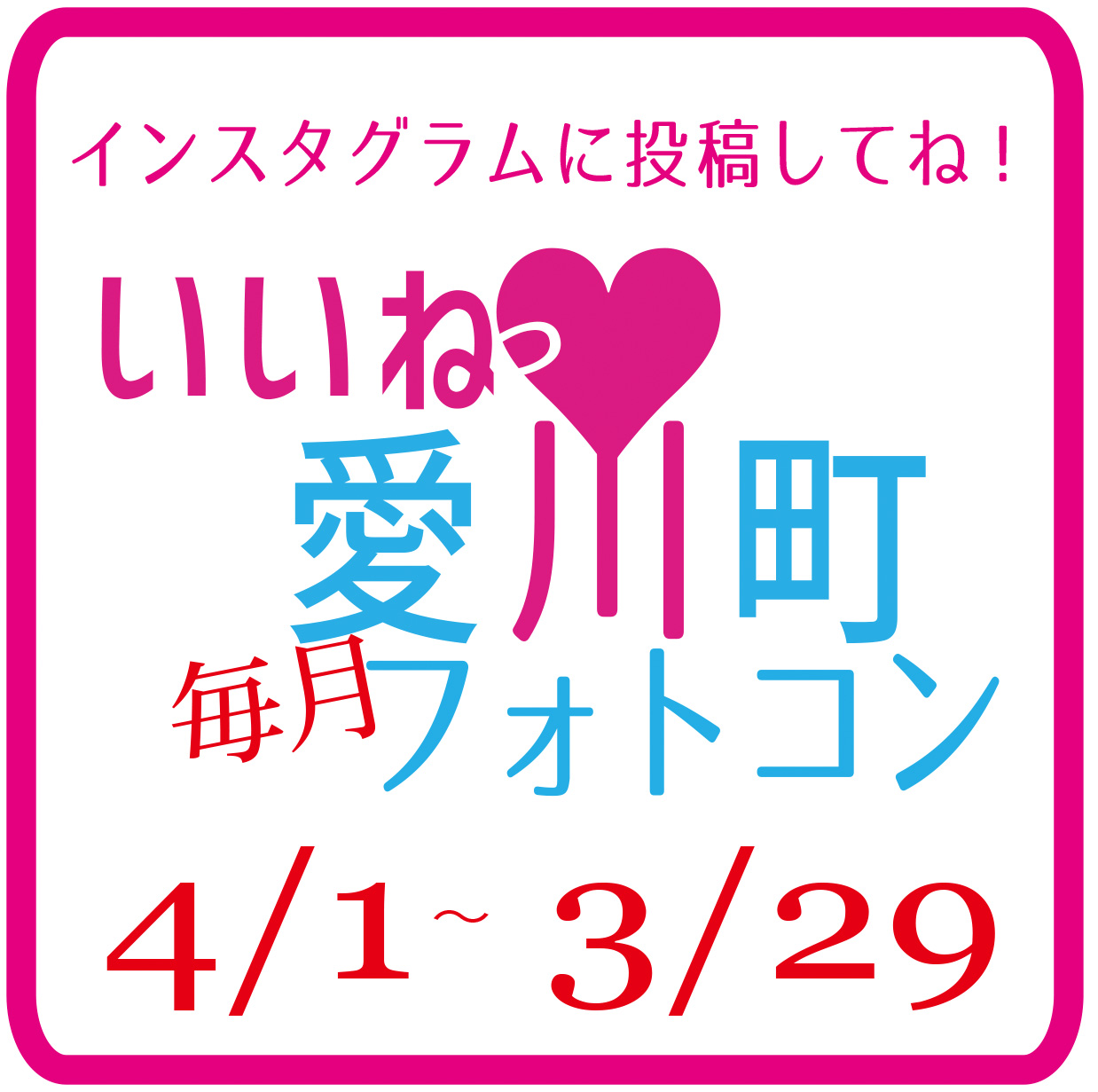 Good ❤ Aikawa-cho Monthly Photocon
[Date] Monday, April 1, 2019 to Sunday, March 29, 2020
[Application method]
■ Step 1 Follow the official photo contest account @aikawaredcarpet ( https://www.instagram.com/aikawaredcarpet/ ) on Instagram.
■ Step 2 Photogenic photos taken in Aikawa-cho every month, list the work title, shooting location, hashtag (# ○ Tsuki no Aikawa-cho # Aikawa-cho photocon) and tag the official account (@aikawaredcarpet) I will post it. * ○ indicates the month of application.
* You can apply multiple times.
* Please submit one photo for each application. If you have submitted multiple photos, enter the photo displayed at the top.will do.
[Gift Award]
(1) Among the entries submitted each month, the work with the most "Like" number is certified as the monthly champion. It will be posted on the "Aikawacho 2020 Calendar" (electronic calendar from April 2020 to March 2021) produced by Aikawacho.
(2) Among the entries, multiple works will be selected by the secretariat (Aikawa Town Hall General Affairs Division Public Relations / City Sales Group) and posted on the Aikawa Town 2020 Calendar.
[Result announcement]
(1) Monthly champions will be announced at the beginning of the following month (March monthly champions will be announced on March 31).
(2) Entries submitted for the "Aikawacho 2020 Calendar" will be announced after April 2020.
[Applicant benefits]
①A lottery will be drawn from the entries submitted every quarter (April-June, July-September, October-December, January-March), and a bonus will be given to the two selected applicants (1,000 yen for the book card) Will be presented.
② Seriously Aikawa Town! Club members (limited to those with an application account) will receive 20 points per application. Click here for membership registration!
[TEL] 046-285-2111 (extension 3221 / Aikawa-cho General Affairs Department General Affairs Division Public Relations / City Sales Group)
* Please check the photo contest special website for details on application conditions and precautions.