14 years after Chopin's return, there is a deep and beautiful pianism here
YOKOSUKA ARTS THEATRE Date: 2019.11.17
58 days left
「Yokosuka Arts Theater Recital Series 57 Rafau Blechacz Piano Recital」
(Please note that this page was created using Google's automatic translation service and understand that because of this, its translation may not necessarily be accurate.)
(TOP image) Rafau Blechacz © ︎Marco Borggreve
In 2005, he won the 15th Chopin International Competition and was said to be the best Chopin player in the same generation. A few recitals will be realized in Yokosuka. Chopin's specialty is expected to be a more mature performance, as well as a carefully selected program such as Mozart and Beethoven's work that he describes as "questioning the meaning of life". Please enjoy the beautiful sound that resonates in your heart.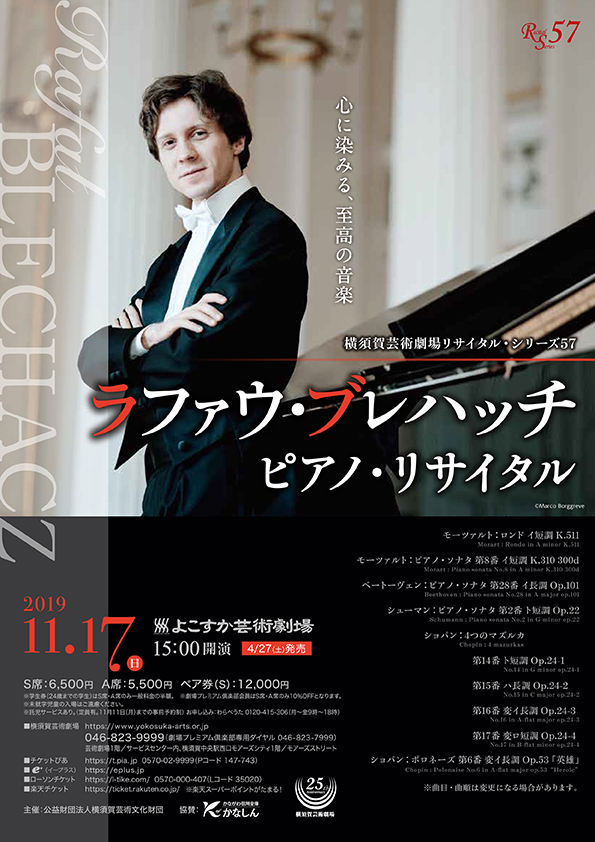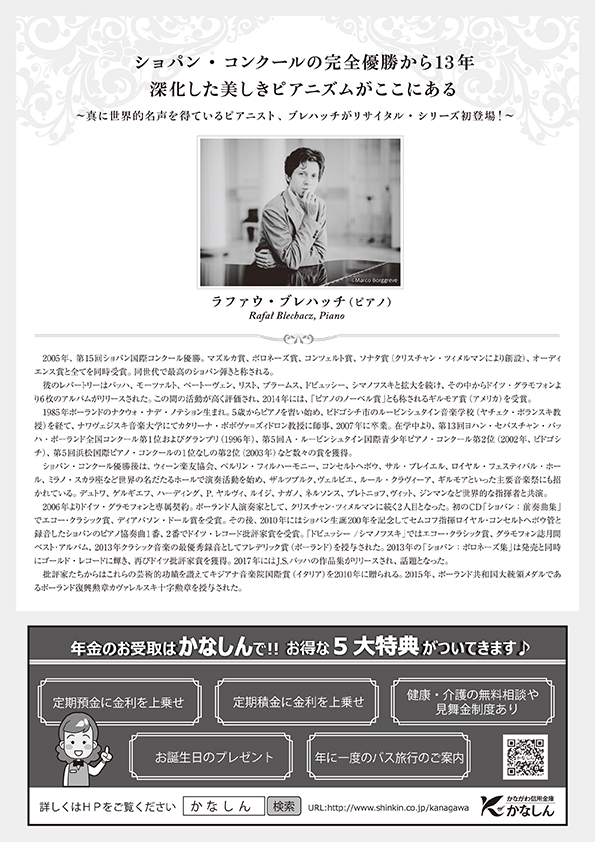 Yokosuka Arts Theater Recital Series 57
Rafau Blechacz Piano Recital
[Date] November 17th (Sunday) 15: 00- (14:30 opening)
[Venue] Yokosuka Arts Theater (Grand Theater)
[Cast] Rafau Blechacz (piano)
[Song] Mozart: Rondo in A minor K.511, Mozart: Piano Sonata No. 8 in A minor K.310 300d, Beethoven: PianoSonata No. 28 in A major Op.101, Schumann: Piano Sonata No. 2 in G minor Op.22, Chopin: Four Mazurka No. 14 in G minor Op.24-1, No.15 in C major Op.24-2, No.16 No.14 in A flat major, Op.24-3, No.17 in B flat minor, Op.24-4, Chopin: Polonaise No.6 in A flat major, Op.53 "Hero"
* The song title and order may change.
[Price] S seat ¥ 6,500, A seat ¥ 5,500, Pair ticket (S seat) ¥ 12,000
[Ticket sales]
■ Telephone Reservation Center: (General) 046-823-9999 / (Premium Club Dial) 046-823-7999
■ WEB: Click here for ticket reservation.
■ Theater counter: Yokosuka Arts Theater 1st floor / inside the service center
■ Yokosuka Chuo Station West Exit Mores 1F / Mores Street
[Organizer] Yokosuka Arts Foundation
[Inquiries] 046-828-1602 (Yokosuka Arts Theater)
* Please refrain from entering preschoolers.
Yokosuka Arts Theater is the site of the post-war Japanese jazz birthplace, EM Club (US Navy Corps Club), in February 1994, as a place to connect people and culture that enrich the lives of Yokosuka citizens. Opened. The EM Club is the birthplace of jazz in Japan after the war, and international entertainers such as Louis Armstrong have visited frequently since the end of the war. In addition, George Kawaguchi, Nobuo Hara and other representative musicians from Japan later played a hot performance, sending authentic American fragrant music nationwide.

The theater is composed of two theaters with different faces: a large theater (Yokosuka Arts Theater) and a small theater (Yokosuka Bayside Pocket). As a symbol of Yokosuka, there is a base for art and culture.

Address

3-27 Honcho, Yokosuka City, Kanagawa Prefecture

TEL

046-828-1600

Business Hour

[Closed] Every 2nd Wednesday of the month and the year-end and New Year holidays

Parking Area

Existence (pay underground parking lot <Bay Square Parking>) ※ The underground parking lot is a general parking lot, so it will be very crowded depending on the day of the week and the time of day. In particular, please note that vehicles with a height of over 1.7m may not be parked.

Map