Amazing charismatic violinist Yasutaka Ishida's recital performance
Kanagawa Kenmin Hall Date: 2019.12.17
90 days left
「Yasutaka Ishida Violin Recital 2019」
(Please note that this page was created using Google's automatic translation service and understand that because of this, its translation may not necessarily be accurate.)
An amazing charismatic violinist Yasuhisa Ishida held a recital performance on December 17 (Tuesday) in Kanagawa Prefectural Hall Small Hall.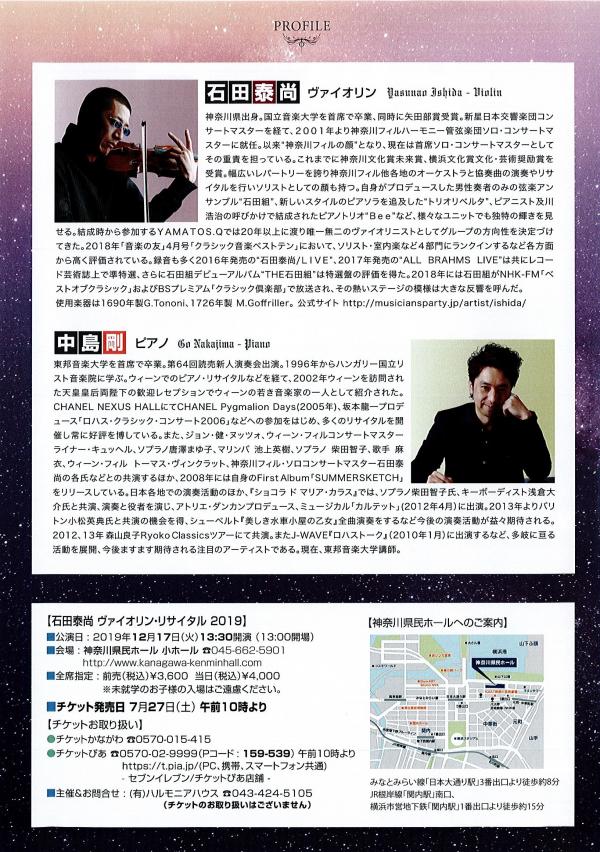 Yasutaka Ishida Violin Recital 2019
[Date] December 17th (Tuesday) 13: 30 ~ (13:00 opening)
[Venue] Kanagawa Prefectural Hall Small Hall
[Cast] Yasutaka Ishida (violin), Go Nakajima (piano)
[Song] WA Mozart: Violin Sonata No. 11 in E flat major kv.26, Violin Sonata No. 12 in G major kv.27, Violin Sonata No. 28 in E minor kv.304, F. Schubert: Piano and Violin Sonachine No. 3 in G minor D.408 Op.173-3, F. Chrysler: Louis XIII song and Pavane in Couplin style, beautiful Rossmarine, love sadness, love joy, shepherd madrigals, clown Prelude and Allegro in the style of the actor, Puñani
[Price] (All seats reserved) ¥ 3,600
[Organizer] Harmonia House
[Ticket sales] Ticket Kanagawa WEB reservation here ! TEL.0570-015-415 (10: 00-18: 00)
[Inquiries] 043-424-5105 (Harmonia House)
* Please refrain from entering preschoolers.
In 1975, it was established as one of the nation's leading large-scale cultural facilities in a privileged environment such as Yamashita Park, Yokohama Port, and Chinatown, and as a space familiar with international music, performing arts, and art.
A variety of performances are held mainly by artists who are active in the world to create and promote art culture.

Address

3-1 Yamashitacho, Naka-ku, Yokohama, Kanagawa

TEL

045-662-5901

Business Hour

Opening hours: 9: 00 ~ (Closed hours depend on performance)

Map