String ensemble concert by a young muse
戸塚区民文化センター さくらプラザ Date: 2019.11.14
58 days left
「Masterpiece Salon Vol.21 Hall Special Performance Sakura Plaza String Ensemble by Supporting Artists」
(Please note that this page was created using Google's automatic translation service and understand that because of this, its translation may not necessarily be accurate.)
A string ensemble by a young muse that makes the moment. Full of charm of stringed instruments! In addition to violin, viola, and cello solo programs, you can enjoy string quartet and piano quintet.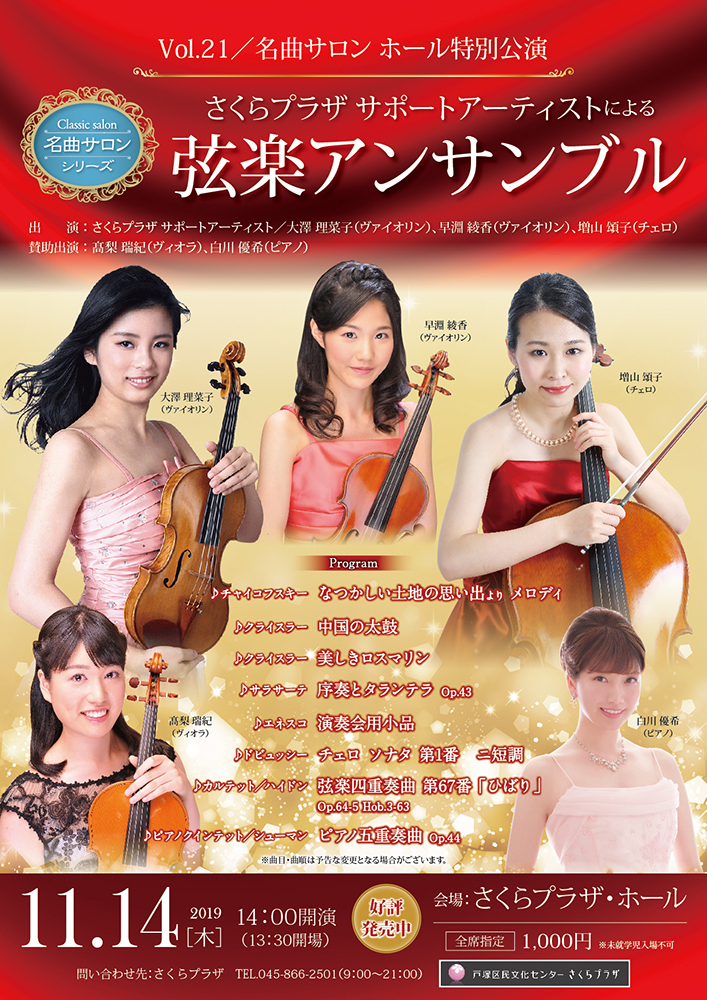 Masterpiece Salon Vol.21 Hall Special Performance
Sakura Plaza String Ensemble by Supporting Artists
[Date] November 14 (Wednesday) 14: 00- (13:30 opening)
[Venue] Totsuka Inhabitant Cultural Center Sakura Plaza Hall
[Appearance]
<Sakura Plaza Support Artist> Rinako Osawa (violin), Ayaka Hayato (violin), Reiko Masuyama (cello)
<Supporting Appearance> Mizuki Takanashi (viola), Yuki Shirakawa (piano)
[Songs] Tchaikovsky: Melody, Chrysler: Beautiful Rossmarine, Enesco: Performance Pieces, Debussy: Cello Sonata No. 1, Haydn: String Quartet "Hibari", Schumann: Piano Quintet Op.44, etc.
[Price] (All seats reserved) ¥ 1,000
[Sponsorship] Totsuka Ward Cultural Center Sakura Plaza
[Ticket sales]
■ Sakura Plaza TEL.045-866-2501 (9: 00-21: 00)
■ Confetti Ticket TEL.0120-240-540 (weekdays from 10:00 to 18:00)
■cccc; "> Lawson Ticket (L code: 33623) TEL.0570-000-407 (Operator hours: 10: 00-20: 00) /TEL.0570-084-003 (24h automatic voice response, L code required) * The above online reservation does not handle pair tickets or student tickets.
[Inquiry] 045-866-2501 (Totsuka Ward Cultural Center Sakura Plaza)
* Please refrain from entering preschoolers.
The Totsuka Inhabitant Cultural Center Sakura Plaza is a "Hall with advanced directing functions" in response to the growing needs of residents of the city for "quality art appreciation opportunities" and "quality cultural activities". A culture that combines a gallery with a high ceiling and a large practice room that can be used for various activities, as well as a `` practice place for residents to use easily '' and a `` place for advanced presentations '' It is a facility.

A hall with approximately 450 seats equipped with a Stein Weiful Concert Piano (D-274), a rehearsal room that can be used for production, a gallery boasting one of the largest in the city and a high ceiling, and suitable for practice of instruments and dance There are 4 practice rooms.

Address

16-17 Totsukacho, Totsuka-ku, Yokohama-shi, Kanagawa Prefecture 3F (Gallery), 4F (Hall, Rehearsal Room, Practice Room)

TEL

045-866-2501

Business Hour

[Opening Hours] 9: 00-22: 00 [Reception Hours] 9: 00-21: 00 [Closed] Every 2nd Tuesday, February and August 2nd Tuesday / Wednesday, 12 / 29-1 / 3

Parking Area

[Available time] 7: 00-22: 30 [Number of parking available] 100 [Parking fee] (7: 00-22: 00) ¥ 200 per 30 minutes (weekdays) Between 8: 45-17: 00 For over 30 hours in parking) ¥ 250 per 30 minutes, maximum charge on the day (only on Saturdays, Sundays and holidays) ¥ 1,800

Map