traditional culture
2019.11.30
Tojiro Yamamoto, a living national treasure, chooses "Ichiden 12th" and plays himself!
Yokohama Noh Theater Date: 2020.03.01
2 days to go
「Yokohama Noh Theater planning performance `` Tojiro Iden 12th '' 12th」
(Please note that this page was created using Google's automatic translation service and understand that because of this, its translation may not necessarily be accurate.)
(TOP image) Kyogen "Sushi knife" (Okura style) Tojiro Yamamoto Photo: Yoshiaki Kanda
For one year from April, Okura-ryu Kyogen-style "Living National Treasure" Tojiro Yamamoto selects the twelve of the arts handed down to the Tojiro family and performs himself. Beginning with No. 3 of "Okina", Kyogen between Noh and "Fune Benkei", and rare performances and treasured songs that are rarely performed in regular performances, leaving the deep charm of Kyogen and the art of Tojiro Yamamoto. I will show you without. The twelfth song is Kyogen "Suzuki Bocho" and "Wakana".
"Suzuki knives" ... A nephew who was asked to procure carp for a celebration, but did not prepare and cheated to lie. An uncle who sees through it shows off how to cook splendidly, trying to treat the stunning sea bass with a strange face.
"Wakana" ... The daimyo who was buried in Nagazuru in the capital went out to Oharano with his Taro and Jiro crowners in a retreat. Daimyo who communicate with the Ohara women they met in the beautiful spring scenery. In 1987, Tojiro Yamamoto was re-released at a research performance at the National Noh Theater.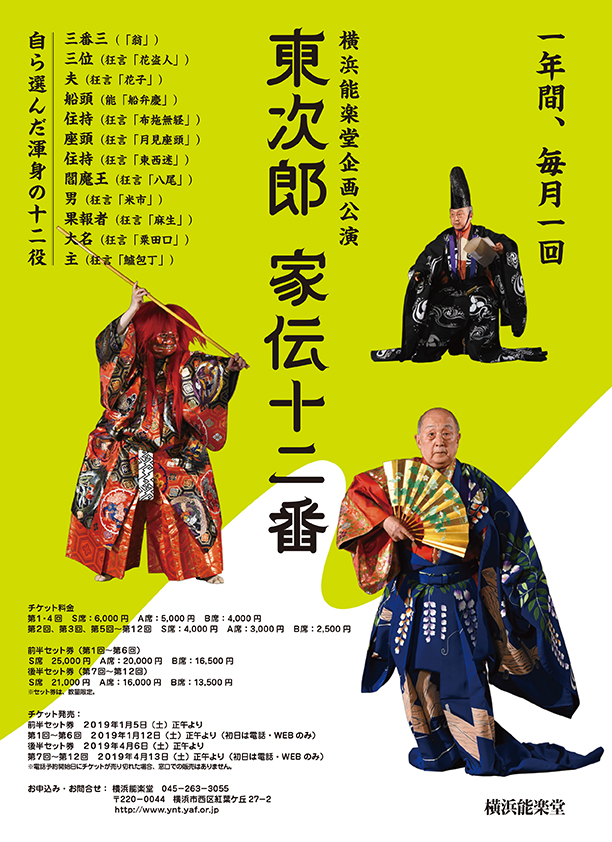 Yokohama Noh Theater performance
`` Tojiro twelveth biography of the twelfth '' twelfth
[Date] March 1st, 2020 (Sun) 14: 00-15: 35 (Opening 13:00)
[Venue] Yokohama Noh Theater
[Contents] Kyogen "Suzu knives" (Okura style) Tojiro Yamamoto, Kyogen "Wakana" (Okura style) Noriyuki Yamamoto
[Price] (All seats reserved) ¥ 4,000, A seat ¥ 3,000, B seat ¥ 2,500
[Ticket sales] Yokohama Noh Theater TEL.045-263-3055 / Reservation on WEB is here !!
[Organizer] Yokohama Noh Theater
[Inquiry] 045-263-3055 (Yokohama Noh Theater)
An art center for Japanese classical arts, known for its high planning and production skills.
Not only performances of classical Japanese performing arts such as Noh,
New works are also created through collaboration with overseas.
Address

27-2 Koyogaoka, Nishi-ku, Yokohama-shi, Kanagawa

TEL

045-263-3055
Map