Art and Photography
2020.01.31
"Kiichi Sumikawa sled and swell" Large-scale solo exhibition by Kiichi Sumikawa, a pioneer of post-war abstract sculpture
Yokohama Museum of Art Period: 2020.02.15-2020.05.24
Ends in 95 days
「Kiichi Sumikawa Sledding」
(Please note that this page was created using Google's automatic translation service and understand that because of this, its translation may not necessarily be accurate.)
(TOP image)
《Shaped Form-1》 1978
Zelkova 135 × 260 × 45cm
Museum of Contemporary Art Tokyo
© Sumikawa Kiichi
Photography: Osamu Murai
The special exhibition "Kiichi Sumikawa Sori to Mukuri" held at the Yokohama Museum of Art will be held at the public art museum in the Tokyo metropolitan area by Kiichi Sumikawa (born in 1931) who has been driving Japanese abstract sculptures since the war. This is the first large-scale solo exhibition. With about 100 works and materials including the latest works, I will revisit the whole picture of Sumikawa's creative activities for more than 60 years.
Aspiring to become a sculptor, Sumikawa went to Tokyo University of the Arts to thoroughly study the basics of concrete expression, centered on sozo. After completing the sculpture major, he presented a number of works while teaching at the University of the Arts, and eventually gained a deep insight into natural materials such as trees and stones, and eventually recreated the abstract sculpture `` Sleigh To the "Shape" series. This theme is the life work of Sumikawa who is still pursuing it.
On the other hand, we will also vigorously announce works in the field of modeling in public spaces. The Tokyo Bay Aqualine Kawasaki Artificial Island "Wind Tower" and the design supervision of Tokyo Sky Tree® also attracted attention in a variety of works related to urban megastructures. He has also worked on outdoor sculptures and many public objects in Yokohama City, receiving the Yokohama Cultural Award in 2013, and has been contributing to culture in various parts of Japan, including Yokohama City and hometowns.
This exhibition can be said to be the definitive edition of Kiichi Sumikawa, who began with concrete sculptures and eventually turned into sharp abstract sculptures, expanding his creative sphere into collaboration with giant outdoor sculptures and the architectural field.
Flock of Trees, 1992
Teak, soup, black granite 196 × 240 × 42cm
Shimane Art Museum Collection
© Sumikawa Kiichi
《Exhibition composition》
1. Pioneer of postwar Japanese abstract sculpture, the first large-scale retrospective exhibition at a public museum in the Tokyo metropolitan area
As a pioneer of postwar abstract sculpture, Kiichi Sumikawa has developed a variety of creative works including large-scale public projects. I have been active for more than 60 years as a writer, and I do not know that my motivation to create is still low. This exhibition is the first large-scale retrospective exhibition at a public art museum in the Tokyo metropolitan area that clarifies the origin, development, and destination of Kiichi Sumikawa's creation.
Learn the basics of sculpture from the woodcarving master, Hirakushi Denchu and the leading guru, Kazuo Kikuchi. We will examine the intelligent development that will turn into a series of geometrical abstract sculptures, "Shaped Shapes".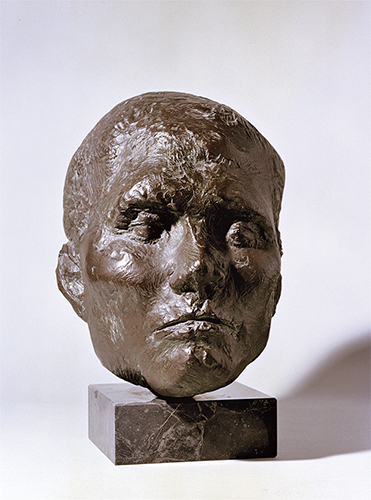 《S》 1959 Bronze 33 × 22 × 27cm
Artist Collection (Deposited at Shimane Prefectural Iwami Art Museum)
© Sumikawa Kiichi
Photography: Osamu Murai
2. "Sledding" and "swelling" as the origin of beauty
Kiichi Sumikawa often talks about the experience of a young man who was fascinated by Kintakyo Bridge in Iwakuni City, Yamaguchi Prefecture, where he spent his adolescence and adolescence as a starting point for his creative activities. The complex structural beauty of the wooden bridge that survived the war, and the simple form of anti-sledding and swelling, are hidden behind the heart of Sumikawa's sense of beauty. . Based on the pursuit of concrete expression at Tokyo University of the Arts, I looked at the natural material of wood, and in the process of facing it, I discovered the essential forms and beauty of Slekawa in trees, called sleigh and scull. . The sophisticated and simple beauty of Sumikawa's art is regretfully expressed in the series of "Sleigh Shapes", a life work series that he continues to work on.
"Sledding" refers to a line or surface that curves gently downward, while "sludge" refers to a line or surface that curves gently upward. Sumikawa describes Japanese landscapes such as `` gently warping of drooping rice ears, graceful warping of old buildings such as five-storied pagoda, warping of Japanese swords full of tension, and the magnificent warping that sacred peak Fuji shows from the sky to the foothills ''. The various "sleighs" and "sculptures" found in traditional forms are at the root of production.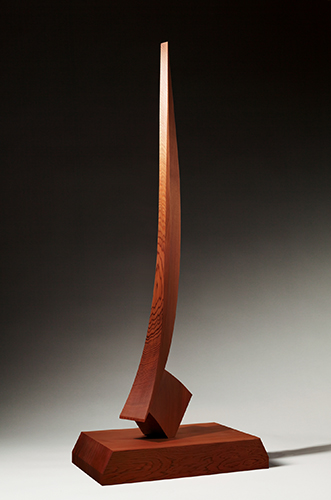 《Form with sled '' 2018
Cedar 215 × 85 × 50cm
Artist Collection © Sumikawa Kiichi
Photography: Yoshikazu Ezaki
3. Giant modeling in public space
Kiichi Sumikawa has been working on outdoor sculptures throughout the country since the 1980s. From the pursuit of outdoor sculpture that cannot be separated from the environment and the landscape, he soon became interested in modeling in public spaces in collaboration with the architectural field, etc., and worked vigorously on work related to urban huge structures . At present, Sumikawa's outdoor sculpture and environmental modeling work covers more than 120 points in 28 prefectures nationwide, from Hokkaido in the north to Kagoshima in the south. Huge sculptures that sometimes confront nature and sometimes embrace the surrounding environment and open up the possibility of space also characterize Sumikawa's creative activities in recent years.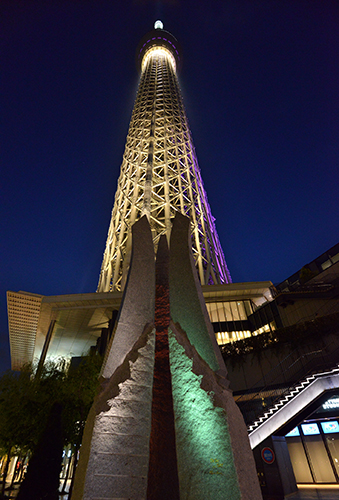 Foreground: "TO THE SKY" 2012 Granite Tokyo Skytree Town® © Sumikawa Kiichi /
Oku: "Tokyo Sky Tree®" 2012 * Design supervision
Photography: Toshiharu Utsumi
Kiichi Sumikawa Sledding
[Date] February 15 (Sat)-May 24 (Sun)) 10: 00-18: 00 (Admission until 17:30)
* May 20:00 on Fridays and Saturdays (entry until 19:30)
[Venue] Yokohama Museum of Art
[Closed] Thursday
[Price] General (advance) ¥ 1,300 / (same day) ¥ 1,500, university / high school student (advance) ¥ 700 / (same day) ¥ 900, junior high school student (advance) ¥ 400 / (same day) ¥ 600, elementary school students free
* Advance tickets are sold until February 14, 2020 (Fri).
* The day charge for those aged 65 and over is $ 1,400 (certificate required, sold only at museum ticket office).
* Free for high school students and below every Saturday (Please present your student handbook and student ID card).
* Free for persons with disability certificates and for nursing care (1 person).
* You can also view the "Yokohama Museum of Art Collection Exhibition" with the admission ticket for this exhibition only on the day of viewing.
* Please contact us for other discount rates.
[Inquiry] 045-221-0300 (Yokohama Museum of Art)
Check related events!
Commemorative talk Kiichi Sumikawa × Takashi Fukai
[Date] February 22nd (Sat) 14: 00-15: 30 (13:30 opening)
[Venue] Lecture Hall, Yokohama Museum of Art
[Lecturer] Kiichi Sumikawa, Takashi Fukai (Sculptor, Professor Emeritus, Tokyo University of the Arts)
[Capacity] 220 (No advance application required, first come, first served)
[Entry fee] Free
Commemorative three-way talk Kiichi Sumikawa × Hiroshi Naito × Eriko Osaka
[Date and time] March 20 (Friday / holiday) 14: 00-15: 30 (13:30 opening)
[Venue] Lecture Hall, Yokohama Museum of Art
[Lecturers] Kiichi Sumikawa, Hiroshi Naito (Architect), Eriko Osaka (Director, Yokohama Museum of Art)
[Capacity] 220 (No advance application required, first come, first served)
[Entry fee] Free
Gallery talk by Kiichi Sumikawa
[Date] May 2nd (Sat) 14: 00-15: 00
[Venue] Yokohama Museum of Art Exhibition Exhibition Room
[Participation fee] Free (No advance application required, a ticket valid on the day is required)
Gallery talk by curator
[Date] March 7 (Sat), April 4 (Sat), May 9 (Sat) 14: 00-14: 30
[Venue] Yokohama Museum of Art Exhibition Exhibition Room
[Participation fee] Free (No advance application required, a ticket valid on the day is required)
Workshop "The charm of abstract sculpture: Kiichi Sumikawa's world"
[Date] February 23 (Sun / Holiday) 14: 00-16: 00
[Venue] Yokohama Museum of Art Citizen's studio, exhibition room
[Lecturer] Kiichi Sumikawa
[Target] 12 years or older
[Capacity] 20 (advance application, lottery)
[Participation fee] ¥ 2,500 (with exhibition ticket)
[How to apply]
■ Application form
■ Round-trip postcard
* If there are many applicants, it will be a lottery.
[Deadline] Must arrive February 3, 2020 (Monday)
Yokohama Museum of Art opened to the public on November 3, 1989. It is one of the largest art institutions in Japan. With its iconic architecture, featuring the expansive space of the Grand Gallery, the museum is made up of a total of seven gallery spaces, as well as an Art Information and Media Center that holds over 110,000 art-related books, ateliers hosting a wide range of workshops for children and adults, and many other facilities.
Located in the international seaport city of Yokohama, the museum focuses on collecting and showing modern and contemporary art created since the late 19th century, when the port of Yokohama opened, alongside many special exhibitions.

【Photo】
The outward appearance:KASAGI Yasuyuki / Grand gallery:KASAGI Yasuyuki / Exhibition room:TANAKA Yuichiro

Address

3-4-1 Minatomirai, Nishi-ku, Yokohama-shi, Kanagawa

TEL

045-221-0300

Business Hour

10: 00-18: 00 (admission until 17:30) Closed on Thursdays and New Year's holidays

Map