Art and Photography
2020.02.13
Out of 452 entries, 23 creative artists (groups) have been selected!
TARO OKAMOTO MUSEUM of ART Period: 2020.02.14-2020.04.12
Ends in 53 days
「The 23rd Taro Okamoto Contemporary Art Award (TARO Award)」
(Please note that this page was created using Google's automatic translation service and understand that because of this, its translation may not necessarily be accurate.)
Taro Okamoto has always taken on new challenges ahead of the times. The Taro Okamoto Award for Contemporary Art was established to honor artists who inherit the spirit of Okamoto and give a sharp message to modern society with free viewpoints and ideas.
This year's 23rd anniversary prize has received 452 entries, and 23 creative creators (groups) have been selected. See ambitious works that explore new possibilities for art in the 21st century.
Photography is possible!
This exhibition allows you to freely photograph the venue. Sending to SNS etc. is also possible. We hope that photos of venues and works will be shared through SNS and other sources, and will trigger communication between visitors and writers.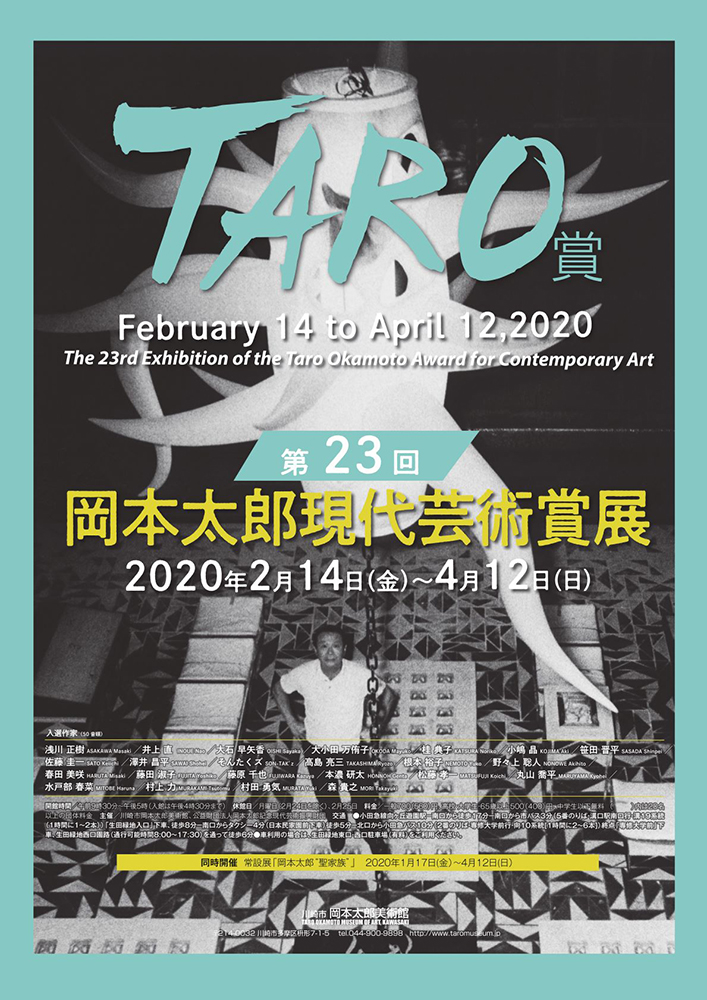 The 23rd Taro Okamoto Contemporary Art Award (TARO Award)
[Date] February 14 (Fri)-April 12 (Sun) 9: 30-17: 00 (Admission until 16:30)
[Venue] Special Exhibition Room, Taro Okamoto Museum of Art, Kawasaki
[Closed days] Monday (except February 24), February 25 (Tuesday)
[Winners (in alphabetical order)] Masaki Asakawa, Nao Inoue, Sayaka Oishi, Mayuko Ooda, Noriko Katsura, Akira Kojima, Keiichi Sato, Shinpei Sasada, Shohei Sawai, Sontakuzu, Ryozo Takashima, Yuko Nemoto, Nonogami Satoto, Haruta Misaki, Fujita Yoshiko, Fujiwara Chiya, Motono Kenta, Matsufuji Koichi, Maruyama Kyohei, Mitobe Haruna, Murakami Riki, Murata Yuki, Mori Takayuki
[Judges (in alphabetical order)] Noi Sawaragi (art critic / Tama Art University professor), Akiomi Hirano (space media producer / Taro Okamoto Memorial Director), Hidee Hojo (Taro Okamoto Art Museum Director, Kawasaki City), Yuji Yamashita (art historian / professor at Meiji Gakuin University), Toshi Koichi Watari (curator of Watari Museum of Art)
[Price] General ¥ 700, high school / college student, 65 years old or older ¥ 500, junior high school student and under free
[Organizer] Taro Okamoto Art, Kawasaki CityHall, Taro Okamoto Memorial Foundation for Contemporary Art
[Inquiry] 044-900-9898 (Taro Okamoto Museum of Art, Kawasaki City)
Check related events!
The 23rd TARO Award Gallery Talk
A gallery talk by selected artists.
[Date and time] March 1 (Sun), 15 (Sun), 20 (Friday and public holidays), April 12 (Sun), 14:00 each day
[Venue] Special Exhibition Room, Taro Okamoto Museum of Art, Kawasaki
[Performers]
(3/1) Shinpei Sasada, Ryozo Takashima, Noriko Katsura, Yuki Murata, Masaki Asakawa
(3/15) Kenta Motono, Haruna Mitobe, Takayuki Mori, Yoshiko Fujita, Kyohei Maruyama, Sontakuzu
(3/20) Satoto Nonogami, Shohei Sawai, Nao Inoue, Riki Murakami, Mayuko Ooda
(4/12) Sayaka Oishi, Chiya Fujiwara, Yuko Nemoto, Koichi Matsufuji, Akira Kojima
[Fee] Free (viewing fee required)
* Schedule is subject to change. Please note.
Writer performance
● Sontakus [Sontakus 5th Solo Performance in the 23rd TARO Prize Taro Okamoto Museum Commemorative Live-You're the Die! Asia's First Reverse Duchamp Exhibition]
It is a control live by Sontaku's.
[Date and time] Saturdays and Sundays from February 14 (Fri) to April 12 (Sun) $ 13: 00- / 15: 30-
[Appearance] Sontakuzu
Each performance is scheduled for about 40 minutes. Admission is possible on the way.
* In case of change, it will be announced on the museum website.
● Misaki Haruta Live Paint
This is a public production by Misaki Haruta.
[Date] February 15 (Sat), 16 (Sun), 22 (Sat), 23 (Sun / Holiday), 29 (Sat), March 7 (Sat), 8 (Sun)・ 14th (Sat) ・ 15th (Sun) ・ 21th (Sat) 10: 00-16: 30 each day (planned)
Choose your favorite!
Visitors from the 23rd TARO Award winning worksPlease vote for your favorite work. The results of the voting will be announced on the website, etc., and memorabilia will be given to the top writers.
[Voting Period] February 14 (Fri)-March 22 (Sun)
[Venue] Gallery Space Taro Okamoto, Kawasaki City
[Fee] Free (viewing fee required)
[Results] Thursday, March 26 (tentative)
Letter project
Would you like to write a letter to the 23rd TARO Award winning artist? A corner will be set up near the exhibition room exit. A reply may come from the writer !?
[Date] February 14 (Fri)-April 12 (Sun) (planned)
The Municipal Museum of Art opened in 1999, three years after Taro Okamoto, a leading Japanese artist in the 20th century, died. 1779 works donated to Kawasaki City by Taro Okamoto are on display. Various events such as special exhibitions, permanent exhibitions, museum tours and workshops are also held.

Speaking of the symbol tower of the Taro Okamoto Museum, "Mother's Tower" is 30 meters high. Based on a prototype created with the image of "the strength of a giant tree deeply rooted in the earth", "the gentleness of a plump and plump mother", and "the eternal life burning to the heavens", faithful to the intention of Taro Okamoto It was reproduced and produced.

Address

7-1-5 Masugata, Tama-ku, Kawasaki City, Kanagawa Prefecture

TEL

044-900-9898

Business Hour

9: 30-17: 00 (Last admission until 16:30) [Closed] Mondays (except when Monday is a national holiday, unless the following day falls on a Saturday and Sunday), New Year's holidays, and temporary closures

Parking Area

No * If you are using a car, please use the Ikuta Ryokuchi Parking Lot (paid).

Average Usage

[Viewing Fees] Fees vary depending on the period and exhibition. For details, please check the exhibition information or the official website of the museum.

Map