Theater / Dance
2018.07.04
[Ticket present] "Spiral stairs" appeared in Magcal Theater!
(Please note that this page was created using Google's automatic translation service and understand that because of this, its translation may not necessarily be accurate.)
The Magcal Theater provides a place where you can freely present and disseminate information about performing arts, such as drama, dance, and music, with the aim of developing cultural and artistic human resources.
On July 21 (Sat.) and 22 (Sun.), Odawara-based theater production "Spiral Stairs" will appear!
This time, less than a month before the actual performance, he infiltrates a rehearsal room where elevation and tension are mixed. We interviewed Shinichiro Midori, a writer and director, and talked about the highlights of the new work.
There are also ticket presents, so please read to the end!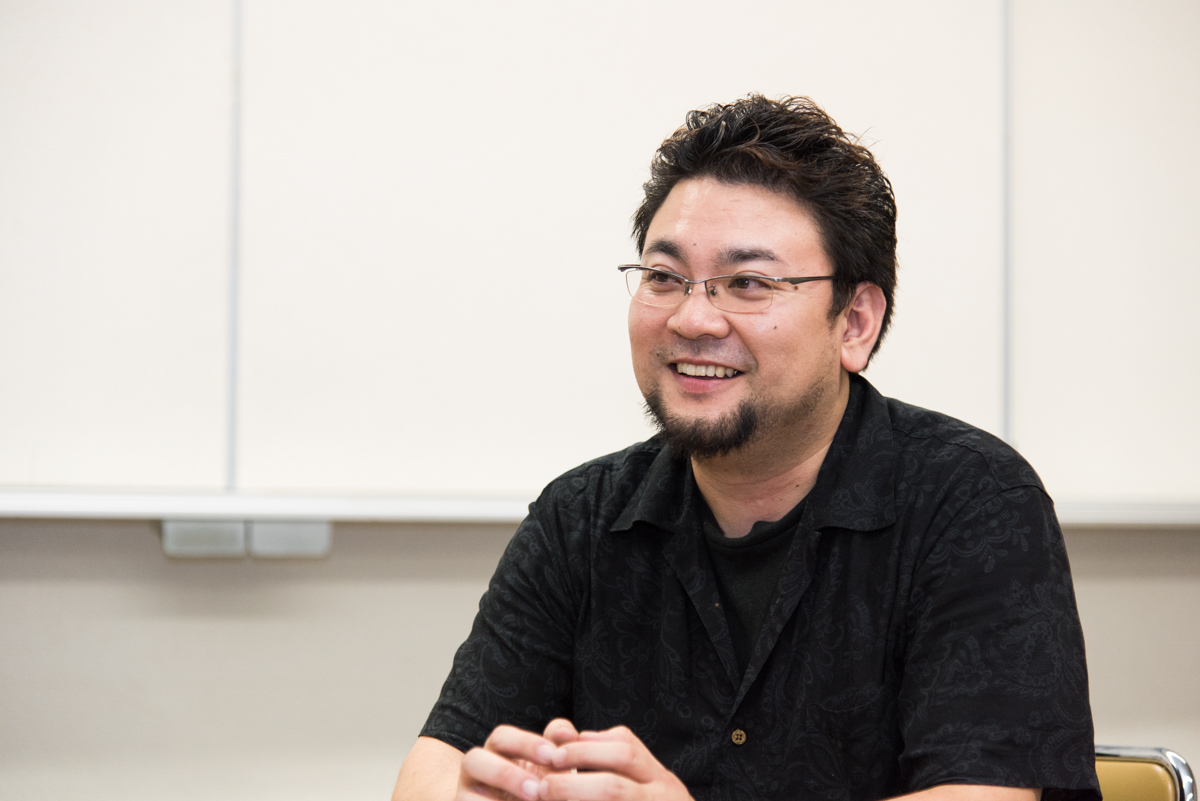 How did the drama Produce "Spiral Stairs" rise?
The first time I entered the world of drama was a theater company called "Mysterious". Unfortunately, I stopped working, but I didn't want to leave theater at that point. That's why the drama Produce "Spiral Stairs" was launched with four friends. This is the 12th year.
Basically, I am responsible for writing and directing all the works. Everybody except me has a decent job (laughs) and I practice once or twice a week. Nevertheless, we perform new works twice a year.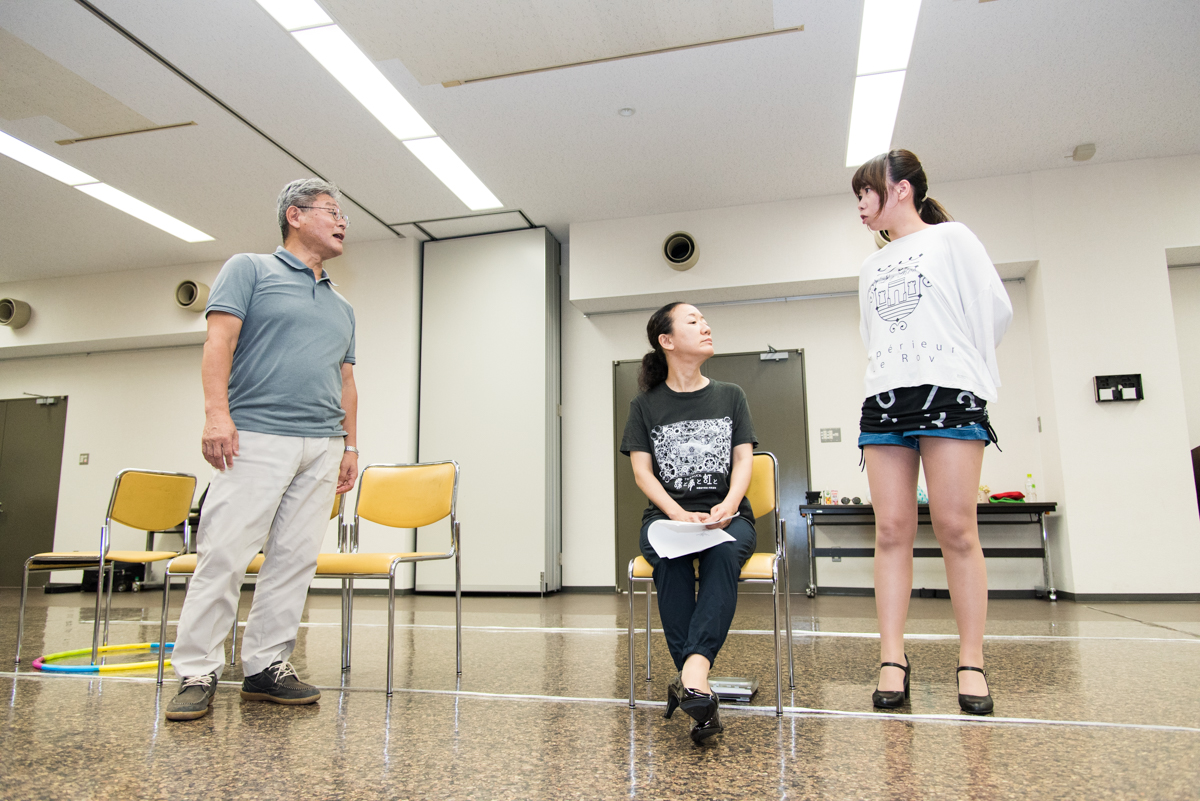 How many members?
Currently, 12 to 3 members are registered as "Spiral Stairs". That said, not everyone will appear every time. Men who call out to each performance and raise their hands I write a script according to the appearance of the bar.
Usually there is no audition. This time, four regular members plus four guest performances from other theatrical companies will be on stage, but a total of eight people will be on stage, but it is also possible for people who do not have extreme stories or experience at all. I'll write a script for that person (laughs).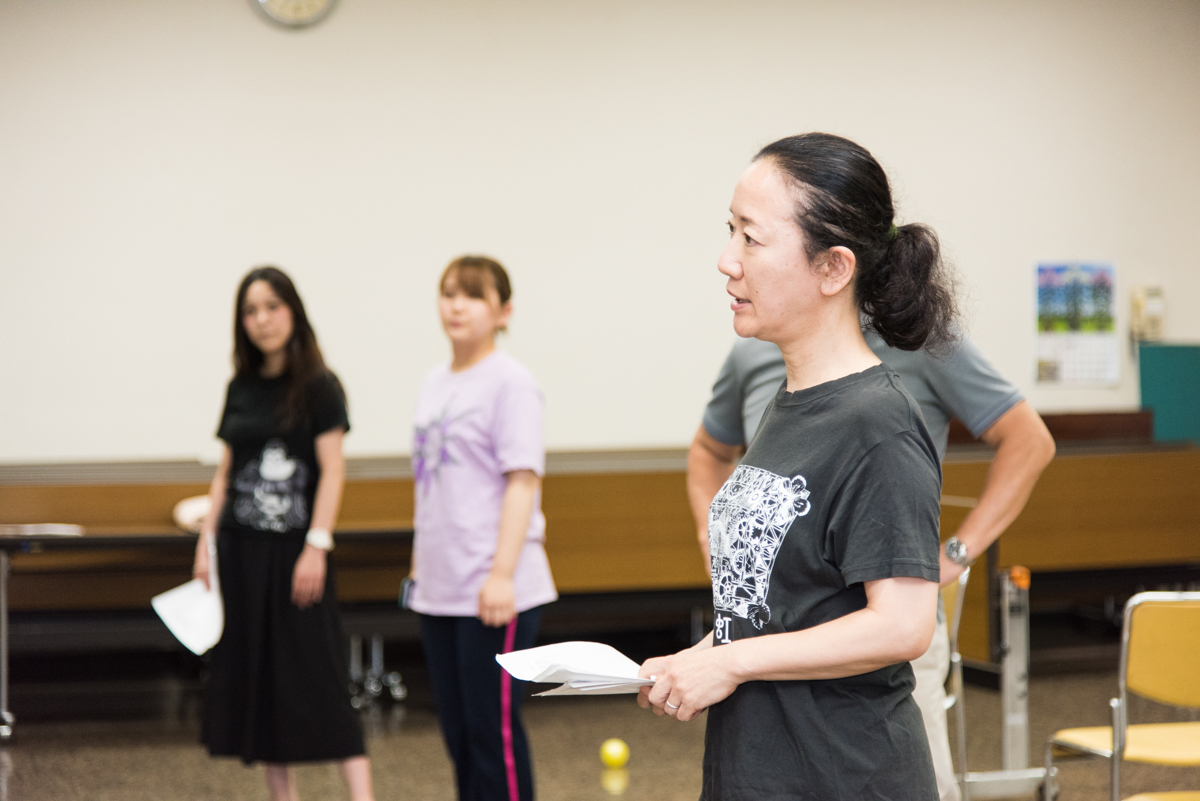 Do you have a troupe color?
I like various types of plays, so I don't have a particular tendency, but if I dare say, it's a story that will laugh, cry, and remember something. Every time I decide on a theme, I intend to create a stage where it can be communicated to the audience.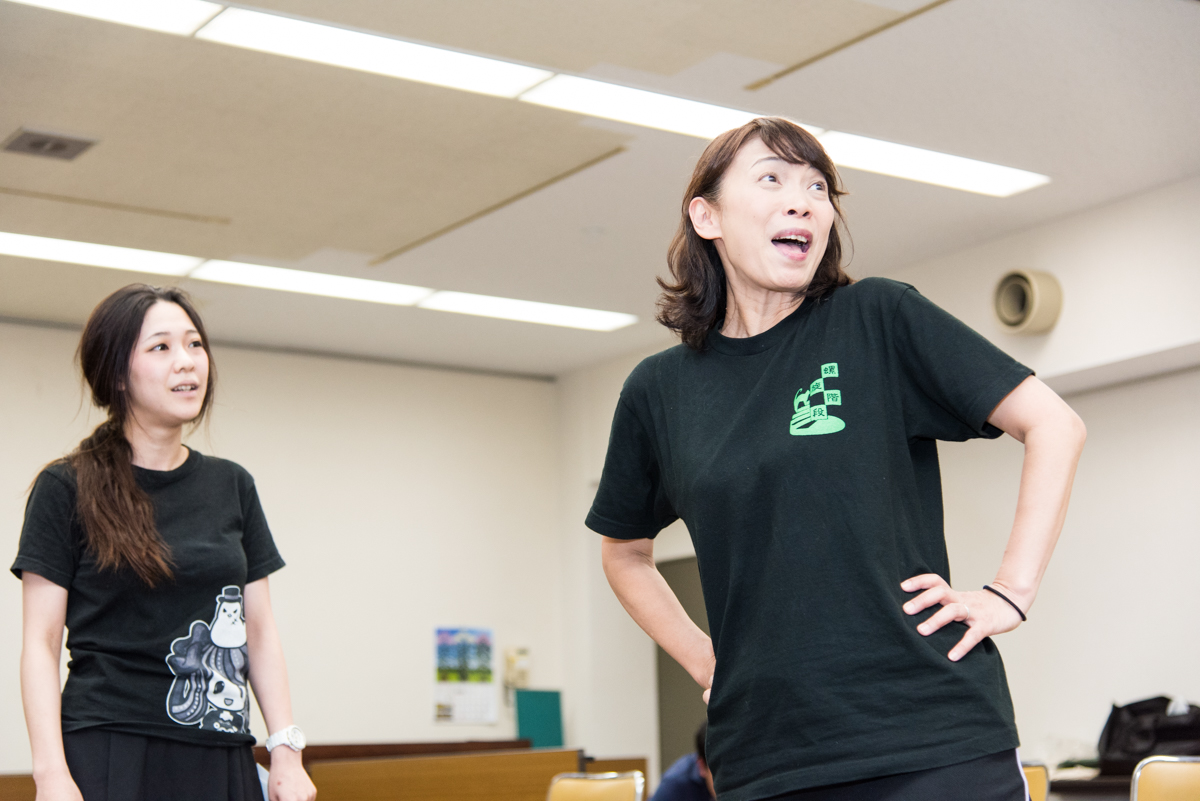 What does the title "Kishikan Mishikan" mean?
The title may be pulled from the story, or it may be decided based on the image. This time it is the latter. I decided on the sound of words.
When written in kanji, it is "previously seen and not seen". Dejavu and its antonyms.
If you feel like you already know the road you are going through for the first time, then you may not know it suddenly even though it is the same road as usual. I drew a little mysterious world like SF.
In the process of adding interesting and unexplained scenes, at the end everything is connected and a certain world comes into view. It is such a story.
-image-105635 size-full "src =" http://magcul.net/wp-content/uploads/2018/06/DSC2448.jpg "alt =" "width =" 1200 "height =" 801 "/ >
Please give a message to everyone who is looking at Magcal.
I would like to see the "Hello!" Customers. It's not a straight play, so I'd be glad if you thought, "Some people are writing such strange stories."
At first it may be Chimpunkampun, but as the story progresses, various things are connected, and the process is interesting. Lastly, I'm aiming for a stage where I fall down and say, "Oh, that's what it was."
I want young people, such as high school students, to watch it. I want you to know that the play is so free.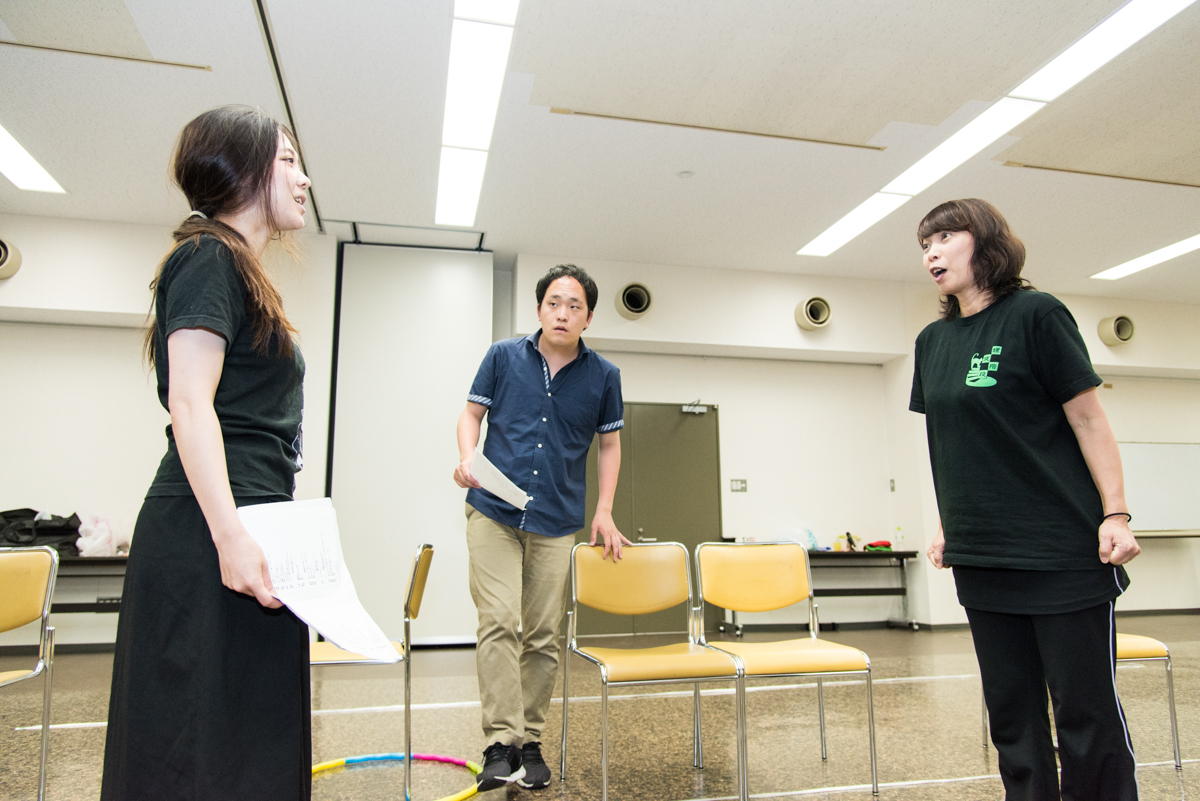 [Story]
Shohei Fujii, a man who used to live as a salaryman. Every day, it was rainy day when I felt like I was on my way home for the first time.
An older woman, Tajima, suddenly talked to me. "Nice to meet you".
Fujii is stepping into a world he doesn't know, with a feeling that his everyday life will change dramatically.
The world where we live, we know but we don't know.
"How do you remember, nice to meet you?"
0 "/>
Theatrical Produce "Spiral Stairs" 23rd performance
"Kishikan Mishikan"
[Date] July 21 (Sat) 15: 00/18: 30 22nd (Sun) 13: 00/16: 30
[Venue] Kanagawa Prefectural Youth Center HIKARI (Multipurpose Plaza)
[Production and direction] Shinichiro Midori
[Performers] Masami Tashiro, Mikiya Rouki, Takuma Mizuno, Natsumi Otsuka, Hiroshi Oshima (Chireactors / Walpee), Iori Kimura (Chireactors), Aoi Terashi (TEAM IMITATION), Miyuki Okamoto (Miyukis)
[Price] Advance ¥ 2,000, ¥ 2,500 on the day, High school students and younger (advance only) ¥ 1,000
[Inquiry] Drama Produce "Spiral Stairs" TEL.090-2908-1920 (Tashiro)
HP: www.rasen-k.com
E-mail: info@rasen-k.com
********************************
The application for the present has ended. Thank you for many applications.
[Application Summary]
Follow and retweet the official Twitter account of Magcal Dot Net " @MAGCUL " and get a ticket for the play "Kishikan Mishikan", which will be performed at the Kanagawa Prefectural Youth Center on Saturday, July 21st (15:00). We present for two sets of four people.
【Application method】
1. The official Twitter account of Magcal Dot Net " @Follow MAGCUL.
2. Retweet the post for applying for a ticket present with "#Kishikan Mishikan 0721" posted from the official Twitter account during the application period below. The application is completed above.
【Application period】
Until Friday, July 13 24:00
* Retweets made within the above period are eligible for entry.
[Lottery / winner announcement]
Winners will be notified via a direct message on Twitter from the official account of Magcal Dot Net after the campaign period.
The winning announcement will be replaced by the direct message winning notification. In that case, we will confirm the applicant's name and contact information, so please reply directly to the direct message.
On the day <7/21 (Sat)>, please tell the name of the applicant and the fact that you have been selected for the present of Magcal Dot Net at the "Kanagawa Prefectural Youth Center HIKARI" window. The staff will give you a ticket.
* In order to confirm your identity, you may be required to present a direct message of the winning contact of the smartphone on the spot. (If you do not have a smartphone, print out and present a direct message.)
* We will not use your personal information for any purpose other than lottery.
[Eligibility and conditions]
● Those who have a valid e-mail address.
● Must follow @ MagCul.net official Twitter account, " @MAGCUL ".
* If you cancel the follow-up before the winning announcement, the application and winning will be invalid.
● Retweet the application tweet posted from the official Twitter account within the application period.
※ Be sure toPlease join with your account made public. If your account is private, it will not be considered participation.
* If you have set to reject direct messages, it will not be considered as participation.
* Quoted retweets are not considered participation. Please participate by retweet.
● Accounts that do not have a profile, user name, self-introduction, icon, etc. may not be considered participating due to Twitter specifications.
● Accounts that do not frequently perform actions (tweet, retweet, likes, replies, etc.) may not be considered participating due to Twitter specifications.
● After opening a Twitter account, an account that has not undergone the process of confirming that the e-mail address belongs to the user may not be considered participating due to Twitter specifications.