Art and Photography
2018.11.03
A scholar-artist collaboration unravels the horns from mythology to modern society
(Please note that this page was created using Google's automatic translation service and understand that because of this, its translation may not necessarily be accurate.)
The Kanagawa Artist-in-Residence Promotion Project, which invites artists from Japan and abroad to support organizations performing creative activities in Kanagawa Prefecture. This time, I visited the Kasugaya Forest Museum of Contemporary Art, which is holding a special exhibition "What the Myth Tells-Myths of the End and Rebirth of Mankind", inviting a painter living in the United States, Yuriko Yamaguchi.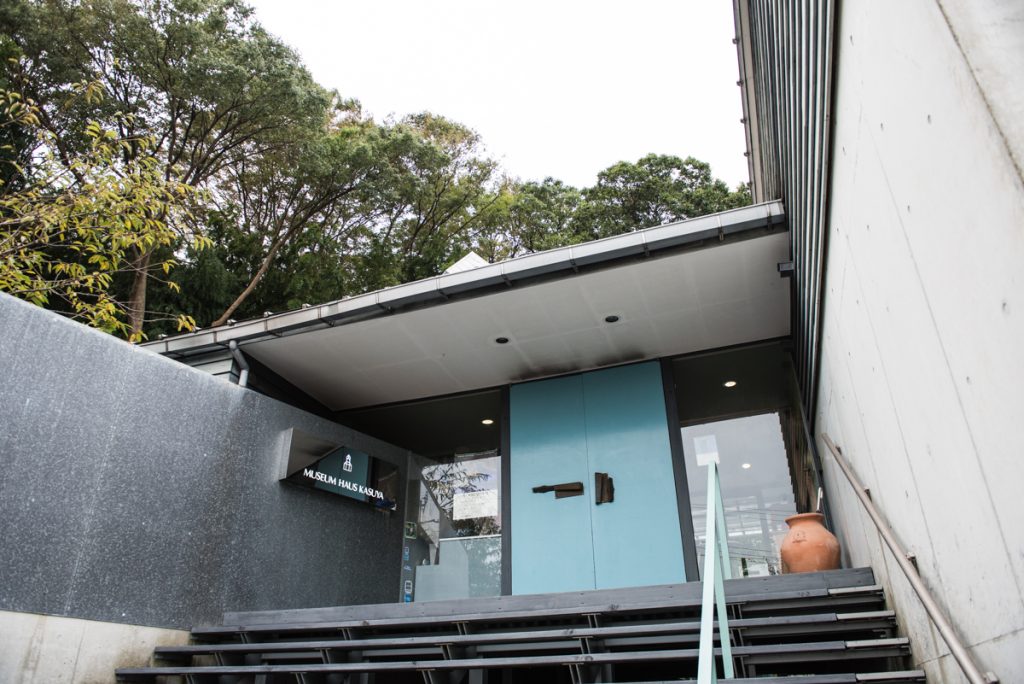 Yamaguchi, who was born in Japan and later moved to the United States, has a master's degree in plastic arts and has been a writer mainly in the United States for over 40 years.
This exhibition features 30 paintings produced by Yamaguchi in collaboration with Minneke Shipper (Netherlands) who has been working on intercultural literature for many years. In addition to the public production at the opening, a gallery talk was held with Masao Higashi, an anthropologist.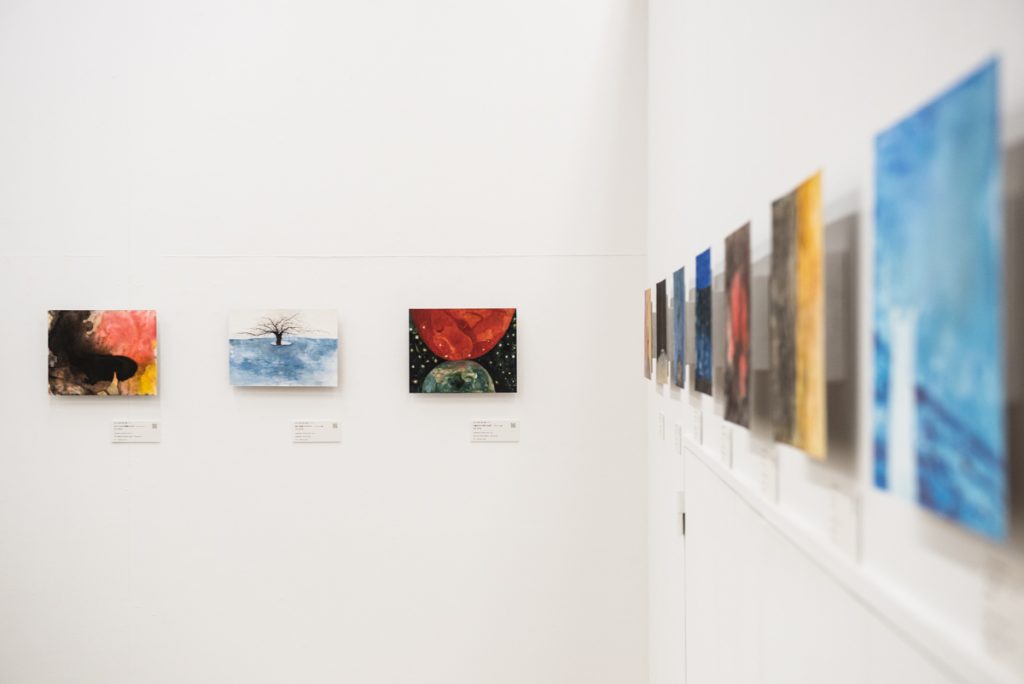 The directors, Ei Wakae and Yamaguchi, seemed to have deepened friendship since they met at a gallery in New York Soho in 1989. We asked them about this project.
---
Where did the project start?
I met Yamaguchi Shipper in 2009 when I was staying at the Rockefeller Foundation Bellagio Center in Italy for a month and producing watercolors. At that time, she focused on the "myths" that remain around the world. At Bellagio CenterI was studying to collect and present myths about floods and disasters.
It's easy to think that myths are a long time ago, but there are many episodes that are important hints when thinking about today's global environmental issues. I originally had a strong interest in the connections and "chains" of the world, so I met Shipper. It was said that when announcing the research results, it was more appealing to people to have visuals attached, and I decided to create visuals for each of the myths she collected. .

Text and visuals have always been linked, as shown in the illustrations in the Wakae novel. However, Yamaguchi's drawings are not as descriptive as the illustrations. Explaining "Why this visual?" May be lengthy, but it is definitely connected to Shopper's text. I hope you enjoy the sense of distance.
Yamaguchi: In the end, we got 30 points this time, but there were quite a few works that were dropped by Mr. Shipper. I was not convinced and there were some works that were revived by bringing the original to the Netherlands where Shipper was. The impression was different because I was interacting while watching on the monitor.
This time, the art materials are different from Yamaguchi's previous work
We use synthetic paper called "Yupo", which uses Yamaguchi polypropylene as the main raw material. I liked the smooth texture and chose itHowever, because water does not penetrate, I could not draw with watercolors, I tried using acrylic paint.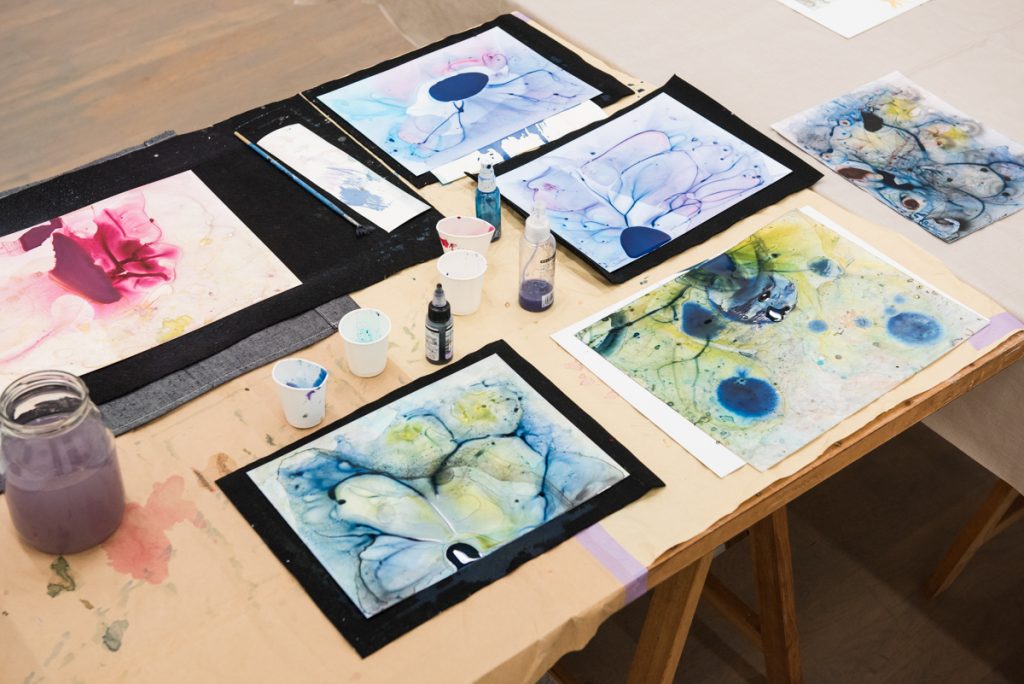 Wakka: Normally, acrylic paint dries quickly, but Mr. Yamaguchi uses a large amount of water. Yupo does not absorb water, so a unique expression was created by "dropping" paint on paper.
Yamaguchi: This is the first technique I tried in this project. I couldn't control the combination of Yupo and acrylic paints, and had unexpected results, so it was fun (laughs). When you create something, you can't continue without fun.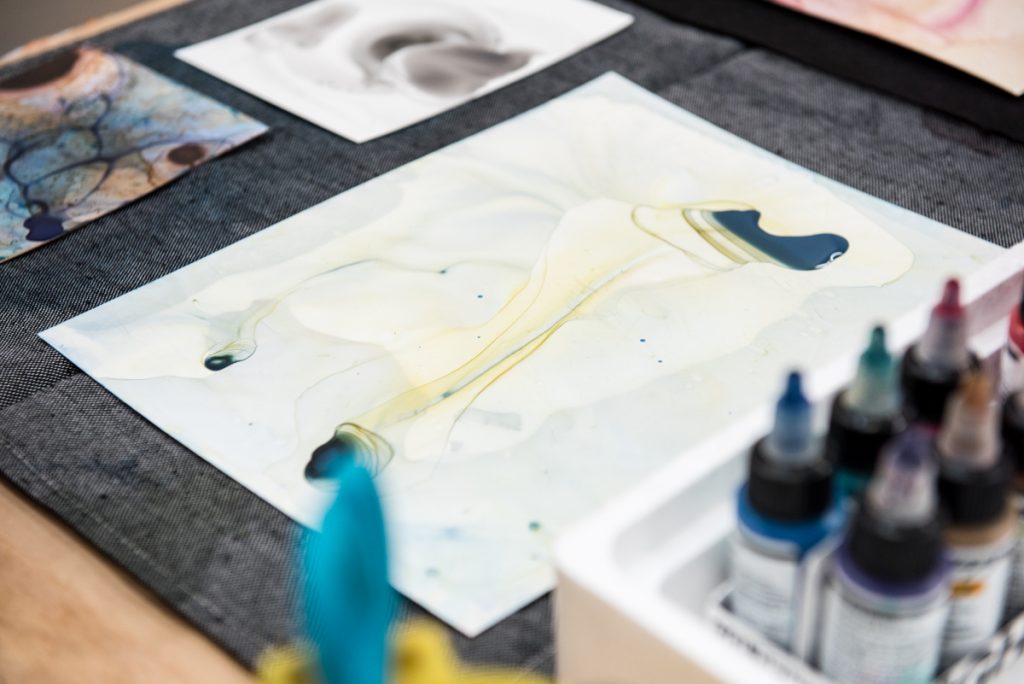 It's the first time that all 30 items are on display at the Kasoya Museum of Contemporary Art
Yamaguchi That's right. In the end, it took nearly 10 years, so when you see all the works lined up in this way, I feel deeply moved.
I saw the story and image images of the Wae myth, but some of them were replaced on the way. Ultimately what works in Japan It was when I unpacked the package that I knew it was going to be exhibited (laughs).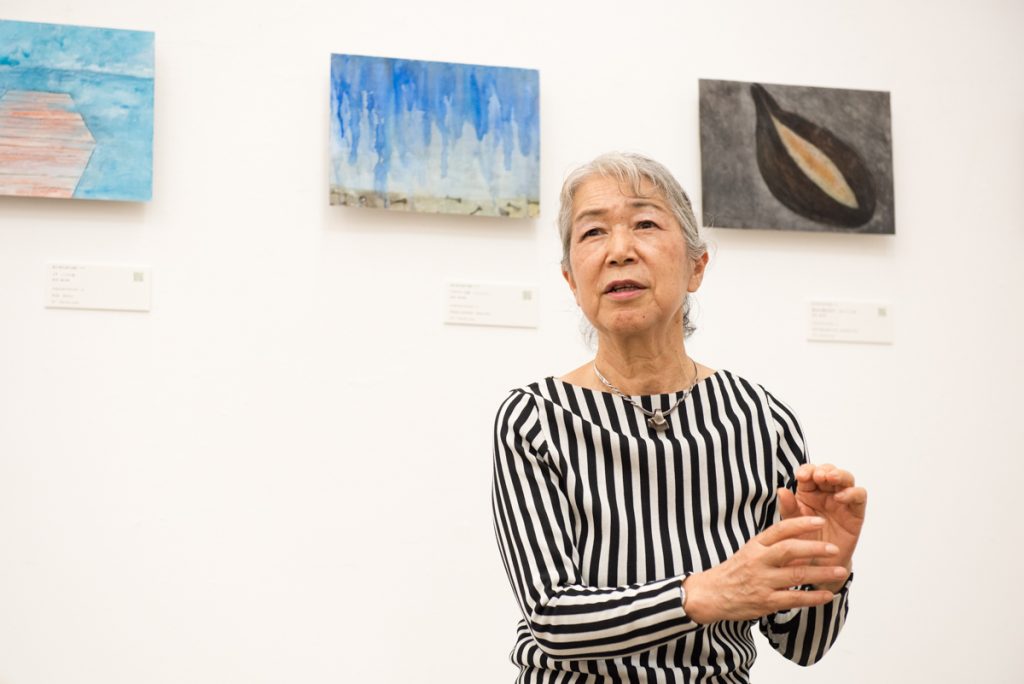 The best wish is that Yamaguchi Shipper's thoughts should be transmitted to the audience.
To Wakae shipper's is to collect and edit the myth, it would have required an enormous amount of time. But much longer is flowing before the myth can be made. It is the power of the artist to visualize the myths that have continued with the continuation from the perspective of the times. And I think there is a warning to modern society.
The existence of scholars who collect Yamaguchi myths is also important.
Wakie Of course. The work on display this time is a translation of the "now" era, and a different perspective may be created in a thousand years. I once again realized that the collaboration between the academics and the artist was really wonderful.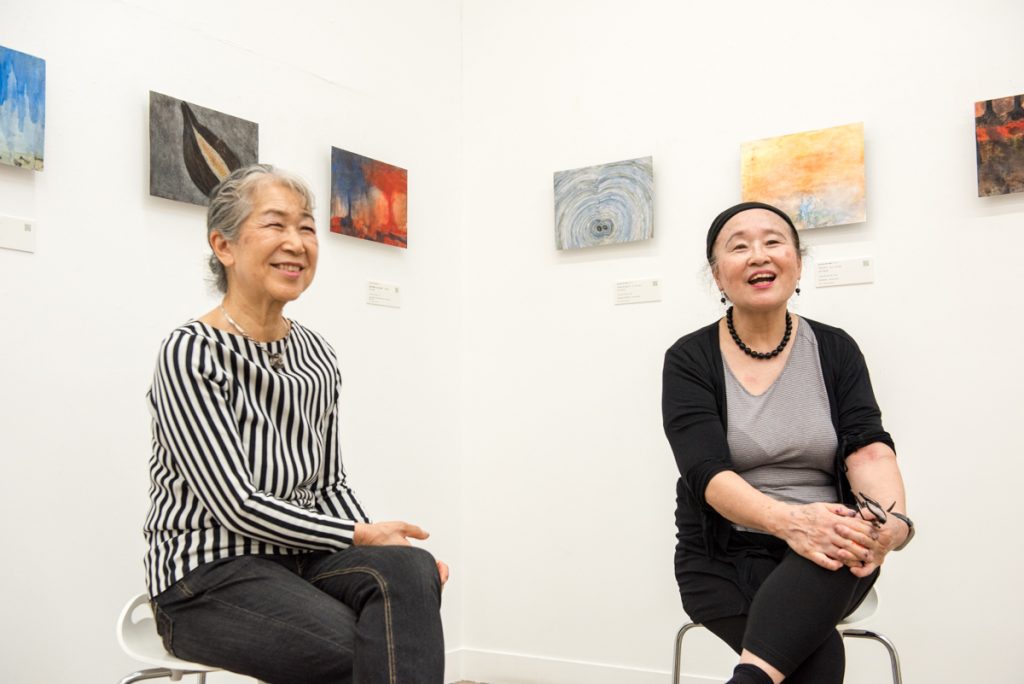 What the myth speaks now-the myth of the end and resurrection of mankind-
: # 0000ff; "> Essays and Selected Myths Minek Shopper
Artwork Yuriko Yamaguchi
Venue : Kasoya Forest Museum of Contemporary Art
http://www.museum-haus-kasuya.com/
Dates : Until Sunday, December 23
Closed : Monday, Tuesday, Wednesday
Opening hours : 10: 00-18: 00 (admission until 17:30)
* During the exhibition period, on November 23 (Fri) and December 2 (Sun), a reservation-only event will be held and general visitors will be able to tour until 12:00.
[Access to the Museum]
■ About a 15-minute walk from Kinugasa Station on the JR Yokosuka Line
Get off at Keihin Kyuko Shioiri Station, take a bus bound for Kinugasa Station for about 15 minutes, get off at Kanaya Bus Stop and walk about 4 minutes
The museum opened as a private museum in April 1994. We are currently holding seminars, tea ceremonies, symposiums, concerts, etc., centering on solo exhibitions of artists who are in the process of making progress so that you can feel more familiar with contemporary art that is not very familiar. We try to create a space where visitors can enjoy their own ways of enjoying. For a while, relax from the daily life and relax in the tea lounge surrounded by bamboo grove.

In addition to special exhibitions held every two or three months, Nam Jun Paik, Lee Ufan and others, mainly from the collection of Josef Bois (Germany), one of the postwar artists who have few opportunities to view in Japan Works are on permanent display.

(1st photo) Exterior of the museum
(2nd photo) Museum Lounge
(3rd photo) Permanent exhibition room for Joseph Voice
(4th photo) Nam Jung Pike permanent exhibition room
(5th photo) Lee Ufan permanent exhibition room

Address

7-12-13 Hirasaku, Yokosuka City, Kanagawa Prefecture

TEL

046-852-3030

Business Hour

10:00-18:00 (last entry 30 minutes before closing) / [Closed] Every Monday, Tuesday, Wednesday * Exhibition replacement period and New Year holidays

Credit Card

Impossible

Parking Area

Yes (about 10 free parking lots)

Average Usage

[Admission fee] General ¥ 600, student ¥ 500, elementary school student ¥ 300

Map