We present 11 sets of 22 entertainment "Pop Circus" Shonan performance tickets of the century!
(Please note that this page was created using Google's automatic translation service and understand that because of this, its translation may not necessarily be accurate.)
The world's purpose-provoking performance gathered here!
Top performers gathered from all over the world develop a powerful acrobatics from superhuman body! A circus entertainment of the century where you can see high-level medal acts that are admired in the world! Don't miss this excitement.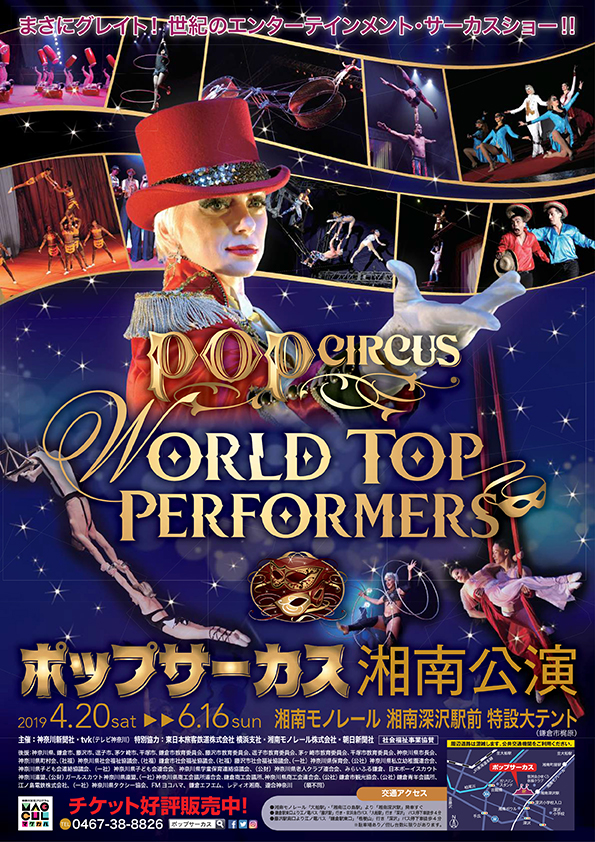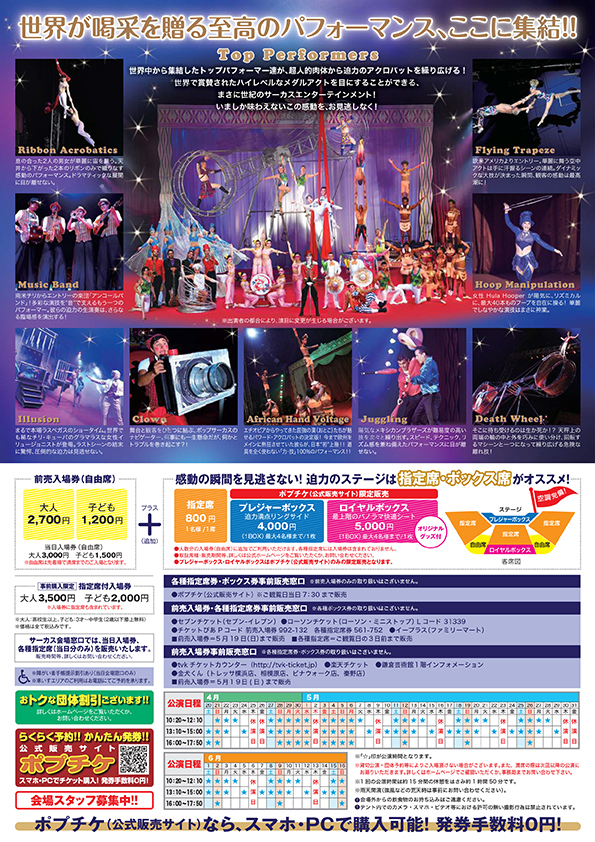 Pop Circus Shonan Performance
[Date] April 20 (Sat)-June 16 (Sun)
Opening times vary from day to day. Please see the official site schedule for details.
[Venue] Shonan Monorail Shonan Fukazawa Ekimae Special large tent
[Charge] (free seat advance sale) adult ¥ 2,700, child ¥ 1,200 (on the day of free seat) adult ¥ 3,000, child ¥ 1,500, (adapted seat admission ticket one person) adult ¥ 3,500, child ¥ 2,000, (designated seat Ticket <Admission ticket for free seat + one reserved seat>) ¥ 800 * One entry ticket (free seat) is required for each reserved seat.
[TEL] 0467-38-8826 (Pop Circus)
* Please check the official site for ticket sales information and event details, including "Pop-tike Limited Sales".
****************************************
Application of present was finished. Thank you for many applications.
[Present application summary]
Shonan Monorail Shonan Fukazawa Eki, Special Large Tent We will give free seat tickets for "Pop Circus Shonan Performance" currently held at the large tent on Sunday, June 16 to 11 pairs of 22 people.
【Application method】
If you would like to receive a viewing ticket, please apply from the application form below. We look forward to many applications.
【Application Deadline】
Until 28 May 2019 (Tuesday)
[Lottery, winning announcement]
Announcement of winner will be replaced by ticket delivery. (We will mail you a ticket from the Kanagawa Prefecture Culture Division.)
※ If the address of the winner can not deliver the ticket due to unknown location, etc, the winner will be voided.
※ We will not use your personal information for any purpose other than lottery.