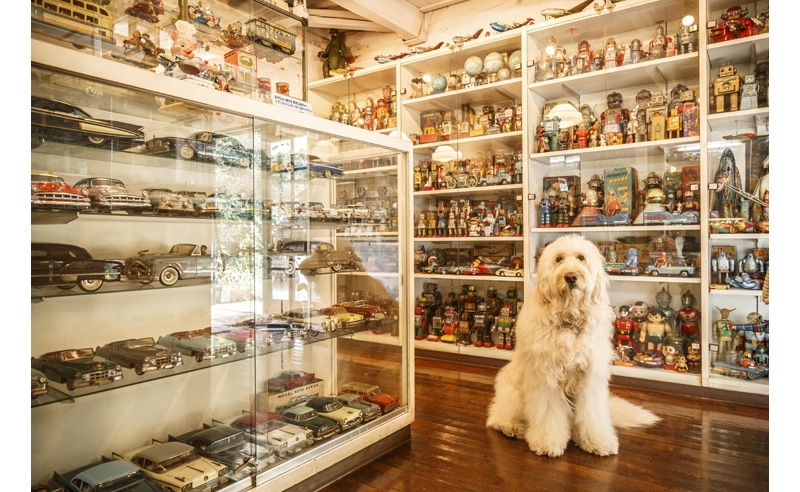 You don't have to be a maniac to get hooked! Tin Toy Museum
Tin Toy Museum 
(Please note that this page was created using Google's automatic translation service and understand that because of this, its translation may not necessarily be accurate.)
Infiltrate an artistic space!
YOKOHAMA ART SPOT FILE
Excited to meet the wind-up toys!
Tin Toy Museum
This museum displays about 3,000 tin toys manufactured mainly in Japan from the 1890s to the 1960s. Vehicles, robots, animals, and other colorful toys that deserve to be called art are lined up. I'm glad to welcome Robbie, the idol of the museum!

A tin toy museum in a quiet residential area of Yokohama Yamate. The landmarks are the green roof and the pink rabbit.

The area near the entrance is a shop space where you can buy tin toys.
"/>
The back of the museum is a museum.

The explanation of the manufacturing process using tin toys is also interesting!

Going further back, you will find a foreign-made tin toy corner. Many were made over 100 years ago! Each one is elaborately made and the colors are beautifully made, so you will be fascinated by it.

There are also tin toys unique to Japan that are rare to see now.
The museum has a backyard and an open terrace.
"width =" 700 "height =" 467.25 "alt =" "class =" pict "/>

Robbie seems to be comfortable walking around freely!
Please invite your family and friends to visit this art spot that can be enjoyed by children and adults alike.
Tin Toy Museum
[Business Hours] 9:30 to 18:00 (until 19:00 on Saturdays, Sundays, and holidays)
[Address] 239 Yamate-cho, Naka-ku, Yokohama
[Fee] Adults ¥ 200, elementary and junior high school students ¥ 100
[Inquiry] 045-621-8710
At the Tin Toys Museum, about 3,000 toys manufactured mainly in Japan from the 1890s to the 1960s are on permanent display. This is a part of the collection that Director Kitahara has collected since 1973. Opened in April 1986 with the desire to have many people see it. Tin toys exhibited in a museum renovated from an old Western-style building. Why don't you go back to those days when you were absorbed in playing in this exotic and exotic Yokohama lined with foreign cemeteries and old churches?
Address

239 Yamate-cho, Naka-ku, Yokohama-shi, Kanagawa

TEL

045-621-8710

Business Hour

(Weekdays) 9:30 to 18:00 (Saturdays, Sundays, and holidays) 9:30 to 19:00
Map