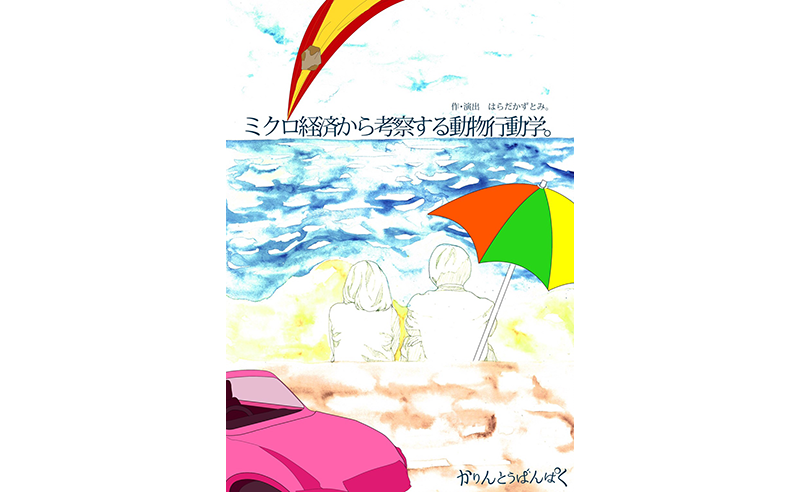 What is comedic art? Experience the "whirlpool of laughter" produced by "the stage"
"Karintenbanpakku" is the president, Harada Kazumi. It is a comic art project launched in 2017, centered on. We have released outdoor performances and video works so far, and in March 2018 we made a theatrical performance in the form of a theatrical performance. Such "Karintenbanpaku" will perform the second performance for 4 days as early as May 24 (Thu) – 27 (Sunday).
In the previous work "Theory of happiness to erode.", A strange script composition and spirited humor fascinated the audience, and its novelty was also called a theater experiment. Laughter that caught up in the theater as the flag raised to the ground in Yokohama recedes big. … Continue pursuit of laughter which the "stage" produces, not even comedy, images, even in this work "Experimental animal behavior studied from the micro economy."
——————————————————————– —–
Synopsis ○
From that day we met each other. They smiled together and the competition was going unnoticed as they were looking for each way. I can be confused about that figure, but after all I am not able to do anything by myself. If you have a god of fate, I hate you. Surely, in the future you can not imagine, believe in laughter days again.
——————————————————————– —–
MugLe Theater participation work
Karintenpunki 2nd Expo
Animal behavior studies to be considered from "micro" economy.
[Date and time] May 24th (Thursday) 19: 30 ~, 25 (Fri) 12: 00 ~, Saturday 26th (Sat) 12: 00 ~ 15: 30 ~, Sunday the 27th (Sunday) 13: 00 ~
[Venue] Kanagawa Prefectural Youth Center 2F Multipurpose Plaza (HIKARI)
[Production / Directing] Harada Kazumi.
[Appearance] Yui Aikawa, Arai Arai, Sakako Okubo, Yuka Kitazawa, Kazumi Harada, Yu Yurumura
[Rate] General ¥ 2,000, Student ¥ 1,500 (First day earning ¥ 200 withdrawal / Multiple occupancy <2 people or more> ¥ 300 per person)
※ Multiple split is limited to those who have made a reservation. * Discounts can be used together.
[Ticket sales] http://stage.corich.jp/stage/91764/ticket_apply
(We will make payment and handover of tickets on reception on the day.)
[Organizer] Kanagawa Prefecture · Karintenpunkku
[TEL] 090-6177-3926
[MAIL] banpaku.karintou@gmail.com
Area

Yokohama Bay Area (Naka-ku and Nishi Ward)