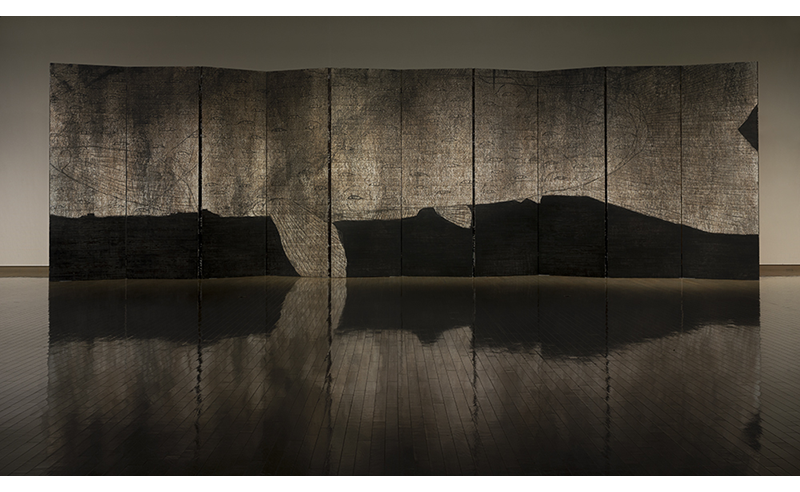 Art / Photography
Embracing a unique sense of dignity, immersed in the world of Japanese painter Okamura Keisaburo
2018.04.21〜2018.06.24
(TOP image) Keikaburo Okamura "One hundred eyes fish 18-1" A photograph taken by the author in 2018 / Shin Megamasa
Okamura (1958 students) has witnessed attention as early as early as it received the Yamaguchi Museum Award Excellence Award in his twenties. Its unique shaping is created by a unique method of overlaying the end of a crust with a gigantic cedar board burned in a burner, taking the shape of a motif with charcoal and engraving it in scales with a scraper . Okamura who acquired material feeling and a profound presence in conventional Japanese paintings due to these shaping acts was awarded the 2004 New Year 's Prize of the Ministry of Education, Culture, Sports, Science and Technology, the 4th Higashiyama Kaii Memorial Nikkei Nihon Painting Awards, 2008 Year 18th MOA Okada Shigeyoshi Prize Awarded the MOA Museum Award and has been active as an acclaimed writer who is driving the contemporary art world.
It is imaginary creatures such as elephants and birds, huge fish, dragons and Buddha Luo, which are depicted on a panel of huge cedar boards folded into a folding screen, that form that makes you feel strange forgery is overwhelming It approaches those who watch with a sense of life. Okamura who creates such an image leads to the idea that art and religion exist at the point of contact between nature and human beings by treating experiences rooted in human activities and climate and sensations, so that the life force of nature and its form I am inspired by the rhythm of my life and focus on my work.
This exhibition was created for the solo exhibition of Okamura Keisaburo who is a large-scale solo exhibition that will be held for 10 years in the prefecture since his solo exhibition in the Kanagawa Prefectural Museum of Modern Art, 2008, In addition to the new work, we introduce 31 points including old works / recent works that can confirm the change of Okamura's painting industry. Please enjoy the world view recalling the sympathy of nature and humans.
Okamura Keisuzaburo – To foreigners
[Date and time] April 21 (Saturday) to Sunday, June 24 (Sunday) 9: 30 ~ 17: 00 (Admission is until 16:30)
[Venue] Hiratsuka City Art Museum
[Closed on Monday]
[Fee] General ¥ 400 (¥ 320), High school student / university student ¥ 200 (¥ 160)
※ () in parentheses is a group rate of 20 or more.
※ Junior high school students and under, every Saturday high school students are free.
※ One who has various disabled persons notebook and one accompanying person is free.
※ For people over 65 years old, Hiratsuka citizens are free, group residents living outside the city are group fee.
(Those who can confirm age and addressPlease show it)
[TEL] 0463 – 35 – 211 1 (Hiratsuka City Art Museum)