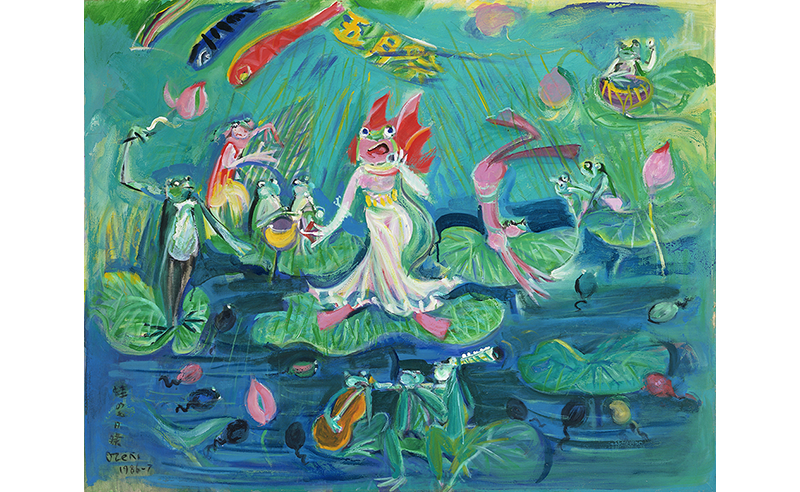 Art / Photography
What is the gaze that looks at the autographs of writers since the 19th century?
2018.07.07〜2018.09.02
(TOP image) Toshio Ozeki "Frog's May Festival" 1986
We are holding "Hall of summer collection exhibition Ikimono book" at Hiratsuka Municipal Museum of Art.
Since long ago, we have been deeply involved with living creatures. If we draw on the whole works of art, the murals of Lascaux caves in France and the Altamira caves in Spain are introduced at the beginning. The figure of a lively animal is drawn there, and you can see that humans have been interested in animals since ancient times. Since then, regardless of the East and the West of the Western style, the living things have been the source of the inspiration of the creator, and many expressive expression have been made.
This exhibition introduces paintings and sculpture works depicting creatures from among the works held by the hotel, following the simultaneous holding with Ryusuke Fukabori with goldfish motifs. I hope you will appreciate the diversity of the gaze that looks at the autographs of the writers of the 19th and 20th centuries and the various implications of the natural world and people.
【Special Issue】 Summer Collection Exhibition Ikimono Campaign
[Date and time] July 7 (Sat) – September 2 (Sun) 9: 30 – 17: 00 (Admission is until 16:30)
※ ※ Open from 18th August (Sat) to August 19th (Sun) until 18: 00 (Admission is until 17:30)
[Venue] Hiratsuka City Art Museum
[Closed day] Monday (however, July 16 is open), July 17 (Tue)
[Price] General ¥ 200 (¥ 140), High school student / university student ¥ 100 (¥ 70)
※ () in parentheses is a group rate of 20 or more.
※ Junior high school students and under, every Saturday high school students are free.
※ One who has various disabled persons notebook and one accompanying person is free.
※ For people over 65 years old, Hiratsuka citizens are free, group residents living outside the city are group fee.
(Please show what you can check your age / address)
[TEL] 0463 – 35 – 211 1 (Hiratsuka City Art Museum)
Also check related events !!
Gallery talk by curator in charge
[Date and time] July 15 (Sun), August 5 (Sun) 14: 00-14: 30
[Venue] HiratsukaMuseum Exhibition Room 2
※ Application is unnecessary, requiring tickets