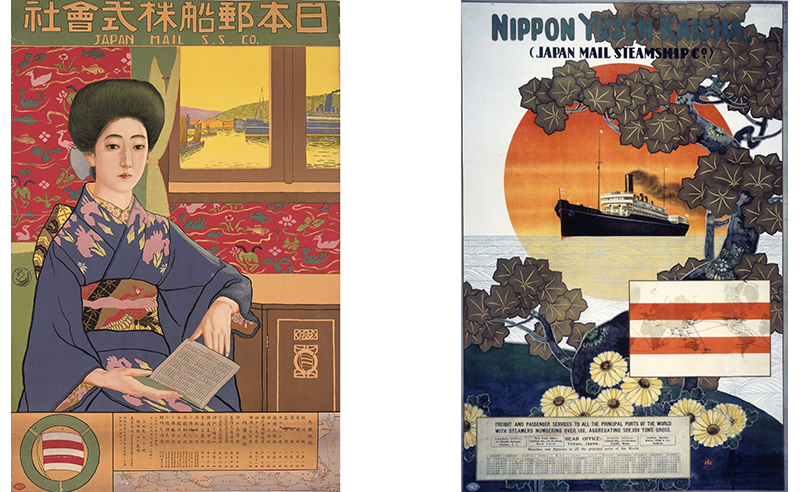 Art / Photography
What kind of work is a designer? ... Search from posters and calendars!
2018.07.21〜2018.10.28
(TOP image / left) Poster "Women holding the NYK Line Corporation calendar" 1913 (Taisho 2)
Picture: Hashiguchi Five Leaves Collection of NYK Maritime History Museum
(TOP image / right) Poster "NIPPON YUSEN KAISHA Fushimi Maru" 1917 (Taisho 6) Year
Picture: Yoshio Sugiyama Collection of NYK Maritime Museum of History
A poster indispensable to corporate public relations activities in the past as well. Prior to the war, we ordered from painters and designers active overseas, hired an advertising agency called a designer, and put effort into production. This exhibition will introduce the work focusing on the designers who worked on the design of the posters and calendars of NYK Line. Lectures, workshops and events for summer vacation children will also be held.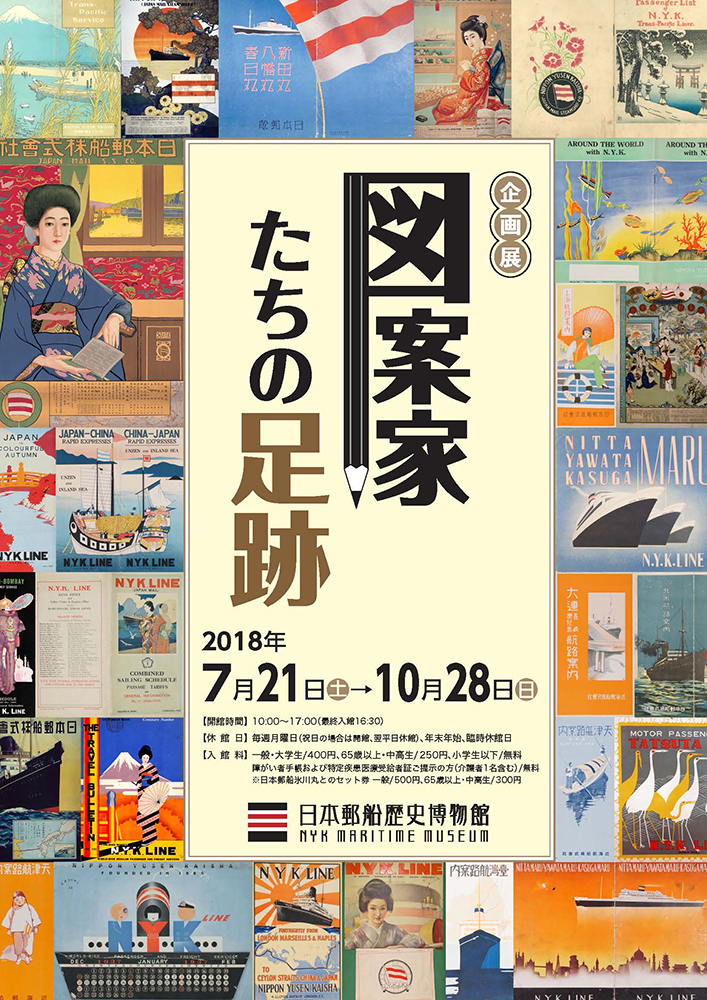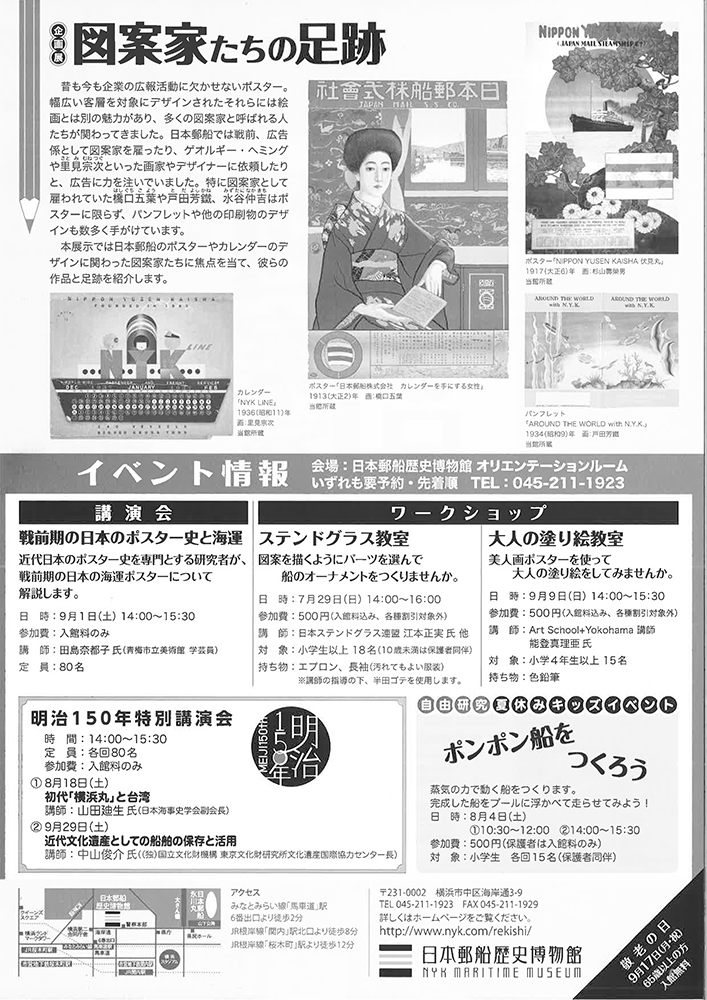 Exhibition "Footprints of Designers"
[Date and time] July 21 (Sat) – October 28 (Sunday)
[Venue] NYK Line Museum of History
[Closed day] Monday (next weekday in case of holiday)
[Price] Only admission fee (general ¥ 400, junior high / high school student, ¥ 250 or above, free of charge to elementary school students, free of charge, person with disabled person and person who presents medical certificate of specified disease medical certificate <
[TEL] 045-211-1923 (NYK Maritime Museum of History)
Also check related events! (Reservations required / First come first served)
[TEL] 045-211-1923
[Venue] NYK Line Museum of History Museum Orientation Room
■ Lecture "Japanese Poster History and Maritime in Prewar Period"
Researchers who specialize in poster history of modern Japan will explain the shipping posters of prewar Japan.
[Date and time] September 1 (Sat) 14: 00-15: 30
[Instructor] Mr. Nashiko Tajima (Ocean City Art Museum Curator)
[Capacity] 80 people
[Price] Admission fee only
■ Workshop
"Stained glass classroom"
Why not make a ship's ornament by selecting parts to draw a design?
[Date and time] July 29 (Sun) 14: 00-16: 00
[Instructor] Nippon Stained Glass Federation Masami Emoto, others
[Target] Elementary school student or above 18 (accompanied by parents under 10 years old)
[What to bring] Apron, long sleeve (dirty good clothes)
[Price] ¥ 500 (including entrance fee, not subject to various discounts)
※ Under the guidance of the instructor, use soldering iron.
"Adult painting classroom"
Why do not you paint adults with beautiful poster posters?
[Date and time] September 9th (Sun) 14: 00-15: 30
[Price] ¥ 500 (including entrance fee, not subject to various discounts)
[Instructor] Art School + Yokohama Instructor Mr. Noto Mariko
[Subject] Elementary school 4th graders or more 15
[What to bring] Colored pencil
Area

Yokohama Bay Area (Naka-ku and Nishi Ward)