Theater / dance
Produce by Ueno Akira The second volume of Ballet / Gala !!
開催:2018.11.17
(TOP image / left) Ueno Suka © Shinji Hosono
Produce Ballet Gala 2nd Produce by Ueno Suki! This is a special stage where the personality of dancers glitter like jewels, welcoming Vladimir Mallerhof.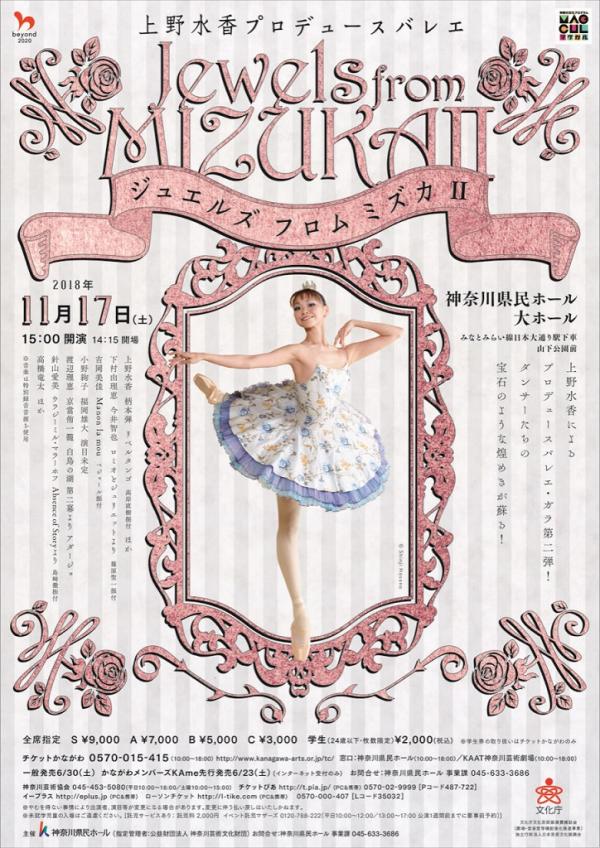 Ueno Mizutaka Produce Ballet
Jewels from MIZUKA Ⅱ
[Date and time] November 17 (Sat) 15: 00 ~ (14: 15 opening)
[Venue] Kanagawa Prefectural Hall Great Hall
[Cast] Ueno Sukima, Shimomura Yuji, Imai Tomoya, Yoshioka Mika, Ono Ayako, Fukuoka Yusuhiro, Watanabe Rie, Kyoto Okazaki, Kimiyama Ai Mi, Vladimir Mallerhof, Takahashi Ryuta, etc. are under adjustment
※ As soon as a new cast or work is decided, it will be announced on the website etc. sequentially.
[Fare] S seat ¥ 9,000, A seat ¥ 7,000, B seat ¥ 5,000, C seat ¥ 3,000, student (24 years old or under · limited number) ¥ 2,000
[Organizer] Kanagawa Prefectural Hall (designated manager: Kanagawa Arts Foundation)
[Ticket sales] TEL.0570-015-415 (Ticket Kanagawa / reception hours 10: 00 ~ 18: 00)
Ticket Kanagawa performance introduction site is here !
Area

Yokohama Bay Area (Naka-ku and Nishi Ward)