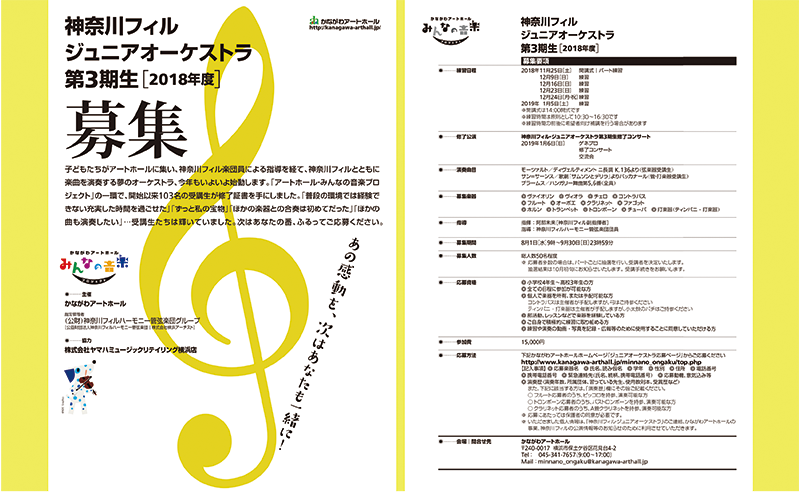 Course / workshop musics
Kanagawa Phil, Junior Orchestra Third stage recruitment in progress!
2018.08.01〜2018.09.30
Children gathered at the art hall, after under the guidance of the Kanagawa Philharmonic Orchestra, the dream orchestra playing music with the Kanagawa Philharmonic Orchestra will start again this year. As part of "Art Hall · Everyone's Music Project", 103 students have obtained certificates since starting. "I was able to spend a fulfilling time that I could not experience in my usual environment" "My treasure forever", "It was my first time to play with other instruments", "I want to play other songs" … the students were shining. Next time, please apply for your turn.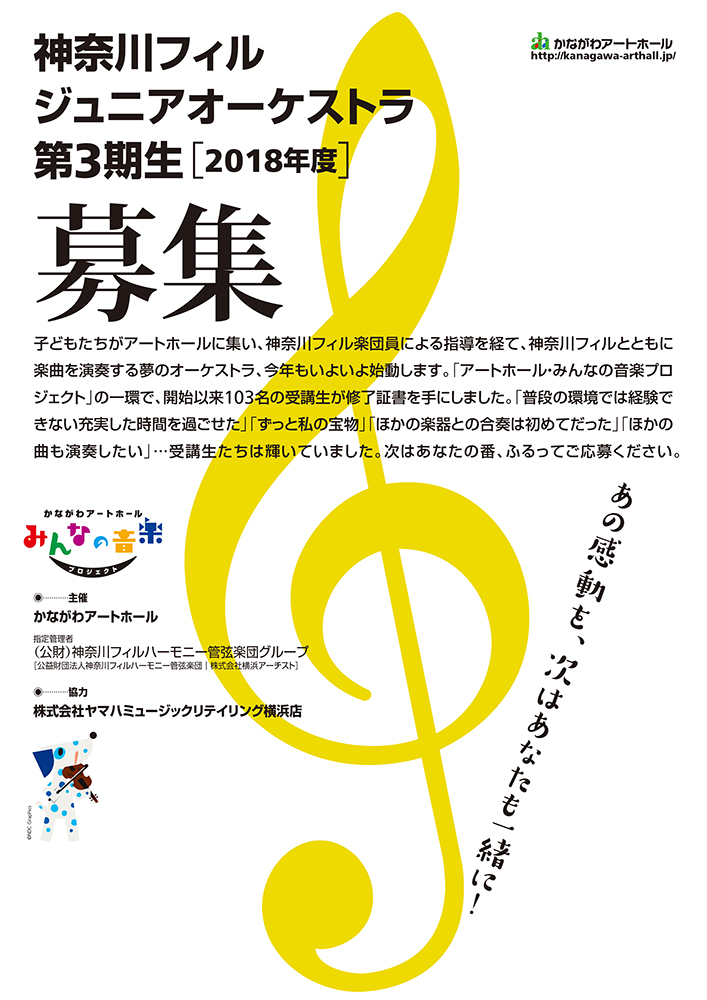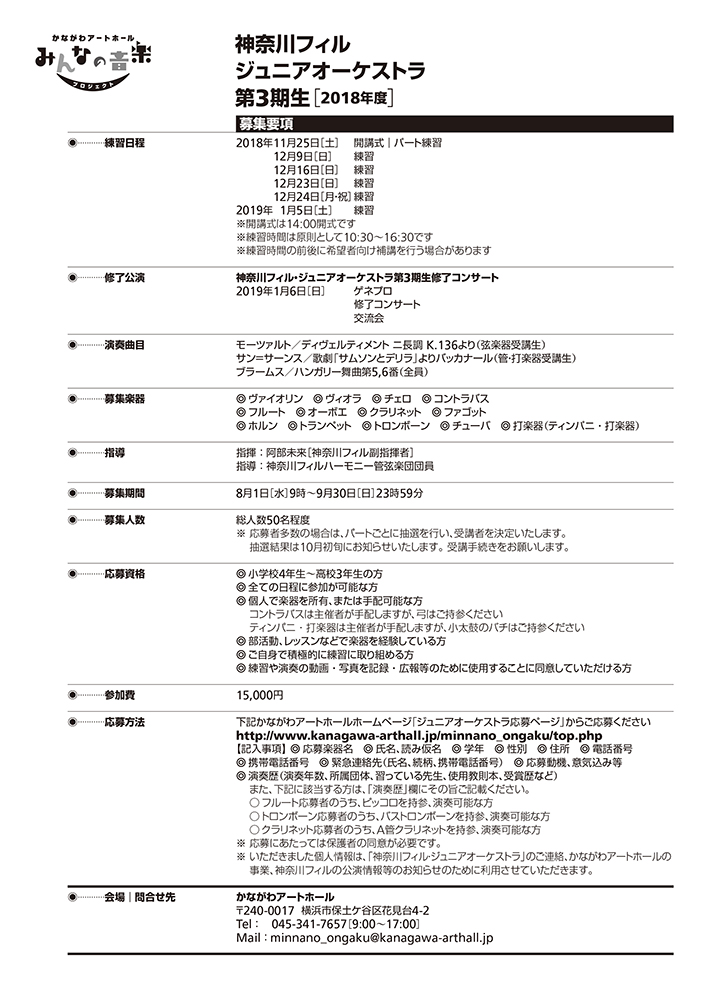 Kanagawa Phil Junior Orchestra
Third stage student [FY 2018] recruitment
[Recruitment Period] August 1 (Wednesday) – September 30 (Sunday) 23: 59
[Recruitment instrument] Violin, viola, cello, contrabass, flute, oboe, clarinet, bassoon, horn, trumpet, trombone, tuba, percussion instrument (timpani / percussion instrument)
[Guidance] Conductor: Mirai Abe (Deputy Conductor of Kanagawa Philharmonic Orchestra), Teaching: Kanagawa Philharmonic Orchestra Members
[Number of people wanted] About 50 people total
※ In the case of many applicants, we will make a lottery for each part and decide students. Lottery selectionThe results will be announced in early October. Please take classes.
[Practice schedule]
◉ November 25 (Sat) Opening Ceremony / Part Practice
◉ On December 9th (Sunday), 16th (Sun), 23nd (Sunday), 24th (Monday · Holiday), January 5th, Saturday 2019 (Saturday) All exercises
※ Opening ceremony is open at 14:00.
※ The practice time is in principle 10:30 to 16:30.
* There are times when repairing for applicants is done before and after the practice time.
[Completion Performance] January 6, 2019 (Sun) Genepro, Completion Concert, Exchange Meeting
[Performance piece] Mozart: Divertimento D major from K.136 (students who are string instruments), Saint-Saëns: Bacchanal (student of tube and percussion) from opera "Samson and Delilah", Brahms: Hungarian dances 5 and 6 All)
[Qualification requirements]
◉ Primary school fourth grader – third grader
◉ Who can participate in all dates
◉ Person who owns or can arrange instruments (Contrabass is organized by the organizer, but please bring a bow.Timpani / percussion instruments are organized by the organizer, but please bring small beads bee)
◉ Those who are experiencing instruments in club activities, lessons, etc.
◉ Who can actively practice on your own
◉ Who can agree to use movies and pictures of practice and performance for recording · publicity etc.
[Entry Fee] ¥ 15,000
[How to apply] Please apply from the Kanagawa Art Hall website "Junior Orchestra Entry Page" below.
http://www.kanagawa-arthall.jp/minnano_ongaku/top.php
[Venue · TEL] 045-341-7657 (Kanagawa Art Hall "Kana Philand" Section / 9: 00 ~ 17: 00)
[MAIL] minnano_ongaku@kanagawa-arthall.jp
Area

Yokohama City (excluding the Bay Area)