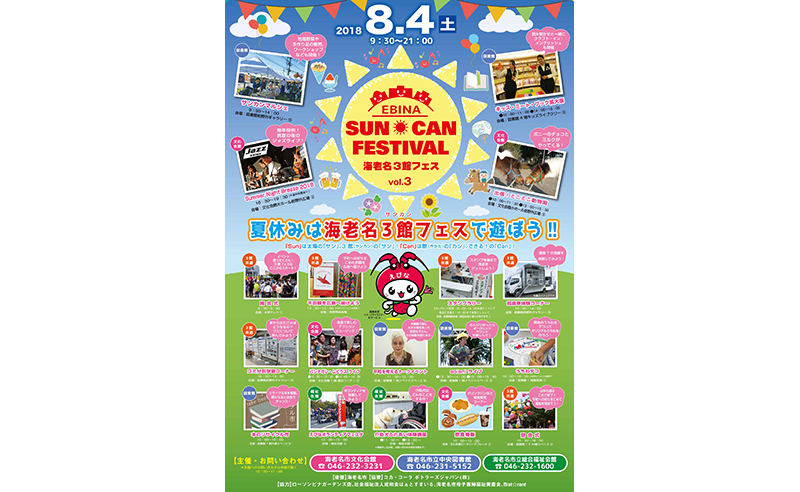 Other Course / workshop musics
Summer vacation "Ebina 3 Festival Festival" Let's play it all night from morning till evening!
開催:2018.08.04
Ebina City Cultural Center, Ebina City Library, Ebina City Comprehensive Social Welfare Center, these three buildings are neighboring each other, so they are friendly friends from day to day. Taking advantage of each specialty field, the event which further elevates Ebina 's town, it is "Ebina 3 Festival Festival"! I wanted to have three buildings illuminate the town of Ebina like the sun, with such feelings, I went to the Sun "Sun". "Can" is "Kan" of "Kan kakuta", and surely these three buildings "Can" can illuminate the city of Ebinae brightly.
Ebina 3 Festival Festival
[Date and time] August 4 (Saturday) 9: 30-21: 00
[Venue] Ebina City Cultural Center, Ebina City Central Library, Ebina City General Welfare Center
[Contents] Opening ceremony, One Kang Marche, Summer Night Breeze 2018, Kids' Meat · Book Enlarged Edition, Trip! Let's deliver Mini Mini Zoo, Thousand Paper Cranes to Hiroshima, 3 stamp ramps, seismic vehicle experience corner, garbage separation learning corner , Pashitigale · Mubirazuribu, talk event thinking about peace, aolani live, fan fan, recycle city of books, ebino volunteer festa, assistance dog contact experiencing course, food and beverage sales, closing ceremony, etc.
[Price] Free
[Organizer] Ebina City Cultural Center, Ebina City Central Library, Ebina City General Welfare Center
[TEL] 046-232-3231 (Ebina City Cultural Center), 046-231-5152 (Ebina City Central Library), 046-232-1600 (Ebina City Comprehensive Welfare Center)