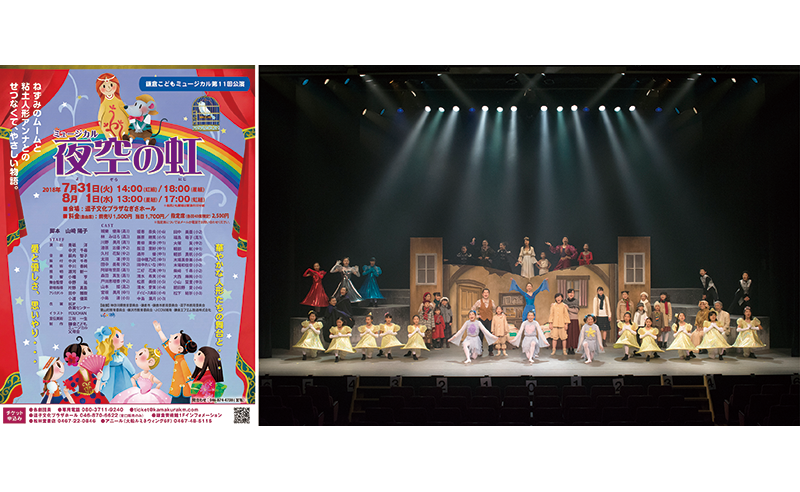 Theater / dance musics
A world of ornate dolls ... Attention to the Kamakura Children's Musical this summer
2018.07.31〜2018.08.01
(TOP image / right) The 10th anniversary performance performed last year "Happy Blue Bird"
A musical of Yokozaki Yokozuna scriptwriter played as a fairy tale writer / writer. In the Kamakura Children's Musical it is the second performance and it's the first time in 9 years! The number of people has more than doubled as compared with those days, and the children are growing astonishingly. Please see the "Rainbow of the Night Sky" that you power up. "The Rainbow of the Night Sky" is a story about a lot of love, kindness, compassion, which is the theme of the theater company, gathered in the world of gorgeous dolls. It is a musical that you can impress people of a wide range of age who teach important things as a person.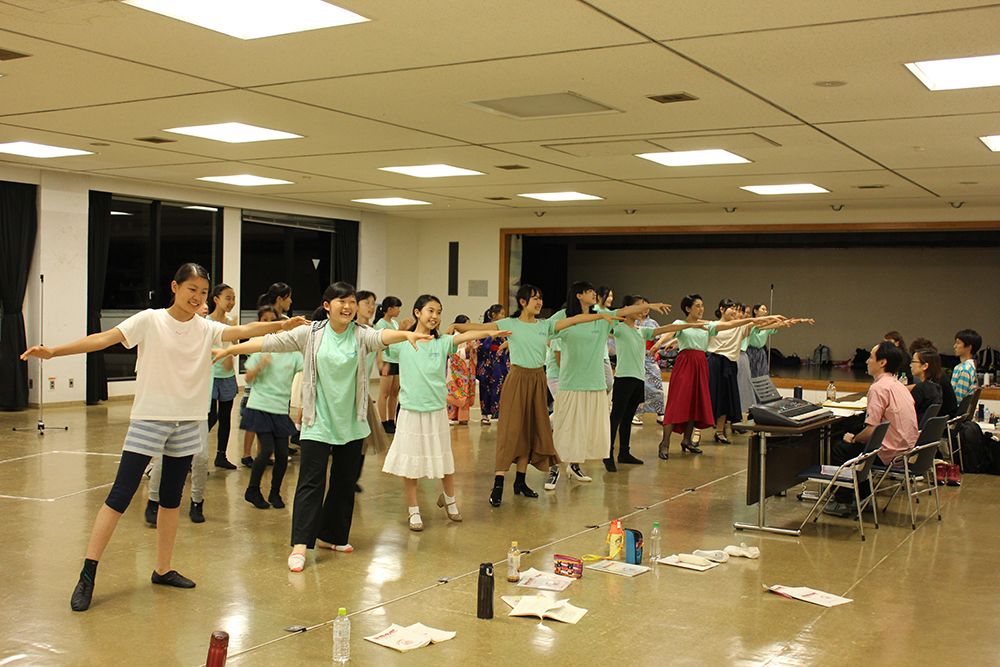 (Practicing scenery of this year)
<Synopsis>
A grand residence where gorgeous dolls gathered from all over the world were decorated. It is a mime of the mouse that is very exciting to see the beautiful dolls from behind the ceiling. There, clay doll Anna is newly added to a group. Anna who is poorly dressed is out of sight with Canarias with ornate dolls and beautiful singing voice. Meanwhile, Anna and Mouse 's Mume became friends. And one day, the canary is attacked by a black cat. At that time, what Anna asked Mum to …? Anna who taught everyone the wonderfulness of real friendship and love. Can you see the rainbow bridge over the night sky …?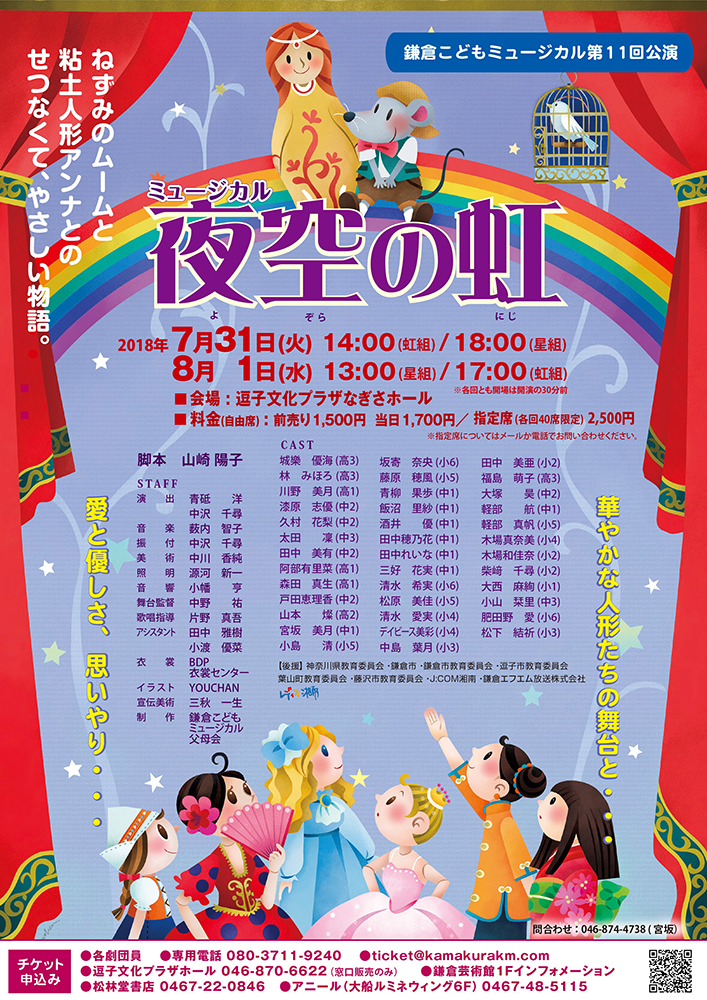 Kamakura Children's Musical 11Times performance "Night sky rainbow"
[Date and time] July 31 (Tue) 14: 00 ~ [Rainbow Set], 18: 00 ~ 【Star group】, August 1 (Wednesday) 13: 00 ~ 【Star group】, 17: 00 ~ 【Rainbow set】
[Venue] Zushi Culture Plaza Nagisa Hall
[Screenplay] Yokozaki Yoko
[Director] Ao Seishi
[Production / Choreography] Chihiro Nakazawa
[Singing instruction] Shingo Katano
[Music] Yoshiuchi Tomoko
[Cast] 38 people from small 1 to 3 enrolled in the Kamakura Children's Musical, supportive cast 1 person ※ Partial double cast (rainbow set / star group)
[Fee] (free seat) Advance ¥ 1,500, same day ¥ 1,700, (designated seat) ¥ 2,500 <limited to 40 seats each time>
[Organizer] Kamakura Children's Musical
[Ticket Sales] http://www.kamakurakm.com/f-ticket/form.php
※ There is also consignment sale for free seat advance in the following.
Zushi Culture Plaza Hall 046-870-6622 Kamakura Art Center 1F Information Center
Shochudo Bookstore (0467-22-0846) Annealing (Ohune Lumine Wing 6F 0467-48-5115)
※ Specified seats will be ordered in order of application.
※ Ticket sales situation will be announced from the website, Facebook etc. at any time.
[URL] http://www.kamakurakm.com