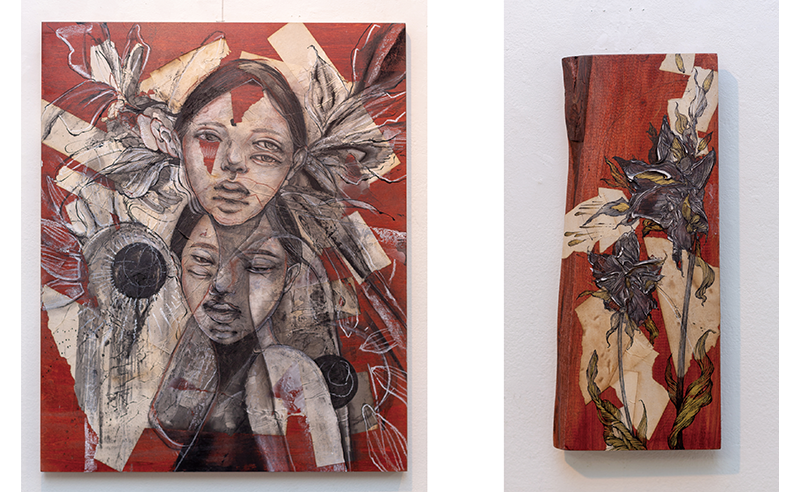 Art / Photography
Artists Sugiyama Aya's drawing exhibition will be held at Shonan Hiratsuka in the local area!
2018.08.24〜2018.08.26
We will hold artist Sugiyama Aya's drawing exhibition at Shonan Hiratsuka's "1761studio". During the exhibition, we will prepare space for healing as well as exhibition of works. (24th: Aichaka gift, 25th: Yuta Yuko, 26th: Aika no Ohakata) Please come and visit us in three days like a breath of body and mind in the space a little away from the hustle and bustle.
"PROFILE"
■ Sugiyama Aya
I am working on a collage of drawings drawn with pencils etc on Japanese paper or half paper which coffee dyed. The support mainly uses wood, leaving a soft color and grain of wood dare to give a warm color to the world of monochrome. In recent years, I am interested in scientific things and the phenomena world, and put the twist of the space in my work. By expressing the uncertainty of the visible thing and the image of the invisible thing, I think that I can convey a new image of "existence".
【Main exhibition history】
2014 "Sugiyama Aya Exhibition" (Gallery Voice), "Sugiyama Aya Exhibition" (O Gallery), 50th Kanagawa Prefectural Art Exhibition Winner
2015 TOKYO WONDER WALL 2015 Winning
2016 "Respoal Sugiyama Aya Exhibition" (Ginza Sulga Tower Gallery), Emerging Artists Training Exchange Work Exhibition (Tsukuba Art Museum, Ibaraki Prefecture)
2017 Hiratsuka Underground Road Museum mural painting production / work exhibition (Hiratsuka Station North Exit and Hiratsuka City Hall)
2018 "4 clover" (Ginza Sulga Tower Gallery)
■ Aka no Tate (Healing Reading)
From Reiki, East-West Medicine, Natural Therapy, Natural Therapy, Microconductive Method etc. Reading out the voice of the heart from the body, tuning the energy circulation received from heaven and the earth to their natural frequency.
■ Yuta Yuko
I had the blood of Okinawa Ishigakijima as my ancestor, I recognized that as the bloodline, I met Ryukyu Shaman no Ryo, and received my revelation to live myself as Utah. After initiating, I am currently doing activities as Utah.
~ What is Utah ~
A woman who mainly has Ryukyu's blood line is taken over from the ancestor from the ancient times, and receives and tells a message connected with God. Using cards, stones, etc., I will give him the best adviceI'm at home.
Ayano Sugiyama
suay drawing 2nd exhibition
[Date and time] August 24 (Friday) – 26 (Sunday) 11: 00-19: 00
[Venue] 1761studio
[Price] Free
[MAIL] suay@icloud.com
[URL] https://irodorichameleon.wixsite.com/ayasugiyama