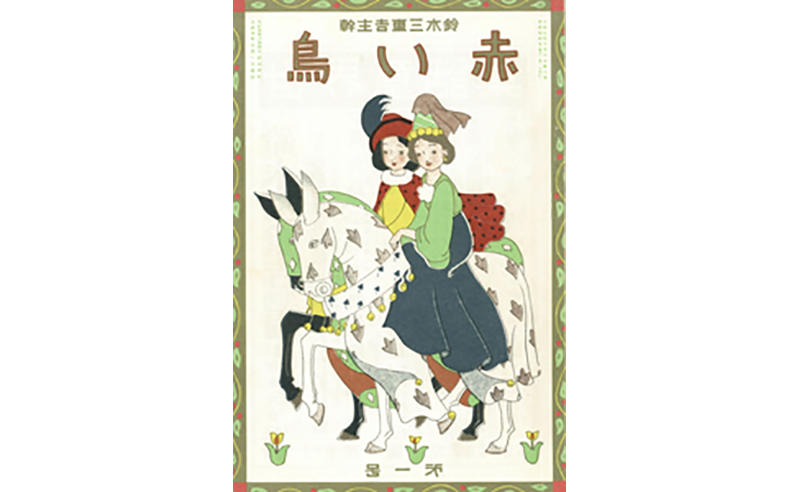 Course / workshop
The 100th anniversary commemorative event of the Taisho period's fairy-tale children's magazine "Red Bird"
開催:2018.09.23
(TOP image) "Red bird" first issue
It was during Taisho 7 (1918) that the Taisho period's children's children's mother magazine "Red Bird" was launched. In the first issue, a fairy tale such as Akutagawa Ryunosuke's "Spider's Thread" and children's songs by Kitahara Hakushi who will decorate everything from there are posted, and until 1929 until Showa 4 (1929) A book was issued. "Late fox" of Shinmei Nankichi etc is also posted in the late "red bird" after interruption. I will think about the facts and significance of "red birds" that can be said to have transformed the landscape of children's literature and children's culture in Japan, the fairytales of the same age, children's songs and children's paintings, while tasting fairy tales that are read continuously. We are waiting for the participation of many people who are interested in children's books and culture.
"Red bird" 100th anniversary commemoration "Reading and symposium gatherings"
Talking about "red birds"
[Date and time] September 23 (Sun) 14: 00 ~ (13: 30 opening)
[Venue] Kanagawa Modern Literature Museum Exhibition Hall 2F Hall
[program]
■ Reading: Yamane Kazuyo (former NHK announcer) Arishima Takeo "Bunch of grapes"
■ Symposium "What Red Ridge Aims"
Panelists: Ms. Miko Sato (Professor, Chiba University), Ikuko Matsumoto (Deputy Director, Kariya City Art Museum), Yoshinori Yazaki (Doyo poet · Miku Kaneko Memorial Director) / Miyagawa Kenro (Coordinator)
[Capacity] 220 people
[Rate] General ¥ 1,000, Modern Literature Hall Friendship Association ¥ 800
[How to apply]
■ Kanagawa Modern Literature Museum Museum Shop
Please purchase directly at the time of visit. ※ Please note on closed days.
■ National Lawson Ministop shop front Loppi (L code: 31484)
· Telephone: 0570-084-003 (automatic voice 24 hours) / 0570-000-777 (Operator response 10 to 20 o'clock)
· Http://l-tike.com (PC · Mobile Common)
※ Furthermore, at Lawson Ticket there is no Kanagawa Modern literature gallery friends' s / student discount.
■ Kanagawa Modern Literature Museum Friendship Association members will accept reservations only by phone (045- 622-6666). (9: 30 ~ 17: 00 on the opening day)
[TEL] 045-622-6666 (Kanagawa Modern Literature Gakuin)
※ We will close the reception as soon as the capacity becomes available.
※ Please refrain from entering preschool children.
Area

Yokohama Bay Area (Naka-ku and Nishi Ward)