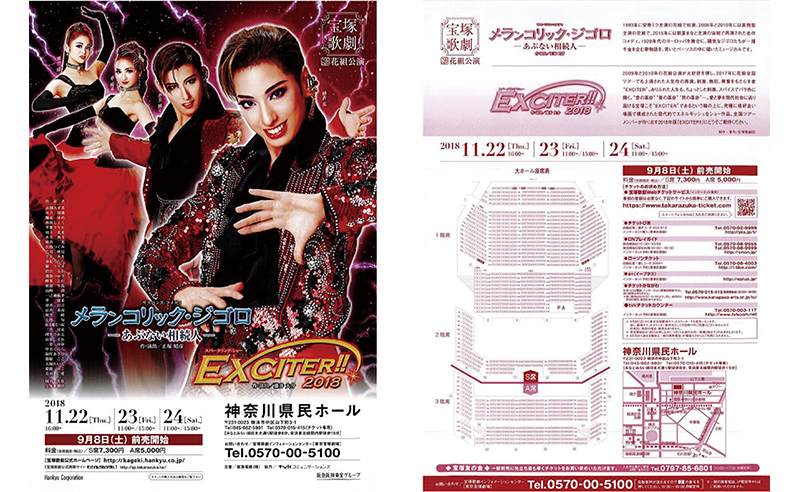 Theater / dance musics
At the Kanagawa Prefectural Hall, the Takarazuka Revue Hana Flower Comet is coming!
宝塚歌劇団 花組公演 サスペンス・コメディ『メランコリック・ジゴロ』-あぶない相続人ー / スパークリング・ショー『EXCITER!!2018』
2018.11.22〜2018.11.24
Suspense · Comedy "Melancholic · Gigolo" – Abubous heir –
Work / Director / Haruhiko Masuka
Premiered at Hanagumi starring Ansugi Mira in 1993, a flower group starring Mae Fei in 2008 and 2010, a masterpiece comedy re-performed in the air group starring Asami Maina and 2015. Set in Europe in the 1920s, the musicals drawn in laughter and in Pesos laughing and dreams of cheerful gigolos planning for a rush.
Sparkling show "EXCITER !! 2018"
Work / Direction / Daisuke Fujii
Flower group performance in 2009 and 2010 got great popularity, and the popular work which was performed also in the flower arrangement nationwide tour in 2017 is replayed. A person who brings stimulation, enthusiasm, excitement "EXCITER". Common life also shines rose with a little stimulation, spice. "Sound revolution" "Beauty revolution" "Man 's revolution" …. Takarazuka that delivers love and dreams to modern society Contemporary and energetic show work composed of the coolest scene in the ultimate outstanding scene on the axis that it is "EXCITER". Please expect from the 2018 edition "EXCITER !!" produced by the national tour members.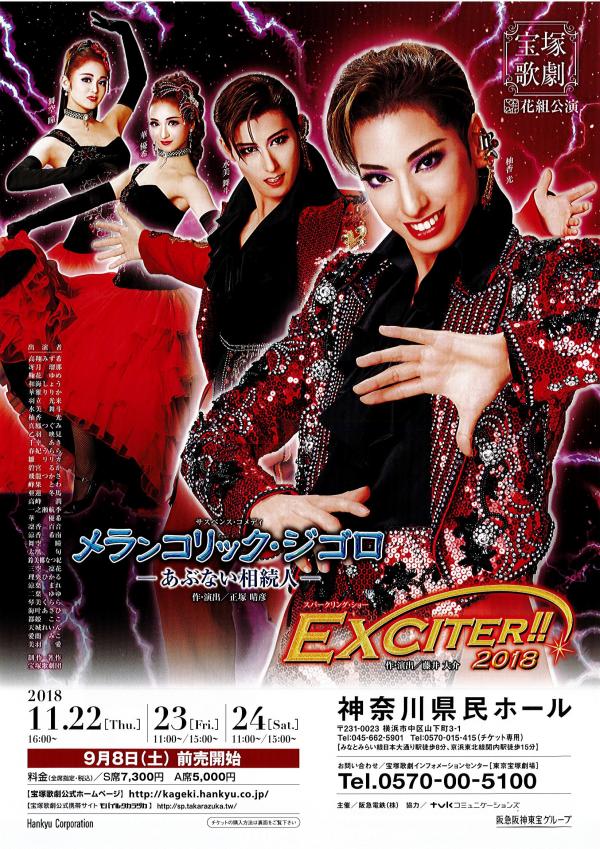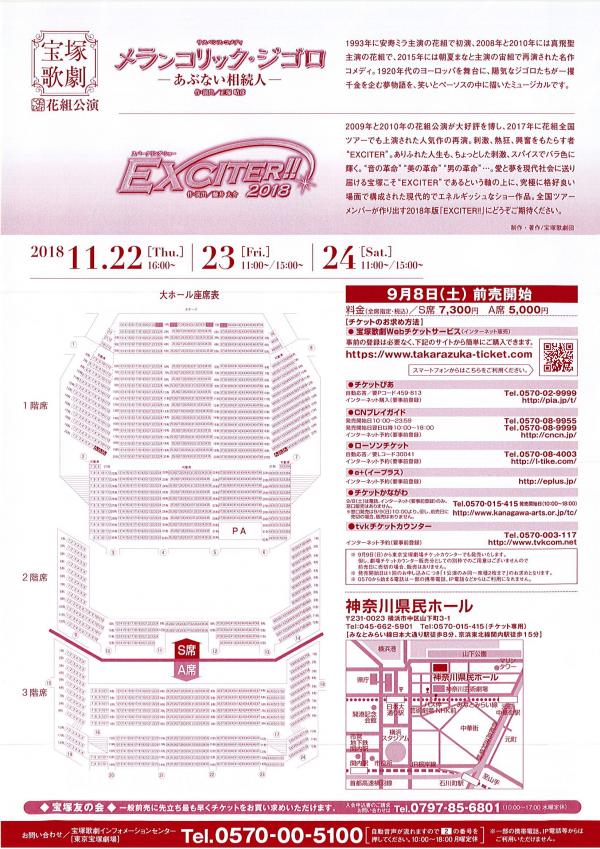 Takarazuka Revue Flower Group Performance
Suspense · Comedy "Melancholic · DiGoro "- An abomination heir –
Sparkling show "EXCITER !! 2018"
[Date and time] November 22 (Thu) – 24 (Sat)
22 (Thu) 16: 00 ~ (opening 15: 30)
Friday the 23rd (11: 00- (opening 10: 30) · 15: 00 ~ (opening 14: 00)
Saturday 24th (Sat) 11: 00 ~ (Opening 10: 30) · 15: 00 ~ (opening 14: 00)
[Venue] Kanagawa Prefectural Hall Great Hall
[Cast] Takarazuka Revue Flower Group
[Fare] (All seats specified) S seat ¥ 7,300, A seat ¥ 5,000
[Organizer] Hankyu Corporation Hankyu Corporation
[Ticket Sales] TEL.0570-00-5100 (Takarazuka Revue Information Center <Tokyo Takarazuka Theater>)
* Performance introduction site is here !!
[TEL] 0570-00-5100 (Takarazuka Revue Information Center <Tokyo Takarazuka Theater>)
[URL] http://kageki.hankyu.co.jp/friends/toiawase.html
Area

Yokohama Bay Area (Naka-ku and Nishi Ward)