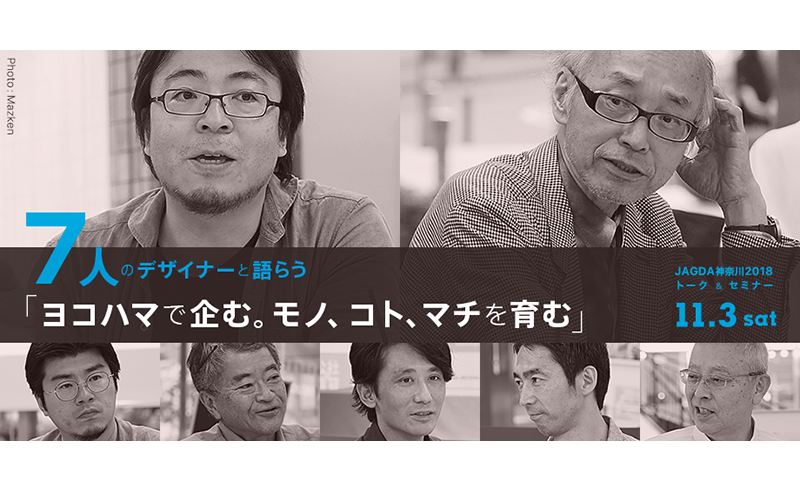 Course / workshop
Creator gathering in Yokohama gathers "Talk & Seminar"
7人のデザイナーと語らう「ヨコハマで企む。モノ、コト、マチを育む」(JAGDA神奈川2018トーク&セミナー)
開催:2018.11.03
"Bit creative shop" packed with knowledge, sensibility and humor of creators who are related to Yokohama has been OPENed for a limited time (8/8 – 11/4) at the red brick warehouse. In the JAGDA Kanagawa (Japan Graphic Designers Association Kanagawa Area), we will hold a talk & seminar that talks about region and design with keywords of Yokohama, Mono, Koto and Machi, with local designers who exhibited at the same shop.
First of all, we plan the same shop and look forward to the design of Ken Nakagawa who continues to propose to enrich Yokohama's life, long before the regional design is screamed, a design that involves citizens and companies. Subsequently, a new relationship between the region and the design will be brought up by Takahito Kamihei, professor of Senshu University's Department of Network Information, from the viewpoint of CoDesign (collaborative design) and design attitude .
In addition, with a charming designer who participated in the creative shop and Atsuo Inomata who designs the entire gore, it is possible to think of new value from an unprecedented viewpoint and to develop regional design with playfulness We talk about sex.
※ This talk & seminar can be participated for free, but due to the convenience of the venue space, we are asking for advance reservation.
Finally at the same venue, we have time for a social gathering. We are preparing drinks and simple snacks by paying the reception fee at the venue. Please enjoy the continuation of the conversation with seven designers.
Talk with seven designers
"I will plan in Yokohama, nurture mono, koto and gore"
(JAGDA Kanagawa 2018 Talk & Seminar)
[Date and time] November 3 (Sat., congratulation) 14: 00-18: 00
[Venue] kosha33 Studio
[Timeline]
0. Introduction of opening, talk & seminar
1 4: 00 ~ 14: 05 (Hiroshi Mitsushima)
1. Planning fun Yokohama together, Design of a design that involves citizens and companies
<Seminar> 14: 05 – 14: 35 (Norikawa Kenzo)
<Q & A response> 14: 35 ~ 14: 40
2. Mechanism (CoDesign) and attitude (Design Attitude) for designing people in the city as their own
<Seminar> 14: 45 ~ 15: 15 (Shohei Takahito)
<Q & A response> 15: 15 ~ 15: 20
<Break: 15: 20 – 15: 30>
3. Panel Discussion (Birch creative shop and seven designers)
15: 30 ~ 17: 00
[Facilitator] Hiroshi Mitsushima
[Panelist]
Norikawa Norikawa (All of the plan of the creative shop)
Tadahito Kamihei (Regional design and role of designer)
Amano Kazutoshi (Corporate branding and Yokohama likeness)
Masahiko Kashiwara (New market created by up-cycle design.Social design business)
Kozaki Naoteri (Visualize "unknown unattended" latent potential in companies and regions)
Takemori Takehiko (Border and idea of ​​art and design)
Kanagawa Prefecture Housing Supply Corporation Atsuo Inomata (I will continue to use it, I will live a new life in the upcoming apartment complex)
<Q & A response / closing> 17: 00 ~ 17: 05
<Preparing for a social gathering party> 17: 05 to 17: 10
4. Social gathering
17: 10 ~ 18: 00
[Fee] Free (Participation Participation ¥ 1,000 / Please pay at the reception desk)
[Capacity] 60 seminars, 30 social gatherings (planned)
[How to apply] From the event HP , please pre-register at Peatix. There is also possibility of participation by other methods.
[Deadline] It ends as it becomes capacity. It may be closed due to participation by other methods.
[Cancellation] When it becomes difficult to participate,= "color: # 99cc00;" href = "https://jagda-7d.peatix.com/">> Please contact us as soon as possible from the HP Contact Information button on the organizer.
[Organizer] Public interest corporation Japan graphic designer association (JAGDA) Kanagawa district
[TEL] 045 – 651 – 1842 (kosha 33)
Area

Yokohama Bay Area (Naka-ku and Nishi Ward)