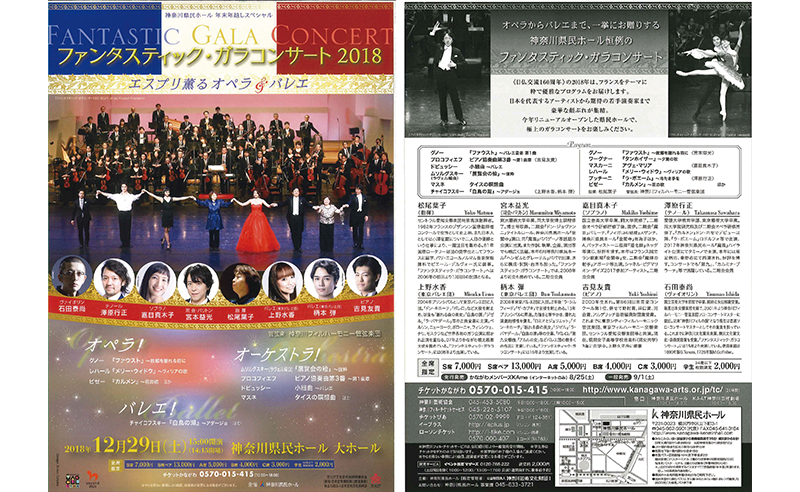 Theater / dance musics
From the opera to the ballet! The annual fantastic gala!
ファンタスティック・ガラコンサート 2018 エスプリ薫るオペラ&バレエ
開催:2018.12.29
In 2018 of "160th anniversary of Japan – France relations", we will deliver a stylish and elegant program with the theme of France. Luxurious faces gathered from representative artists to young musicians expected. Please enjoy the finest gala concert at the prefectural public hall that was renewed this year.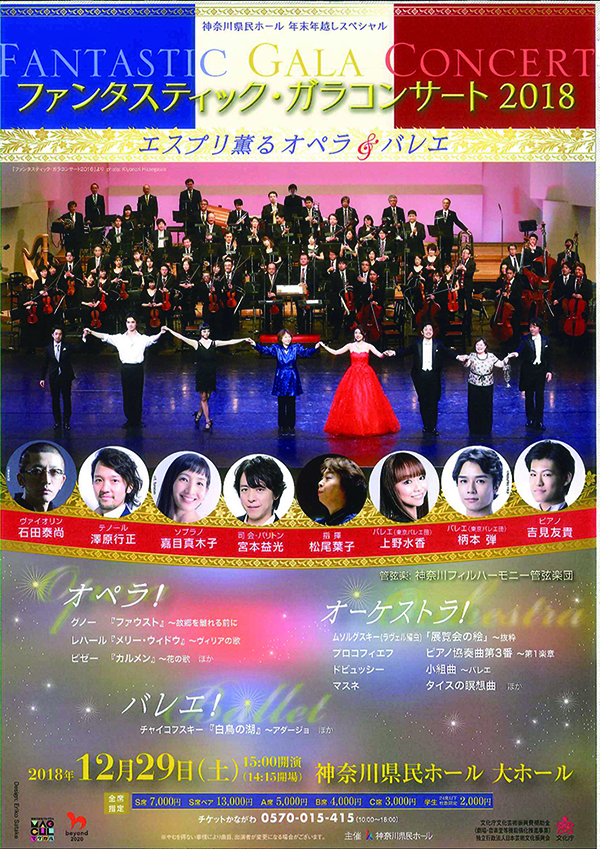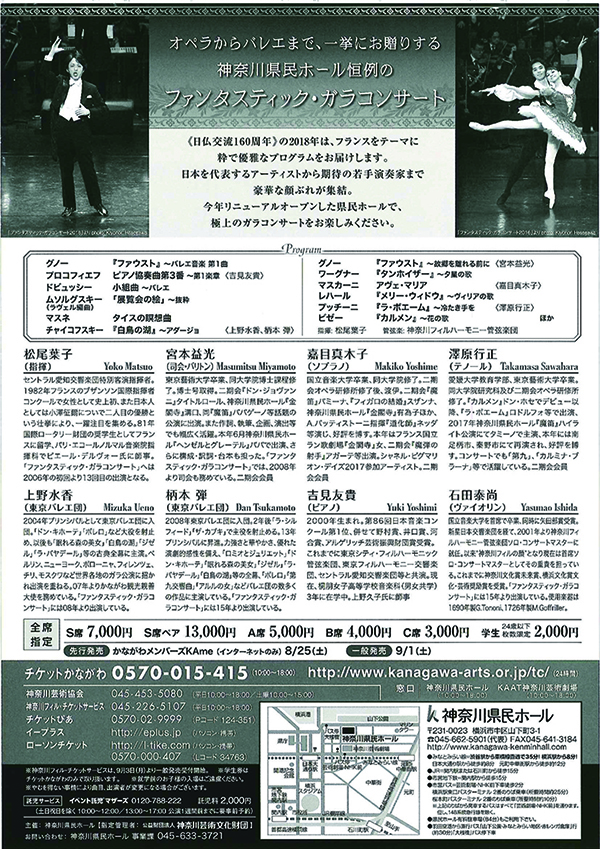 Kanagawa Prefectural Hall New Year's Eve Special
Fantastic Gala Concert 2018
Espril smelling opera & ballet
[Date and time] December 29 (Sat) 15: 00 ~ (14: 15 opening)
[Venue] Kanagawa Prefectural Hall Great Hall
[Cast] Yoko Matsuo (conductor), Mikimitsu Miyamoto (moderator · baritone), Makiko Kashima (soprano), Seiji Sawabara (tenor), Ueno Suka (ballet <Tokyo ballet company), ballet sculpture <Tokyo Ballet Yoshimi Yokomi (piano), Ishida Yasushi (violin), Kanagawa Philharmonic Orchestra (orchestral music)
[Songs]
"Opera"
GOUNO: Before leaving home from "Faust", Wagner: Even Star's song from "Tannhuiser", Lehar: Villa's song from "Mary Widow", Muscany: AvE · Mary, Bizet: Flower songs from "Carmen", Puccini: cold hands from "La Boheme"
"orchestra"
Mussorgsky (Arrangement of the exhibition): Promenade from Daimon Kiev, Prokofiev: 1st movement from Piano Concerto No. 3, Debussy: from Small Suite IV. Ballet, Massenet: Meditation song by Thais
"ballet"
Tchaikovsky: Adagio from "Swan Lake"
[Fare] (All seats specified) S seat ¥ 7,000, S pair seat ¥ 13,000, A seat ¥ 5,000, B seat ¥ 4,000, C seat ¥ 3,000, student (24 years old or less · limited number) ¥ 2,000
[Organizer] Kanagawa Prefectural Hall
[Ticket Sales] TEL.0570-015-415 (Ticket Kanagawa / 10: 00 ~ 18: 00)
* Performance introduction site is here !!
[TEL] 045-633-3721 (Kanagawa Prefectural Hall Business Section)
※ Casts, performances, etc. may be changed due to unavoidable circumstances.
※ Student tickets are handled only by tickets Kanagawa.
※ Please refrain from entering preschool children.
Area

Yokohama Bay Area (Naka-ku and Nishi Ward)