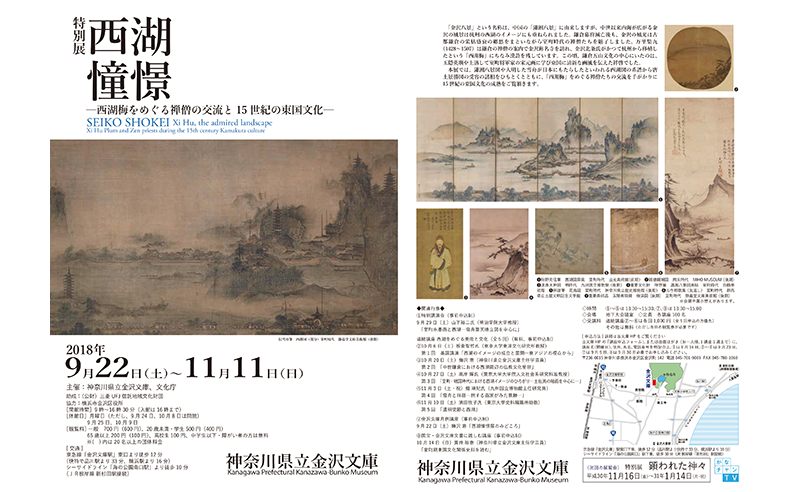 Art / Photography
Exhibit the West Lake diagram drawn by Yunoya school and Kano school
特別展「西湖憧憬―西湖梅をめぐる禅僧の交流と15世紀の東国文化―」
2018.09.22〜2018.11.11
Kamisawa, known as the scenic landscape of the scenic waterfront. In the Edo period the name Kanazawa Hakkei became established, but in the Middle Ages, its scenic beauty was praised in the West Lake of Hangzhou, China. Nishiko Ume, which is reportedly transplanted from Hangzhou by Mr. Hojo Kanazawa who founded Kanazawa Bunko, will be the theme of Chinese poetry and painting, and we will follow the way that Zen monks' exchanges are born by such cultural activities. In addition, we compare the diversity of medieval landscape paintings by comparing Shogyo artist who studied painting industry in Kyoto, active in the eastern province, with Sesshu which was active in the West. In this exhibition, I will introduce the acceptance and development of the image of the waterside in the art of East Asia, centering on the ink painted ink painting, the West Lake figure which was drawn by Yunoya school and Kano school,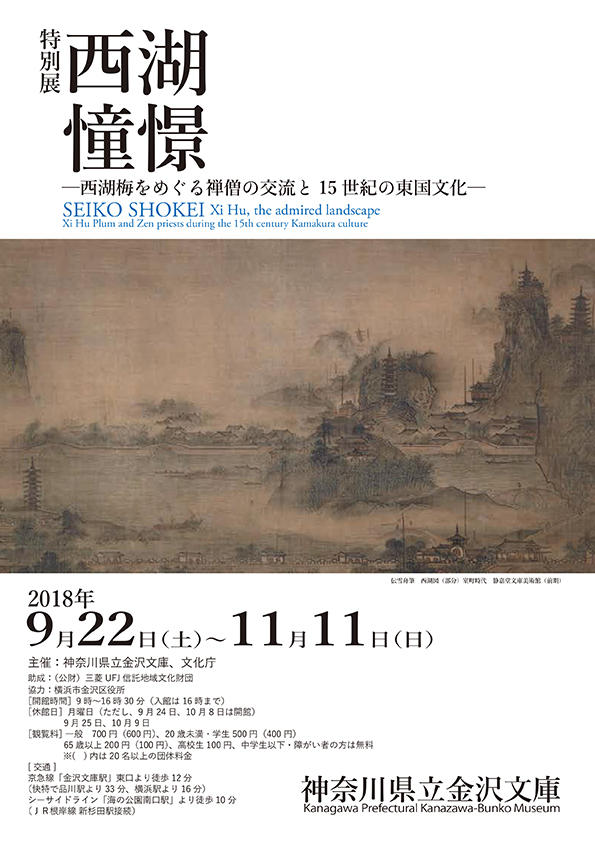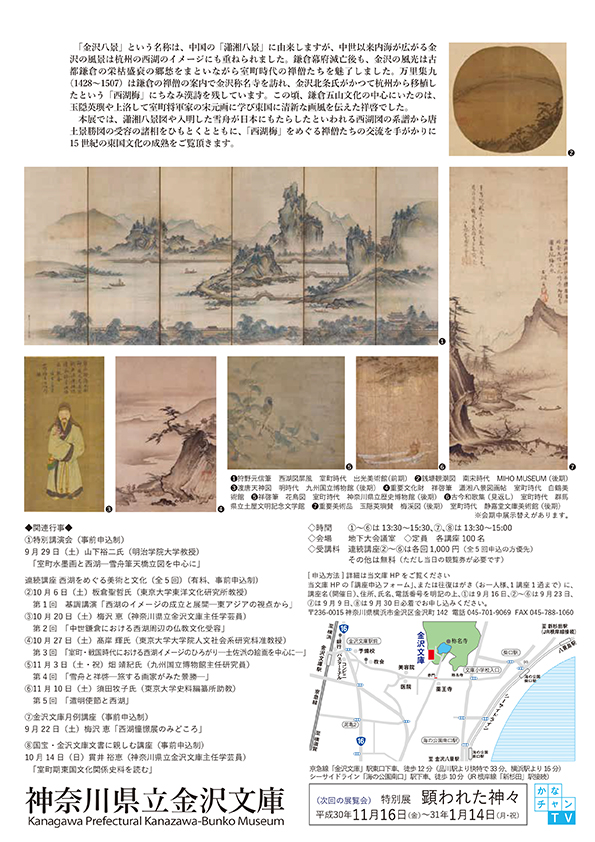 Special exhibition "West Lake Attractiveness – Exchange of Zen Monks over West Lake Plum and Dongguk Culture of the 15th Century"
[Date and time] September 22 (Sat) – November 11 (Sun) 9: 00-16: 30 (Admission is until 30 minutes before closing)
[Venue] Kanagawa Prefectural Kanazawa Bunko
[Closed day] Monday (September 24, October 8 is open), September 25 (Tue), October 9 (Tue)
[Fee] Over 20 years old ¥ 700, under 20 years old · Student ¥ 500, over 65, ¥ 200, high school student \ 100, junior high school student or under · person with a handicapped Person for free
[TEL] 045-701-9069 (Kanagawa Prefectural Kanazawa Bunko)
* Kanagawa Prefecture Kanazawa Bunko Bible> Event HP from here!
Area

Yokohama City (excluding the Bay Area)