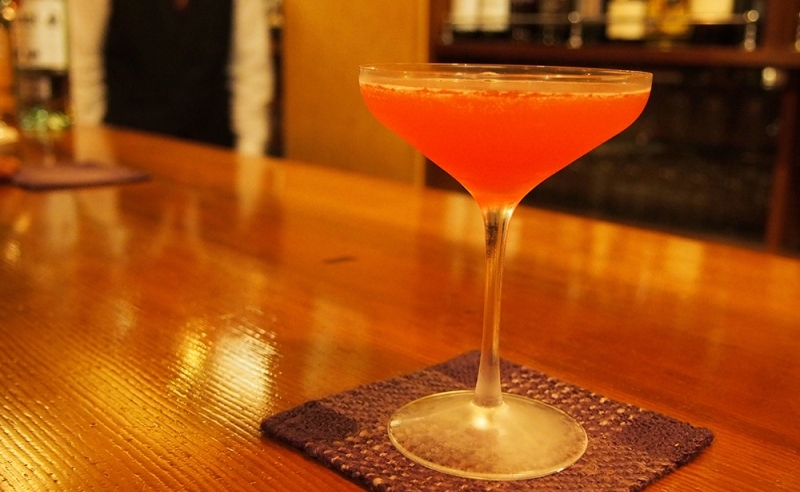 At a long-established bar in Noge that marks 70 years. A lot of wonderful encounters!
Onna Hitori
Bar
And beautiful
Have a drink

This is the second bar serialization that goes by one woman. I went out to the night city of Yokohama in search of an encounter with a beautiful cup.
I visited Noge's bar "R", which was founded in 1946 and is celebrating its 70th anniversary this year. This is a roadside shop, and instead of the "heavy door" that is peculiar to a bar that makes you hesitate to enter further, you can see the inside with a glass door, so it is a shop that is easy for bar beginners to enter.
The first drink is the popular "Mojito" from spring to summer. It has a lot of mint leaves, and the soda is refreshing and refreshing.
Even though it's a relatively easy-to-enter shop, I'm nervous just to order when I sit at the counter! We will be happy to help you enjoy the time you spend in this space while deciding whether you want to talk or drink quietly by yourself, so please feel free to come and visit us, "says Tsukada. Mr. Tsukada, who has inherited the "R" for the 10th year, used to be a bartender at a hotel bar in Minato Mirai, Yokohama. He looks young, but he is a veteran with 20 years of experience as a bartender! He said that he taught various things to senior bartenders. Both are important services. I learned that it is our bartender's job to create a space where you can spend a comfortable time while listening to each and every customer. "
While listening to such a story, I will leave the order for the next cup. Here is what you made!
c_data / event / ex / grl_02299437.jpg "width =" 700 "height =" 525 "alt =" "class =" pict "/>
A short cocktail "Jack Rose" that is colored red like a rose flower. Made from apple liquor Calvados, lime juice, pomegranate syrup, etc., this is also a refreshing drink. The bright red shines in a beautiful cocktail glass, and I was able to meet an elegant feminine liquor ♡
When I looked around the store, I found a menu of seasonal cocktails and snacks on the blackboard. So, as a bar beginner, ask a simple question. "Isn't there a menu in the bar that you can see in your hand?"
Mr. Tsukada's answer to that question was wonderful again! "We have a menu, but when I was young, my senior bartender said," As long as you stood at the counter, you are the menu. I was told that I shouldn't rely on. " "For customers who are wondering which one to choose, we may ask you once to ask,'Would you like to see the menu?'" I see~!!!!
By the way, here is a phantom menu that is only offered to those who really want to look at the menu and choose it for themselves.

A wood stool that has been used at counters since it opened. Look at this profound feeling! The seating surface of natural wood that is not covered with leather or cloth! For 70 years, the years of sitting by customers who love this shop are reflected in the texture of the wood. I wondered if I had a good time sitting in this chair that night and was a little involved in the history of "R". If you come to "R", I definitely want you to sit in this chair!
In addition, here! I found graffiti on the entrance wall !?
Graffiti is ridiculous !! If you look closely at this picture, you will be familiar with it, right? Yes, the illustration and signature of illustrator Ryohei Yanagihara, the creator of that mascot character "Uncle Tris" of Suntory Whiskey Tris. is!
"Mr. Yanagihara is a regular customer who I used to go to when I was a bartender at a hotel, and when I talked about moving to a Noge store, he sometimes visited this store as well. Mr. Tsukada says nostalgicly. Looking ahead, "The teacher's picture is also displayed here," a nice picture was displayed on the wall in the center of the counter.
If you come here, please check it out while listening to the bartender's story. A wonderful encounter is waiting for you! Besides, there is a piano, there is a cash register of the age, …
Immediately after sitting at the counter, I was nervous, but before I knew it, I was drawn into Mr. Tsukada's fun story while having a delicious drink. .. .. Whether it's your first time or just by yourself, you can just leave yourself to the atmosphere of the store. Thank you for the wonderful story! And thank you for your feast!
Outline of the event
Place

R

Opened in 1946. An authentic bar in Noge-cho, Yokohama that boasts the 70th anniversary of its founding. One of the attractions is that the atmosphere of the store changes depending on the day, with counter seats and table seats in a calm space based on bricks. From standard to seasonal cocktails, there is also a food menu that accompanies alcohol.

About the facility Access