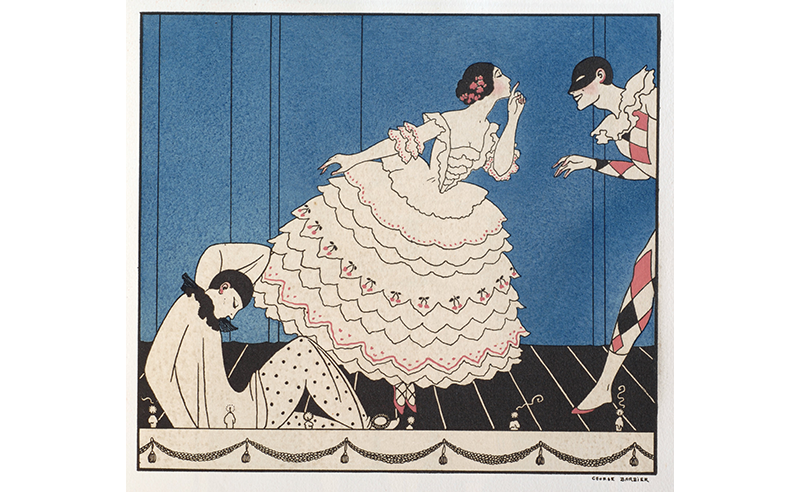 Other Theater / dance
At the Sogo Art Museum History and Art of Ballet - Exhibition of brilliant costumes
薄井憲二バレエ・コレクション特別展 The Essence of Beauty バレエ 究極の美を求めて
2018.11.23〜2018.12.25
(TOP picture) From Georges Barbier Prints "Le Carnival" "Crown and Columbine and Arlucan" 1914 © Hyogo Prefectural Art and Cultural Center
Born in Italy, nurtured in France, blossoming in Russia, ballet said to have spread all over the world. In Japan, in 1922 (Taisho 11) the "dying swan" of the century prima, Anna · Pavlova who danced in Yokohama gives the impression and shock, the ballet boom happens. In 1925 (Taisho 14), Elijah Pavlova opened the first ballet school in Kamakura Shichigahama, and a real method was established by Olga Sapphire and established the foundation of the current ballet of Japan. In this era when the mainstream of clothes changed from Japanese style to Western style, changes also occurred in "beauty" required by Japanese women, and interest increased in how beautiful the parts such as legs and decollete that had never been seen before, Regarding body lines and behavioral beauty as well as makeup and fashion became widely taken up in ladies' magazines. And in modern times, as a symbol of the ultimate "beauty", ballerina has become an eternal longing for women.
In this exhibition, from among the world's most magnificent "Kenji Kaiji Ballet Collection" gathered by the former president of Japan Ballet Association Kenji Miii (1924-2017), the theme of ballet history · art · 3 major ballet, dancer Approximately 300 points such as letters and photographs of our autographs, performance programs, antique prints with high artistic value, posters, literature materials, etc. were selected, along with about 30 items of clothes of Miyako Asa Balee group dressed in the Kamakura collection of Elias Pavlova , Shizugu Fujita 's "Swan Lake" stage art material (stage model of draft copying · stage artist Yukio Horio) and valuable images of Anna · Pavlova, which attracted attention in the restoration performances of Tokyo City · Ballet Company, will be displayed .
Exhibition Original special goods with special goods ticket ¥ 1,300
(Limited quantity / sold at the venue from the first day)
Illustrator of ballet dictionary (Seikondo Shinkansha) drawn by Maruyama Yuko with ballet illustration key ring!
web.jp/wp-content/uploads/2018/10/f89df71543d0d9f36986e09b047b9f19.jpg "alt =" "width =" 444 "height =" 700 "/>
Anna Pavlova "The Dying Swan" 1905 © Hyogo Prefectural Art and Cultural Center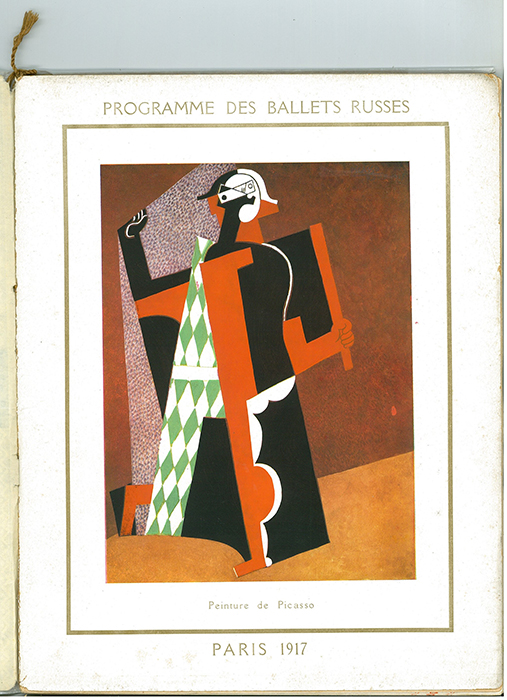 Pablo Picasso Cover design "Ballet · Russe Official program" Paris · Chatelet, 1917 © Hyogo Prefectural Art and Cultural Center
Kenji Wai Kaiji Ballet Collection Exhibition
The Essence of Beauty
ballet
Looking for the ultimate beauty
[Date and time] November 23 (Friday, congratulation) – December 25 (Tue) 10: 00-20: 00 (last entry is 19: 30)
※ Open throughout the exhibition
[Venue] Sogo Art Museum
[Fee] Adult ¥ 1,000, College / High School student ¥ 800, Free up to junior high school students or free, Persons with various types of handicapped Person and 1 accompanying person free
[Organizer] Sogo Art Museum
[TEL] 045-465-5515 (Sogo Art Museum)
※ For details and related event information please visit Sogo Art Museum website .
Area

Yokohama Bay Area (Naka-ku and Nishi Ward)