Course / workshop musics
For 45 minutes mini concert towards the first concert
はじめの一歩レクチャーコンサート
開催:2018.11.02
What is "Hajime no Ippo lecture concert"? Many of the music appreciation at the concert hall can not be entered unless it is six years old. However, as it turns out to be 6 years old, if you say you can enjoy an adult concert together … it is very difficult. I do not know how to capture music. "Hajime no Ippo" series is a concert with a talk by the performer who listens to music while holding a lecture about instruments, songs and composers, familiarizing the music while feeling the state of the sound changing. It is a 45 minute mini concert of the same length as the elementary school class.
Isatoris of this time is a cellist who lives in London. In Japan, it is only played in Tokyo and Aichi prefectures. I played in Yokohama … It is already nine years ago. The number of people who remember the tone of Iselis' cello has decreased. The sound of Iselis' cello is slightly different from other cellists. By all means, I invited you to introduce Mr. Isserris' cello sound to everyone. Please look forward to it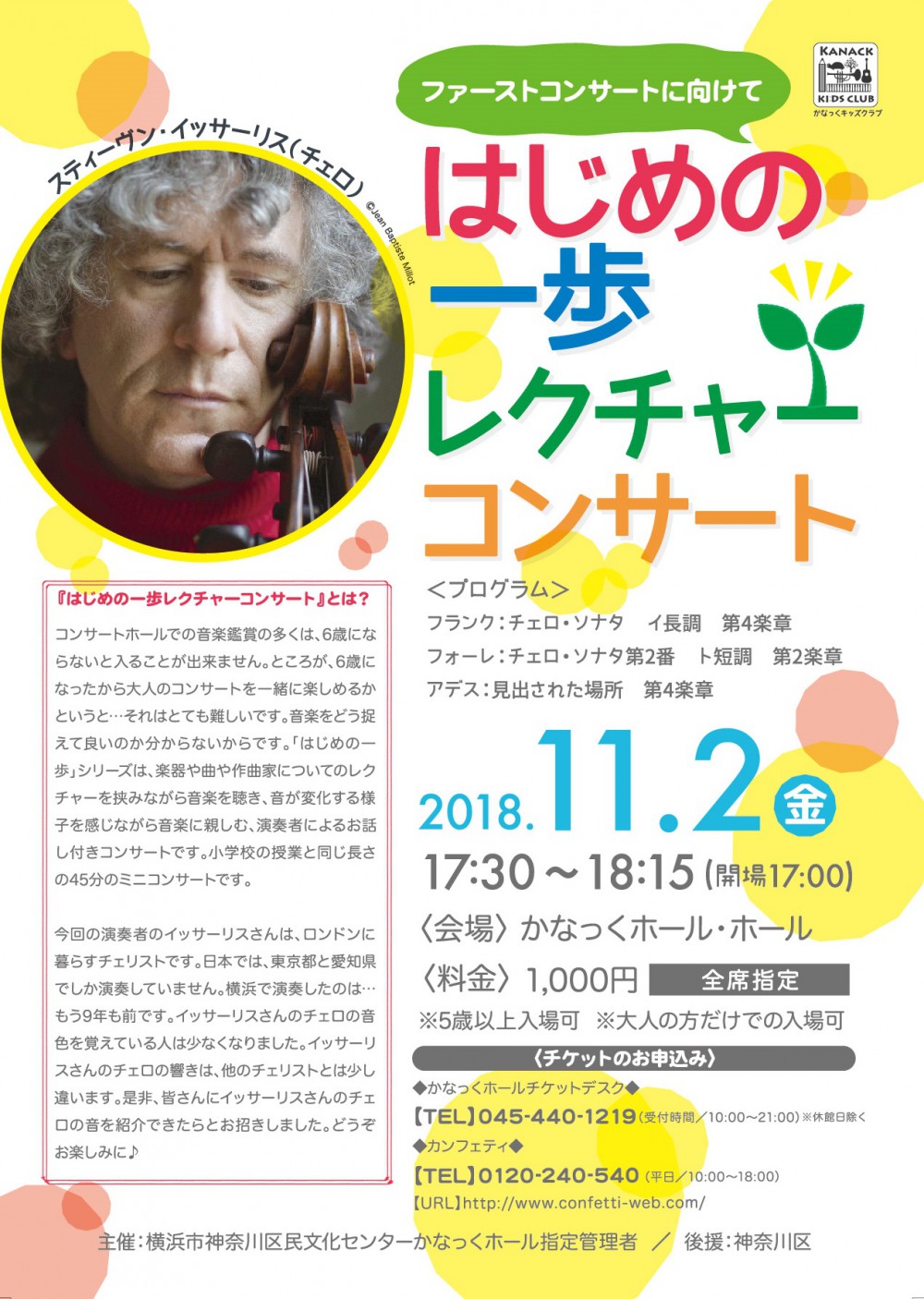 Hajime no Ippo Lecture Concert
[Date and time] November 2 (Friday) 17: 30 ~ (opening at 17: 00)
[Venue] Yokohama City Kanagawa Local Culture Center Konari Hall Hall
[Cast] Stephen Isserlis (cello), Coni – Sea (piano)
[Fare] (All seats specified) ¥ 1,000
[Ticket sales]
■ Completed Hall Ticket Desk TEL.045 – 440 – 1219 (10: 00-21: 00, except closed days <third Monday / holidays next day> excluded)
■ Cafferty TEL.0120-240-540 (weekdays from 10: 00 to 18: 00) Ticket reservation on WEB <a style = "color: # 99cc00;" href = "https://www.confetti-web.com/detail.php?tid=47365&"> From here !!
[Organizer] Yokohama City Kanagawa Citizens' Cultural Center Kagaku Hall
[TEL] 045-440-1211 (Kanagawa Hall, Yokohama City Kanagawa Citizens' Cultural Center)
* The official site of Kodoku Hall is here !
※ The performance time is scheduled for 45 minutes. There is no break.
* Children over 5 years old can enter.
* Admission by adults alone is also possible.
Area

Yokohama City (excluding the Bay Area)