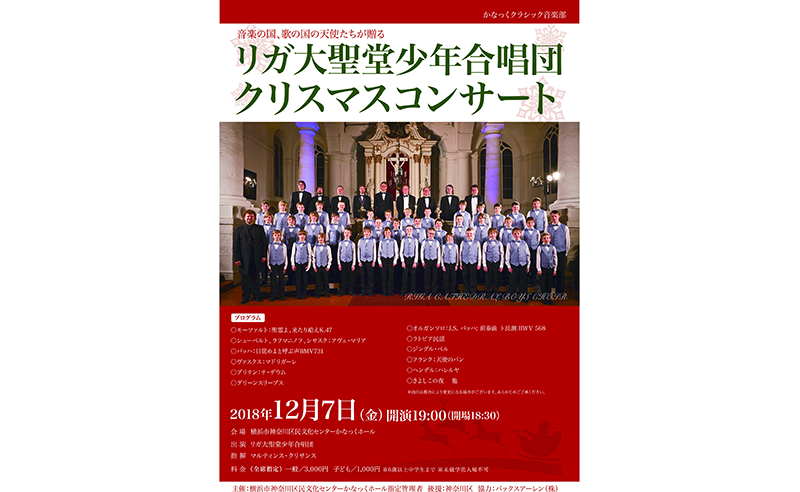 musics
A sacred concert sent by angels of music country, song country
リガ大聖堂少年合唱団クリスマスコンサート
開催:2018.12.07
"Riga Cathedral Boys Choir" was founded in 1950 as the predecessor of Latvia's excellent music institution "Emile Dalzins Music School." Under the music director Yanis Erranströtz, he was known for his name as one of the most highly-respected boy choirs in the country as well as in the country, has received a very high international evaluation. He is active as one of Latvia 's leading choirs, including President of the United States of America, performances in front of the key figures of many countries including Elizabeth II, concerts at the international summit and so on. The beginning of 1995. It will be the fifth visit to Japan this time.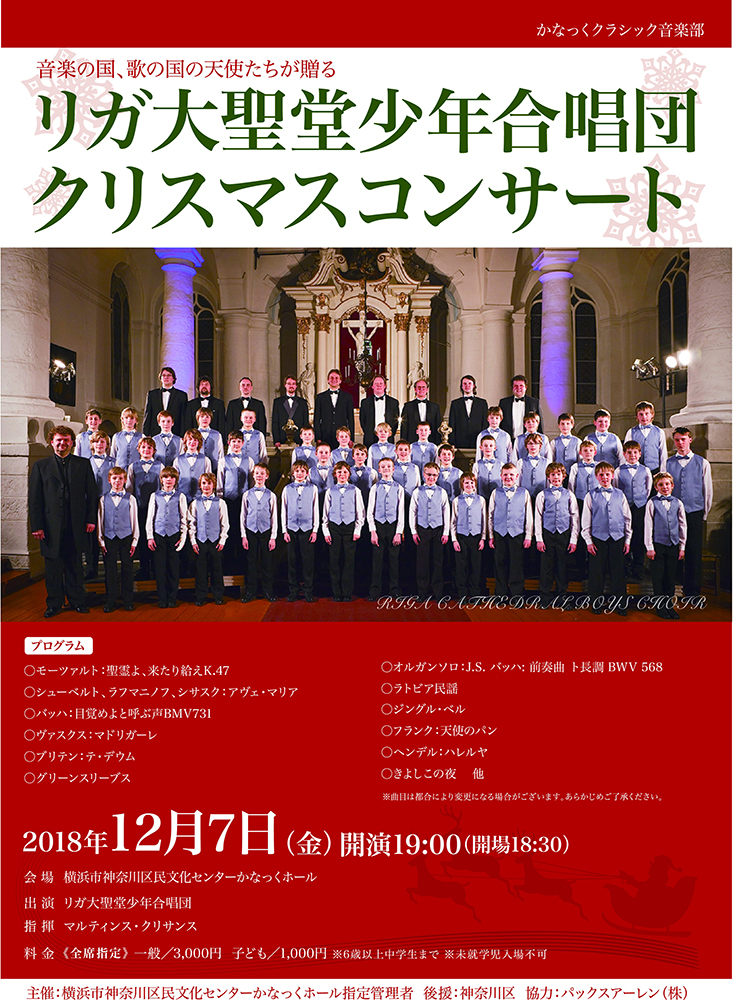 Riga Cathedral Boys Choir Christmas Concert
[Date and time] December 7th (Friday) 19: 00 ~ (open at 18: 30)
[Venue] Yokohama City Kanagawa Local Culture Center Konari Hall Hall
[Cast] Riga Cathedral Boys Choir, Martins · Chrisans (Conductor)
[Fee] (All seats specified) General ¥ 3,000, Child (up to junior high school students aged 6 and over) ¥ 1,000
[Ticket sales]
■ Completed Hall Ticket Desk TEL.045 – 440 – 1219 (10: 00-21: 00, except closed days <third Monday / holidays next day> excluded)
■ Cafferty TEL.0120-240-540 (weekdays from 10: 00 to 18: 00) Ticket reservations at WEB from here !
[Organizer] Yokohama City Kanagawa Citizens' Cultural Center Kagaku Hall
[TEL] 045-440-1211 (Yokohama City Kanagawa citizenCultural Center Konohaku Hall)
* The official site of Kodoku Hall is here !
※ Please refrain from entering preschool children.
Area

Yokohama City (excluding the Bay Area)