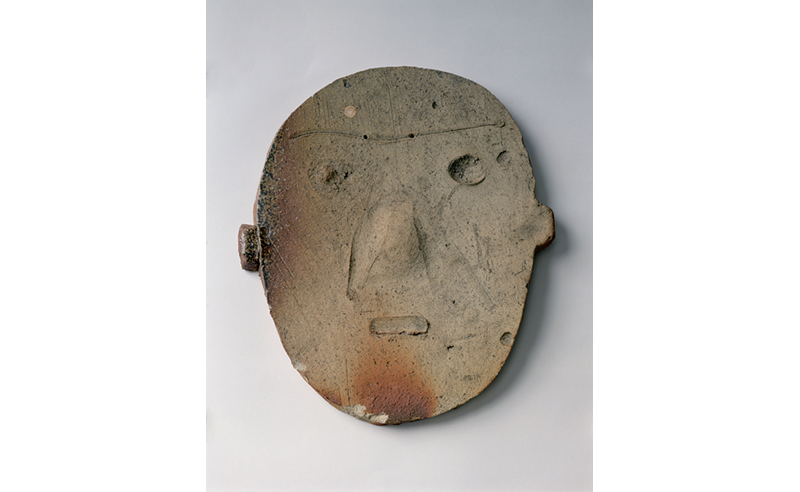 Art / Photography
Focusing on the work of the 1950's when two artists walked together
イサム・ノグチと長谷川三郎ー変わるものと変わらざるもの
2019.01.12〜2019.03.24
(TOP image) Isamu Noguchi "faceplate" 1952, pottery, 30.8 × 27.3 × 2.9 cm, Isamu Noguchi Foundation · Garden Museum (New York) collection
© The Isamu Noguchi Foundation and Garden Museum, New York / ARS-JASPAR Photo: Kevin Noble
A sculptor Isamu Noguchi (1904-1988) who inherited the blood of Japan and the United States and tried to root art again in the life of people from a global view transcending the east and west of Ocean and the sculptor Isamu Noguchi On the other hand, as a theorist Saburo Hasegawa (1906-1957), who leads to the trends of Western modern art and old Japanese arts culture and found common items of both in abstract art. In May 1950, Noguchi who stepped on Japanese soil for the first time in 1950, Hasegawa who attended his work more than a while, intended for a dialogue aiming for a correspondence, for some time encountered fatefully, and as each other as an artist I am surprised to know that my interests and visions are surprisingly similar and strongly resonate.
In the future the two are tied with a solid friendship, Hasegawa is a guideless guide to Noguchi's tangible and intangible Japanese old cultural heritage, such as architecture, garden, books, paintings, archaeological relics, tea ceremony, Zen, haiku, It played an important role in understanding the essence of Japanese beauty. On the other hand, Noguchi encouraged Hasegawa 's willingness to produce Hasegawa through dialogue, and Hasegawa used inks, takamoto, and woodcuts to give the opportunity to open up the horizon of creation unprecedented.
This exhibition focused on the friends of these two artists, focusing on what they saw, what they thought, and what they aimed, mainly in the 1950s when the two came together, about 50 Noguchi works, It is about to clarify through about 70 works by Hasegawa works.
* There is a change of some works during the exhibition.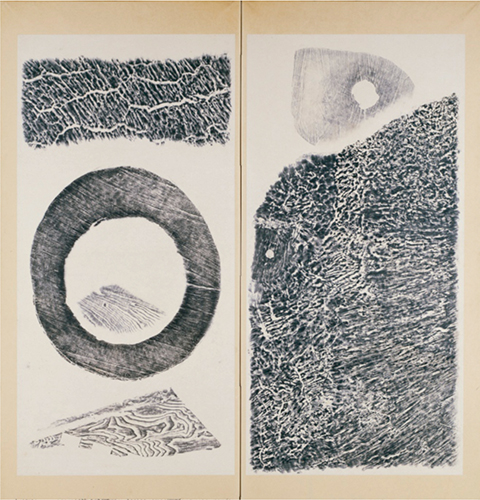 HASEGAWA Saburo "Nature" 1953 Paper book ink, Takui, one two-fold screen each 135.0 × 66.5 cm Kyoto National Museum of Modern Art collection
# 008000; "> Isamu Noguchi and Saburo Hasegawa – Things that are unchanged
[Date and time] January 12 (Sat) – March 24 (Sunday) 2019 10: 00-18: 00
※ However, 3/2 (Saturday) until 20: 30, admission until 30 minutes before closing.
[Closed days] Thursday, 3/22 (Friday)
※ However, 3/21 (Thursday, congratulation) is open
[Venue] Yokohama Museum of Art
[Price] General (Advance) ¥ 1,300 · (On the day) ¥ 1,500, University / High School student (Advance) ¥ 700 · (On the day) ¥ 900, Junior High School student (Advance) ¥ 400 · (On the day) ¥ 600, Above the high school student free (required student certificate / student ID card) Every Saturday, free of charge (student certificate / student ID card)
[Organizer] Yokohama Museum of Art (Yokohama City Arts and Culture Promotion Foundation), Isamu Noguchi Foundation · Garden Museum (New York), Kanagawa Shimbun, tvk (TV Kanagawa)
[TEL] 045-221-0300 (Yokohama Museum of Art)
[URL] https://yokohama.art.museum/special/2018/NoguchiHasegawa/info.html
※ Advance ticket sale period: November 12, 2018 (Monday) ~ January 11 (Fri) 2019
※ Please confirm at the special exhibition site of the Yokohama Museum of Art.
Area

Yokohama Bay Area (Naka-ku and Nishi Ward)