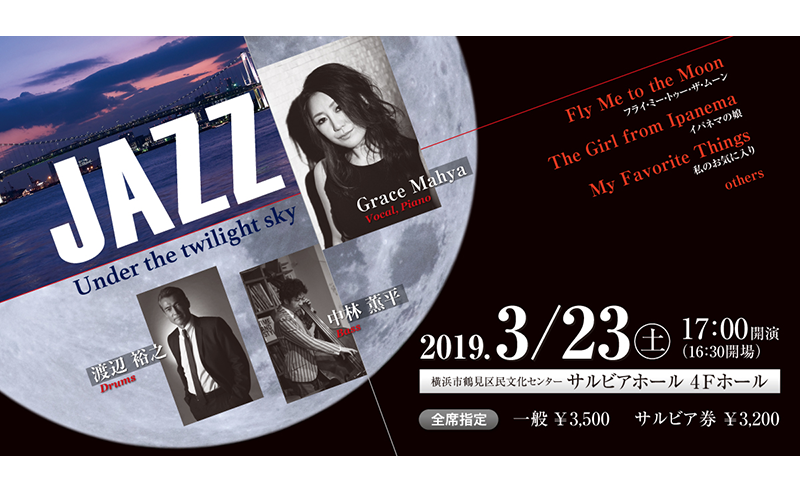 musics
Vocals, drums, bass ... plenty of adult standard jazz
JAZZ ~Under the twilight sky~
開催:2019.03.23
Adult Jazz listen to Haruyama! Husky voice of Grace Mahya from Yokohama attracts many fans. And on drums you can enjoy standard Jazz with Hiroyuki Watanabe as familiar as an actor, Koharu Nakabayashi on the base and Kuhei Nakabayashi.
December 11 (Tue) ticket sales start !!
JAZZ ~ Under the twilight sky ~
[Date and time] Saturday, March 23, 2019 17: 00 ~ (16: 30 opening)
[Venue] Salvia Hall 4F Hall, Tsurumi District Cultural Center, Yokohama
[Cast] Grace Mahya (Vocal / Piano), Hiroyuki Watanabe (Drum), Kohei Nakabayashi (Base)
[Tune] Fly Me to the Moon, The Girl from Ipanema, My Favorite Things (My Favorites), etc.
[Rate] General ¥ 3,500, Salvia Ticket ¥ 3,200
[Organizer] Yokohama City Tsurumi District Cultural Center
[Ticket sales]
■ Ticket PIA WEB reservation from here !! TEL.0570-02-9999 (P code: 128-862) December 11, 2018 (Tue) 10: 00 ~
■ Purchase at Salvia Hall Window December 11, Tuesday, December 2018 10: 00 ~ Window sales
※ payment only cash
■ Reservation by phone December 11, 2018 (Tuesday) 14: 00 ~ Telephone reservation TEL.045-511-5711
After booking, please pay within one week in one way.
· Payment at the hotel's window (cash only)
– Transfer to specified bank account (tickets are mailed)
· Please refrain from entering preschool children
· This show is a reserved seat in all seats. In Salvia HallWhen booking by phone, please tell us your seat while watching the seating chart.
[TEL] 045-511-5711 (Salvia Hall, Tsurumi District Cultural Center, Yokohama City)
* The official website is here !
Area

Yokohama City (excluding the Bay Area)