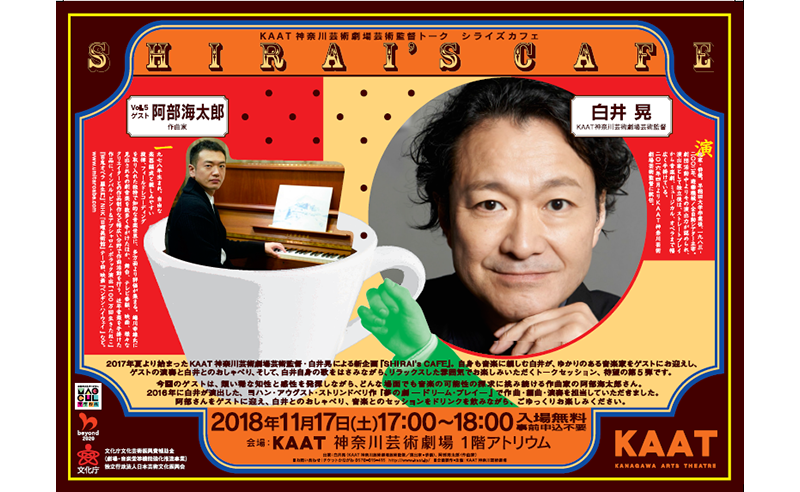 Course / workshop musics
"SHIRAI's CAFE" The long-awaited fifth guest is Haita Abe's composer!
KAAT神奈川芸術劇場芸術監督トーク 『SHIRAI's CAFE』 シライズカフェ Vol.5 ゲスト:阿部海太郎(作曲家)
開催:2018.11.17
KAAT started from the summer of 2017 Kanagawa Arts Theater Art Director – Akira Shirai's new project "SHIRAI's CAFE". Shirai who is familiar with music himself, welcoming musicians to the guests, a talk session where guest performances, chatting with Shirai and Shirai himself singing are enjoyed in a relaxed atmosphere, a long-awaited talk session It is five.
This time guests are Haita Abe, a composer who continues to challenge the quest for the possibility of music in any occasion while demonstrating rare intellect and sensitivity. I was in charge of composition, arrangement and performance at Johann Augusto Strindberg "Dream play – Dream play -" produced by Shirai in 2016. Please welcome Abe to the guests, enjoy chatting with Shiroi, drinking a drink with a session with music, please enjoy it slowly.
KAAT Kanagawa Arts Theater Artistic Director Talk
"SHIRAI's CAFE" Shira's Cafe 5
Guest: Haitaro Abe (composer)
[Date and time] November 17 (Sat) 17: 00-18: 00
[Venue] KAAT Kanagawa Arts Theater Atrium
[Cast] Akira Shirai (art director / director / actor at KAAT Kanagawa Art Theater), Haitaro Abe (composer)
[Price] Free (no advance application required)
[Organizer] KAAT Kanagawa Arts Theater
[TEL] 0570-015-415 (Ticket Kanagawa)
Area

Yokohama Bay Area (Naka-ku and Nishi Ward)