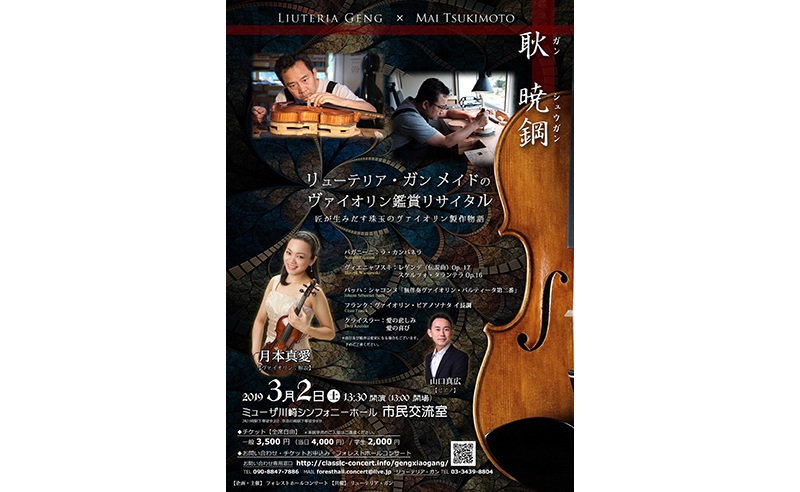 Exhibition recital listening to famous songs by violin by Gan · Shugun
Muza Kawasaki Symphony Hall Date: 2019.03.02
10 days to hold
「Lutelia · Gunmaid's violin appreciation recital」
Violin workshop "Lutelia · Gun" Representative recital that appreciates instruments produced by Gun Shugun with violin masterpieces. You can enjoy the story behind the musical instrument, the work of the violin craftworker with the talk of the author Gank Shugun. Please enjoy the tone of the violin produced by a famous writer who will become the masterpiece of the future in life.
Lutelia · Gunmaid's violin appreciation recital
[Date and time] March 2, 2019 (Saturday) 13: 30 ~ (opening 13:00)
[Venue] Muza Kawasaki Symphony Hall Citizen Relations Office
[Appearance] Gun Shugun (Violin Production), Makoto Tamako (Violin · Commentary), Yamaguchi Maohiro (Piano)
[Songs] Classer: Love's sorrow, love's pleasure, Vijnowski: Legende (legendary song) Op.17, Scherzo-Tarantella Op.16, Paganini: La Campanella, Bach: Chaconne "No accompaniment violin Partita No. 2" From Frank: Violin · Piano Sonatas A major
[Rate] General ¥ 3,500, Student ¥ 2,000
[Organizer] Forest Hall Concert
[Ticket sales]
■ WEB reservation from here !
[TEL] 090-8847-7886
[MAIL] foresthall.concert@live.jp
[URL]ef = "http://classic-concert.info/gengxiaogang/"> http://classic-concert.info/gengxiaogang/
※ The tune may be changed. Please note.
※ Please refrain from entering preschool children.
Area

Kawasaki City

Place

Muza Kawasaki Symphony Hall
Muza Kawasaki Symphony Hall

Kawasaki City has long supported the industry as an industrial city, but as the industrial structure has changed, Muza Kawasaki Symphony Hall was born in 2004 as a symbol that Kawasaki city will transform into a cultural city. And, being valued to be proud of the world's leading acoustics, it has contributed to the "town development by music" that Kawasaki City can advance, such as establishing a position as a music hall of fame where performances by prominent orchestras are performed. In addition, the Tokyo Symphony Orchestra with a franchise tie-up with Kawasaki City is based in the Musa Kawasaki Symphony Hall, including daily rehearsals, and creates and transmits music art as a top runner in Japan.

Muza Kawasaki Symphony Hall provides excellent acoustic environment that maximizes the potential of the performer and welcomes all those who come to the hall with full heart. In addition, as a representative cultural base of Kawasaki City, we will work with orchestras and musicians of various genres, aiming to become a "hall" which is a "seat" of dissemination and exchange of music culture.

Shop / Place name

Muza Kawasaki Symphony Hall

Address

Kamagawa prefecture Kawasaki shi Koku-ku Omiya cho 1310

TEL

044-520-0100

Parking Area

Yes (Paid) 【Number of accommodated units】 343 units 【Opening Hours】 24 Hours 【Hours and Fees】 7: 00 ~ 24: 00 (Every 15 minutes) ¥ 100, 24: 00 ~ 7: 00 (Every 60 minutes) 100

Map