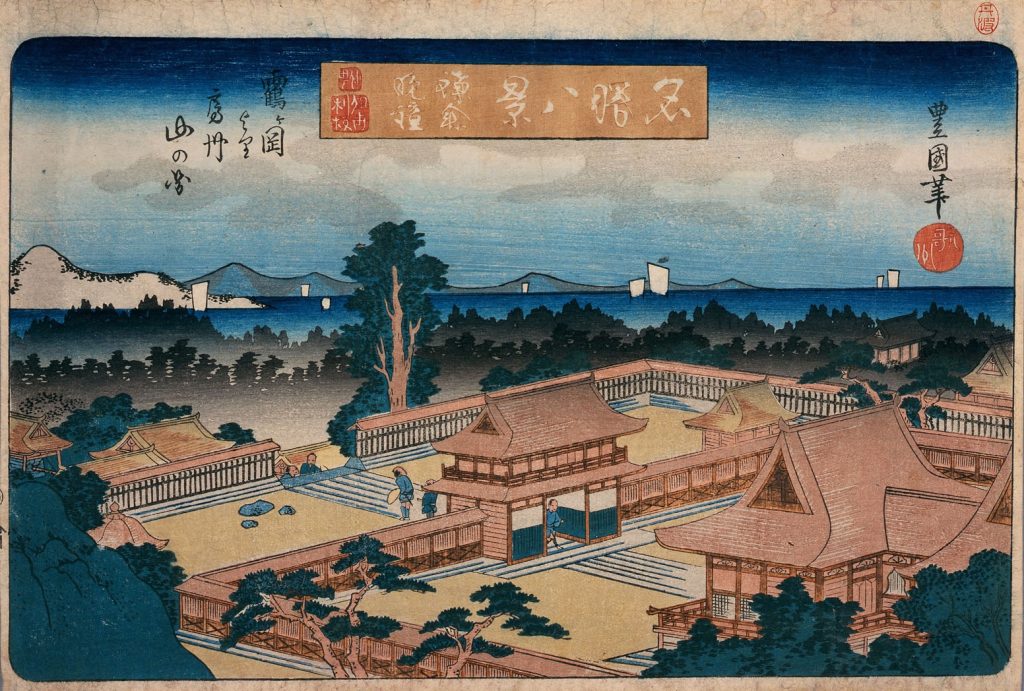 【Kamakura】Can you see the ocean from the main shrine of the Tsurugaoka Hachimangu shrine?
『Evening Bell in Kamakura: The Mountains in Awa Province from the Hachiman Shrine in Tsurugaoka (Eight Views of Famous Places)』 by Utagawa Toyokuni II
*Image provided by the Kanagawa Prefectural Museum of Cultural History
People who visit the ancient capital of Kamakura invariably stop by the Tsurugaoka Hachimangu shrine.
Its history began in 1063, when Minamoto no Yoriyoshi erected a branch of Kyoto's Iwashimizu Hachimangu shrine on Yuigahama Beach. In 1180, the shrine was moved to its present location. There, it played a central role in the formation of Kamakura as the capital of the Kamakura shogunate government.
This picture seems to depict the view over Yuigahama Beach from the main shrine, located at the top of a great stone stairway. The large tree visible in the center right of the picture is a giant ginkgo that was once considered a symbol of the Tsurugaoka Hachimangu shrine.
For whatever reason, the temples and shrines of Kamakura are rarely depicted in ukiyo-e prints. For that reason, this picture holds an important position among ukiyo-e prints that depict Kamakura. It is also considered one of Utagawa Toyokuni's masterpieces.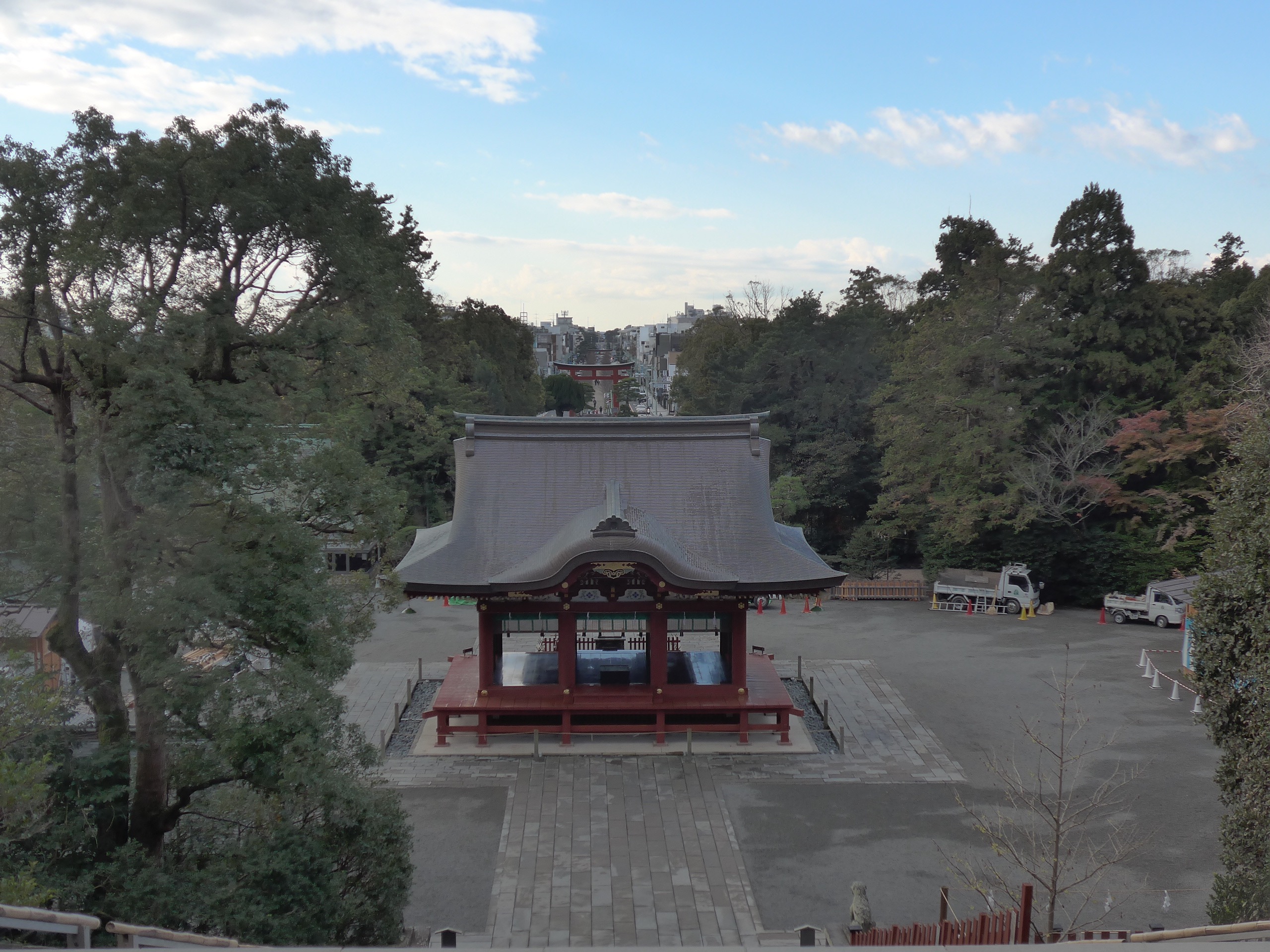 This is the modern day view from in front of the main shrine of the Tsurugaoka Hachimangu shrine. The sacred dance hall can be seen below. Unfortunately, the giant ginkgo was toppled by strong winds in March 2010 and can no longer be seen from here. However, the tree has sprouted new shoots and is growing back.
The sea is visible in the top right of the ukiyo-e print, but in reality there is little chance of being able to see as far as the sea from here.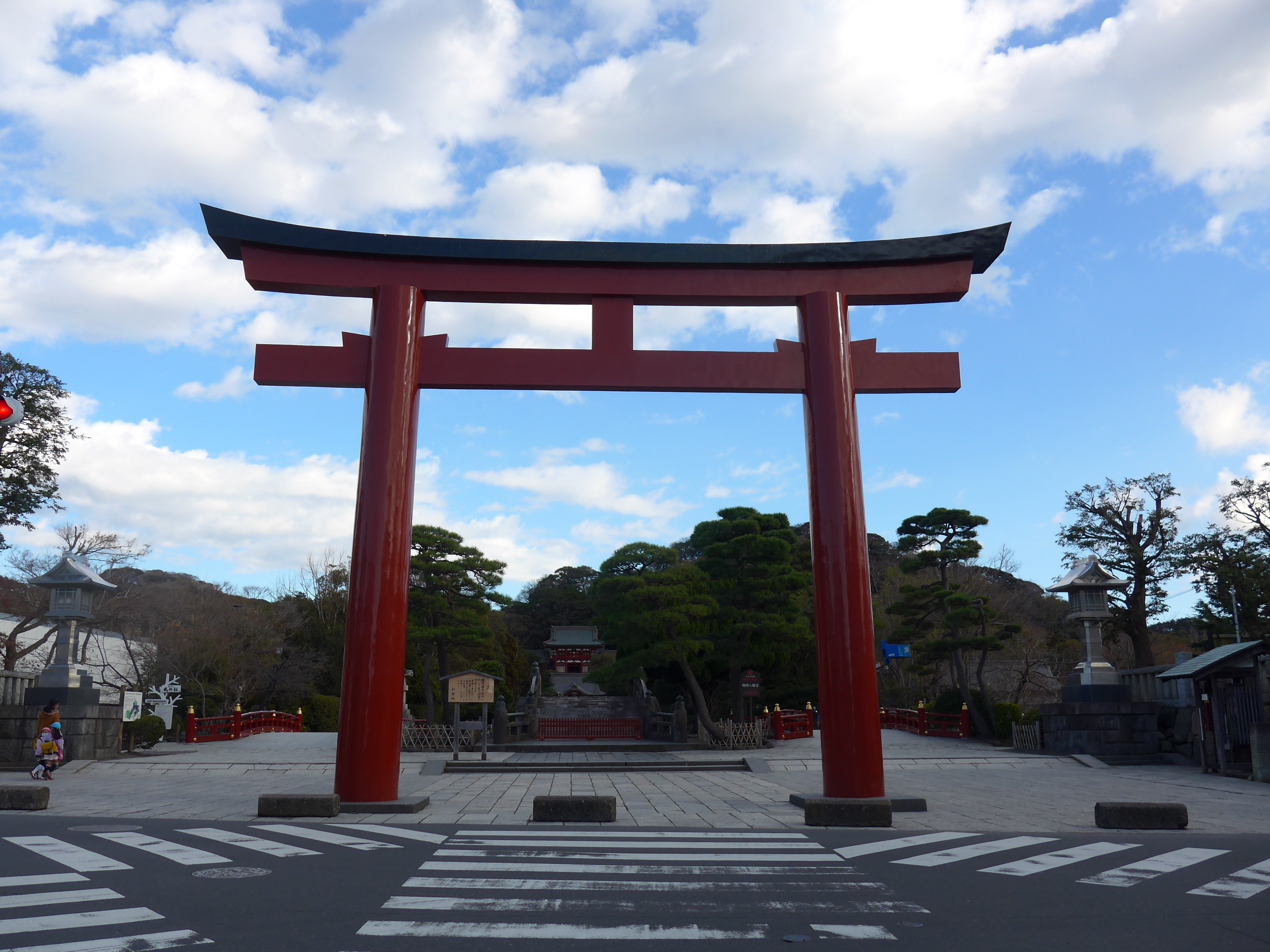 The third torii gate marks the entrance to the grounds. It is popular as a spot for photography.