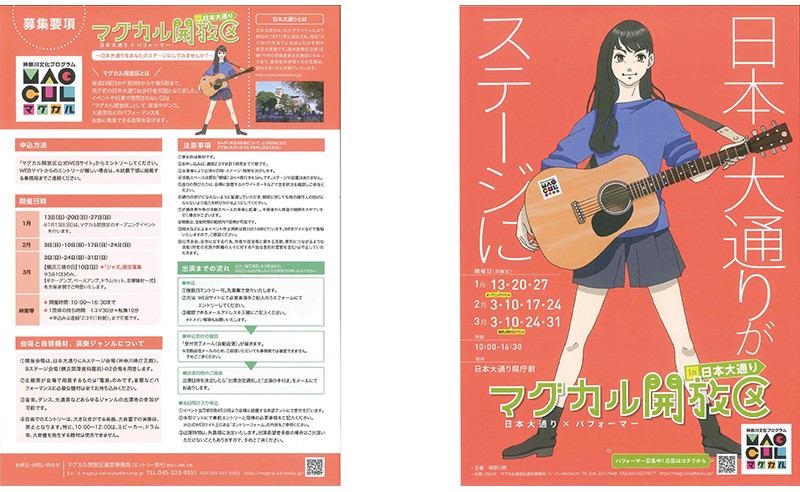 Other
Why do not you try Japan Street as your stage?
日本大通り×パフォーマー マグカル開放区 in 日本大通り
2019.01.13〜2019.03.31
Every Sunday from 9 am to 5 pm, the main avenue in front of the prefectural government has become a pedestrian heaven. On days not used for events and occasions, we will create a space where you can freely publish performances such as music, dance, street performances, etc. as "Magar open area." Please do show off your performance in "Magar open area"!
What is Japan Avenue?
Japan Boulevard is Japan's first Western style street designed by Meiji 4 (1871) by RH Blanton and completed by 1877 by Meiji 10. It is also becoming a public registration facility of the country's registered monuments (scenic spots) and the city landscape, and its landscape with gingko lined trees attracts many visitors.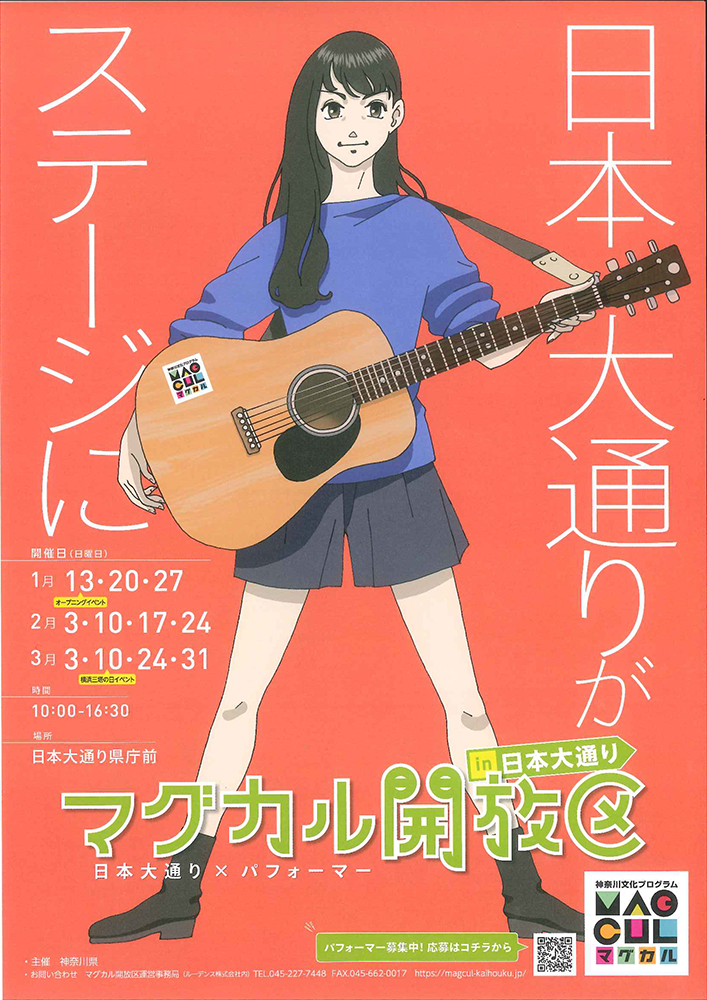 Japan Boulevard × Performers
Mugar open area in Japan boulevard
[Date and time] January 13, 20th, 27th, February 3rd, 10th, 17th, 24th, March 3rd, 10th, 24th, 31st (all Sundays) each day at 10:00 ~ 16: 00
[Venue] Before Niigata Prefectural Government Office (Harbor Post Office Intersection before Port Opening Hall Intersection Intersection <Approx 130 m>)
* Check the following requirements for the performers' invitation!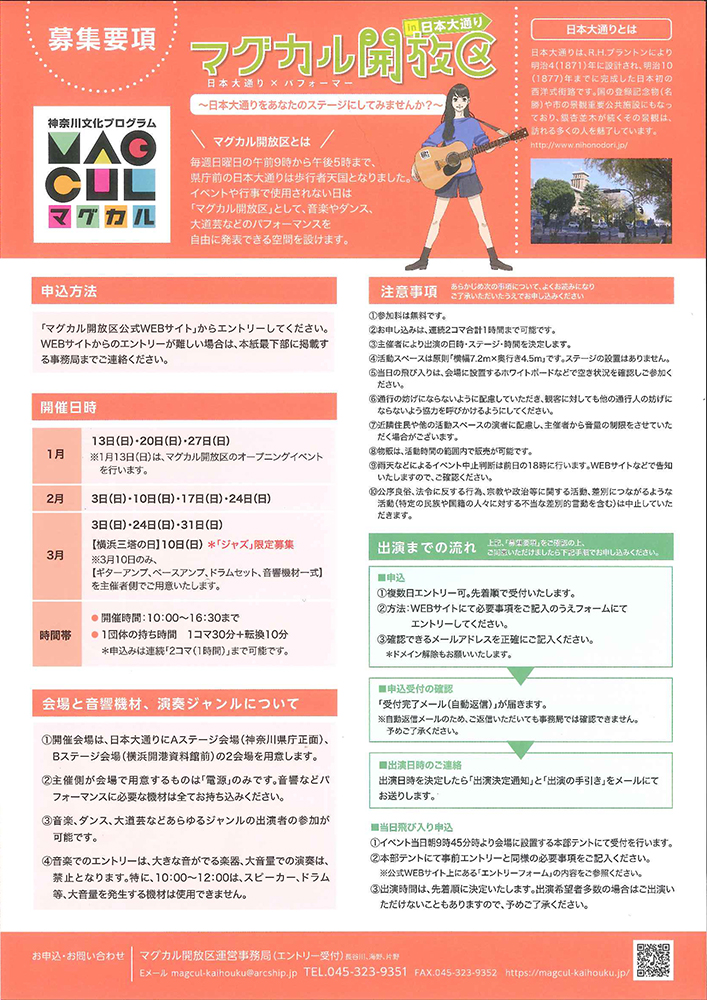 'Magar open area' performers wanted !!
[How to apply] Please enter from " official website of Mugar open area ". If entry from the WEB site is difficult, please contact the secretariat (TEL: 045-323-9351).
[Date] (All Sundays)
■ January 13, 20th, 27th
※ On January 13, we will hold the opening event of the Magarar open area.
■ February 3, 10, 17, 24
■ March 3, 10, 24, 31
"Yokohama Three Tower Day" 10th ※ Jazz limited solicitation (guitar amp, bass amp, drum set, complete set of sound equipment will be prepared by the organizer side.)
[Time zone] Every day from 10: 00 to 16: 30/1 Group's holding time: 30 minutes of one frame + 10 minutes of conversion
※ Continue "2 frames (1 hour)" is available for application.
[Venue and audio equipment]
① In the venue, prepare two venues of A stage venue (front of Kanagawa prefectural government office) and B stage venue (front of Yokohama opening port museum) on the main boulevard of Japan.
② The organizer prepares the venue for "power" only. Please bring all necessary equipment such as sound etc for performance.
③ Cast of all genres including music, dance, street performance etc can participate.
④ Music entries, instruments with loud noises, performance at high volume are prohibited. Especially, from 10:00 to 12:00, speakers, drums and other equipment that generates high volume can not be used.
[Notes]
① The entry fee is free.
② Application can be continued up to 1 hour in total of 2 frames.
③ The organizer will decide the date / time / stage / time of appearance.
④ The activity space is in principle "horizontal width 7.2 m × depth 4.5 m". There is no installation of the stage.
⑤ Jump in on the day, please check availability and join us with the white board etc set up at the venue.
⑥ Consideration not to disturb the passage and call for cooperation not to disturb the other passers-by also to the audiencePlease be careful.
⑦ Considering the neighboring residents and the performers of other activities space, we may limit the volume from the organizer side.
⑧ Merchandise can be sold within the range of activity time.
⑨ We will decide to cancel the event due to rainy weather at 18 o'clock the previous day. We will announce you on the official website etc. Please check.
⑩ We will cease public order and morals, acts contrary to laws and ordinances, activities relating to religion and politics etc, activities that lead to discrimination (including unjustifiable discrimination against people of a particular ethnic or national origin).
[Flow to performance]
■ Application * After confirming the above application requirements, if you agree, please apply by the following procedure.
① Entries can be made on multiple days. We will accept on a first-come-first-served basis.
② Method: Please fill out the necessary information on the official website and enter it in the form.
③ Please fill in the exact email address you can check. * Domain cancellation is also requested.
■ Confirm Application Reception
"Reception completion mail (automatic reply)" will arrive.
* Because it is an automatic reply mail, even if you reply, we can not confirm with the secretariat. Please note.
■ Contact of cast date and time
After deciding on the appearance date and time, we will send you an e-mail with "Notification of Casting Decision" and "Guide to Starring".
■ Join application on the day
① From 9:45 am on the day of the event, we will accept reception at the headquarters tent set up at the venue.
② Please fill out the necessary items similar to the pre-entry at the headquarters tent.
* Please refer to the contents of "entry form" on the official website .
③ Cast time is decided on a first-come-first-served basisI will establish it. Candidates who wish to appear may not be able to appear in numerous cases, so please be forewarned.
[TEL] 045-323-9351 (Magar Open District Management Office (entry reception))
[FAX] 045-323-9352
[MAIL] magcul-kaihouku@arcship.jp
[URL] https://magcul-kaihouku.jp/
Area

Yokohama Bay Area (Naka-ku and Nishi-ku)