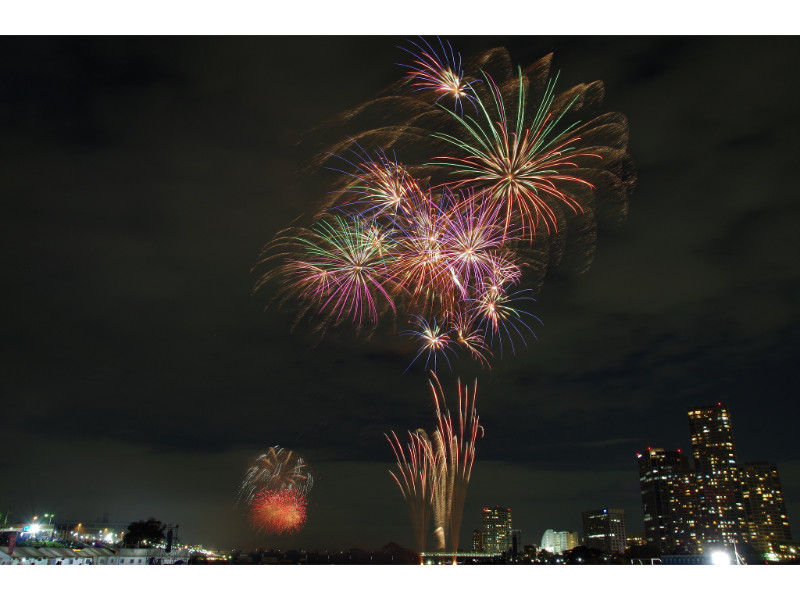 (Kawasaki City) [Kawasaki Municipal Commemorative Tamagawa Fireworks Festival]
This historic fireworks festival started near the Rokugobashi Bridge in 1929 and underwent many changes before being moved in 1975 to its current location on the riverbed downstream of the Futakobashi Bridge in Takatsu-ku.
Generally held at the same time as the Setagaya Tamagawa Fireworks Festival and attended by many guests. Given frequent weather changes increasingly occurring in the summer, the event was rescheduled to fall in 2018. The venue lets you see the impact and hear the sound of fireworks up close and in person, enjoying the amazing synchronization of music and explosions. A total of 6,000 fireworks are launched.
Kawasaki City Tamagawa Fireworks
[Date]Generally held in early October (6:00-7:00 PM)
[Place]Takatsu-ku, Kawasaki: Tamagawa river terrace
〈Directions〉Take Tokyu-Denentoshi Line to Futakoshinchi Station; 15 minutes' walk from there/or, take Tokyu Den-en-toshi Line to Takatsu Station; 25 minutes' walk from there
[Hosted by]Kawasaki City, Kawasaki Tourism Association, and Takatsu Tourism Association
[TEL]044-200-3939(Thank You Call Kawasaki)
[URL]http://www.k-kankou.jp/fireworks/
Outline of the event
Place

Tama River riverbed

"Kawasaki Municipal Commemorative Tamagawa Fireworks Festival" Venue

<Access> About a 15-minute walk from "Futako-shinchi Station" on the Tokyu Denentoshi Line

About the facility Access