Artistic performance by one of Italy's leading baroque ensembles rejoins Japan
県民共済プラザビル Date: 2019.10.01
37 days to hold
「Venice Chamber Concert」
(Please note that this page was created using Google's automatic translation service and understand that because of this, its translation may not necessarily be accurate.)
The name of the group is Interplete Venetiani in Italian. The ensemble was founded in 1987, sponsored by the leader Paolo Konolato, and this year marks the 32nd anniversary of its formation.
With over 300 concerts a year in Venice, it continues to attract 80,000 audiences, but every time there is a new "discovery". It is a classical ensemble that takes on the true Venetian tradition but has a new and unique interpretation.
Since 2012, GCP (Galileo Culture Planning), the cultural activity division of BVEST Co., Ltd., has hosted the world-renowned Baroque Chamber Orchestra and Venice Chamber Concert, represented by Vivaldi's "Four Seasons" in Italy. I'm invited from Venice. They perform 300 concerts a year, and 300 seats are filled every day at the San Vitale Church in Venice, the home hall of Venice. Such an amazing group will come to Japan for a week from October 1st to 6th. This year, on October 1st, we decided to perform at the Kanagawa Prefectural Kyosai Hall. We are proud to tickle the sound of participants and promise a fascinating time. I would like to greet the concert hall as if I was in my home country with the venue full. There is no doubt that you are impressed. It should give the highest joy to the citizens of Yokohama and everyone living nearby.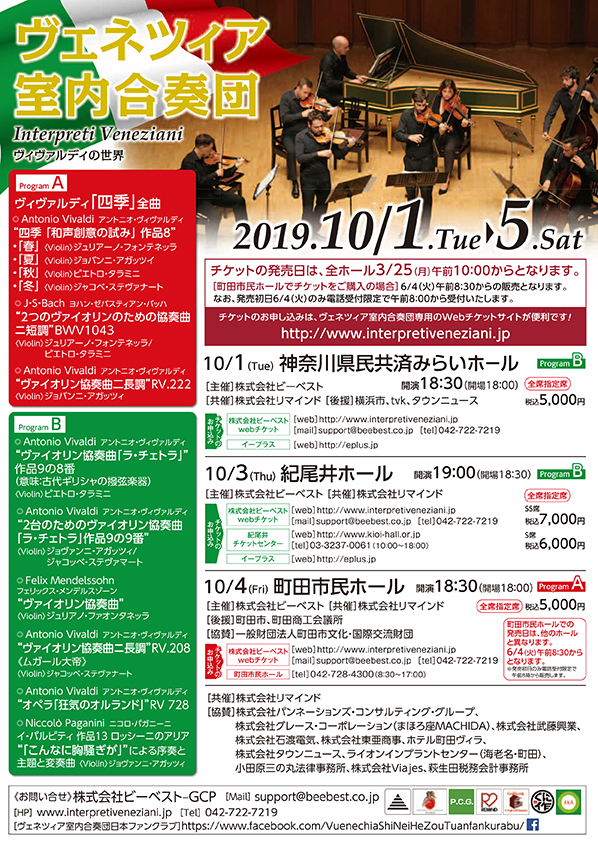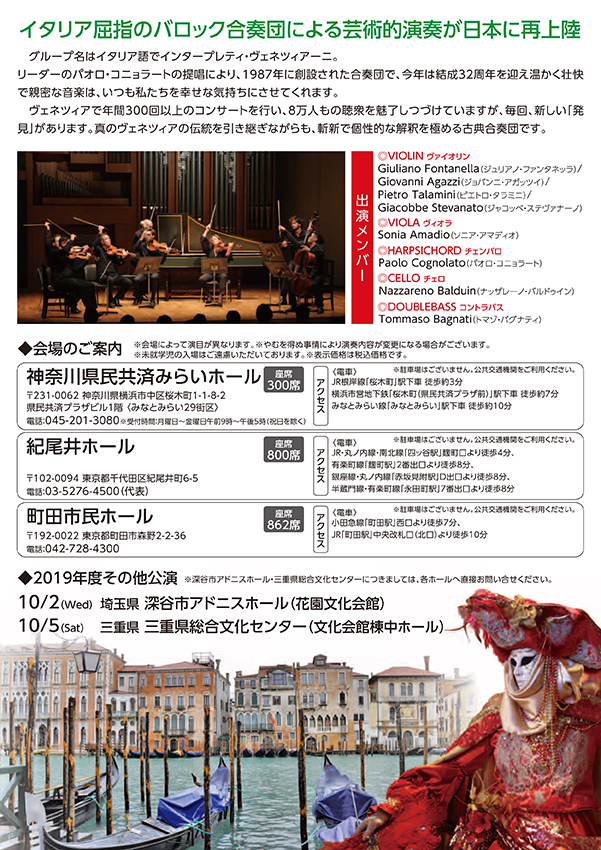 08080; "> Venice Chamber Orchestra Concert
[Date] October 1 (Tuesday) 18: 30- (18:00 open)
[Venue] Kanagawa Prefectural Community Hall
[Cast] Venice Chamber Orchestra
[Song] Antonio Vivaldi: "Violin Concerto" La Chetra "" No.8, "Violin Concerto for Two" La Chetra "No.9 No.9, Felix Mendelssohn:" Violin Concerto " , Antonio Vivaldi: "Violin Concerto in D major" RV.208 "Mughal the Great", "Opera" Orlando of Madness "RV728, Nicolo Paganini: Introduction, Theme, and Variations
[Price] (All seats reserved) ¥ 5,000
[Ticket sales]
■ Bbest Co., Ltd. Click here for online reservations! TEL.03-3237-0061 (10: 00-18: 00) * You can also apply by email below.
■ Click here for e-plus online booking!
[Organizer] B Best Co., Ltd.
[TEL] 03-3237-0061 (10: 00-18: 00)
[MAIL] support@beebest.co.jp
Place

Prefectural common sense plaza building
There are prefectural co-op rais halls on the 1st floor, and the wedding hall Merveille on the 4th to 7th floors.

Shop / Place name

Prefectural common sense plaza building

Detail >

Address

1-1-8-2 Sakuragicho, Naka-ku, Yokohama-shi, Kanagawa Prefecture Public Housing Cooperative Plaza Plaza Building

Prefectural common sense plaza building

TEL

0120-045039

Business Hour

9: 00-18: 00

Map