Art and photography Courses / Workshops
2019.05.24
Are there any boundaries between youkai and humans? This summer, there will be a large collection of "Kawan funny" youkai in Kawasaki City!
KAWASAKI CITY MUSEUM Period: 2019.07.06-2019.09.23
Ends in 0 days
「Yokai / Human From Fantasy to Real」
(Please note that this page was created using Google's automatic translation service and understand that because of this, its translation may not necessarily be accurate.)
Youkai have been feared by people, causing phenomena that cannot be explained by science since ancient times. Not only a mysterious phenomenon, but also the existence of a variant has been compared to a youkai. It is a youkai that has long been recognized as an existence beyond human wisdom, but since the Edo period, people have sometimes been humorous through publications such as Tokuyama Ishien's "Painting Hundred Nights". Has been loved by On the other hand, as science and technology develops in the modern age, the desires and fears created by humans become more obvious than the invisible beings like youkai. In the Meiji Era, the fear of human work was emphasized by two external wars, the Sino-Japanese War and the Russo-Japanese War.
In this exhibition, the horror and awe of people from early modern times to modern times are changing from ghosts to humans – from fantasy to another. Pay attention to the line, and trace from about 100 collections in the Civic Museum.
《Exhibition composition》
Chapter 1 Are you scared? interesting? Youkai
"Yokai" is known to cause strange phenomena as a supernatural existence and to give fear and anxiety to humans. At the same time, it has been loved by people as a mysterious existence in nature and familiar things. In the early modern times, it was commonly called "monster", and a variety of youkai were created to give people various fears, anxiety, and sometimes good luck. In the Edo period, when the publishing culture flourished, Toshiyama Toshiyama's "Drawing Hyakuki Hyakuyo" was published in 1776, and the appearance of youkai gradually became standardized. Here are a number of youkai that have been loved by people as scary and drowning as a character that has both fear and humor.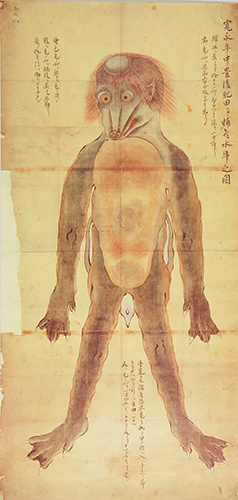 KaneiAnnual Bungo-Hita Nitte Kite Water Torano Map >> Edo Period Kawasaki City Museum
Chapter 2 The boundary between youkai and humans
Sometimes, youkai appear in front of people as something that distorts or disciplines humans. Its characteristics can be seen from the appearance of demons appearing as satires in society in the appearances of demons appearing in hell picture scrolls and in Ukiyo-e in the Edo and Meiji periods. In addition, "ghosts" and "skeletons" that exist in the world of the dead also appear as part of the human figure. The boundary between "Yokai" and "Human" is explored from the characteristics of the existence between humans and youkai.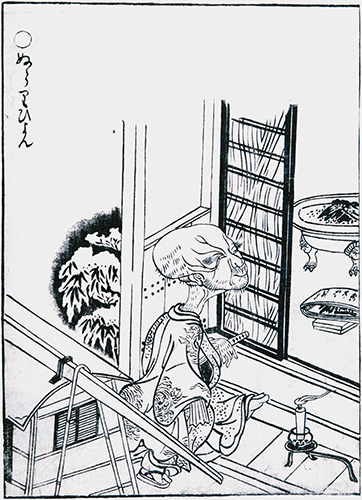 Toshiyama Toshiyama "Drawing Hundred Demon Night" 1776 (Yanaga 5) Paper-printed wood printing Insuri Kawasaki City Museum
Chapter 3 Human Scar
Yokai, which has long been regarded as a subject of people's anxiety and fear, or as a part of nature, will become one of the academic fields when it comes to modern times. Also, as science and technology developed, mysterious natural phenomena were elucidated, and in contrast, murder and war emphasized the inner surface of human beings and the fear of humans themselves. In the Meiji period, the Sino-Japanese War broke out in 1894, and ten years later, the Russo-Japanese War began. We trace the fear of "human", centering on war Nishiki-e, which records the times of turbulence.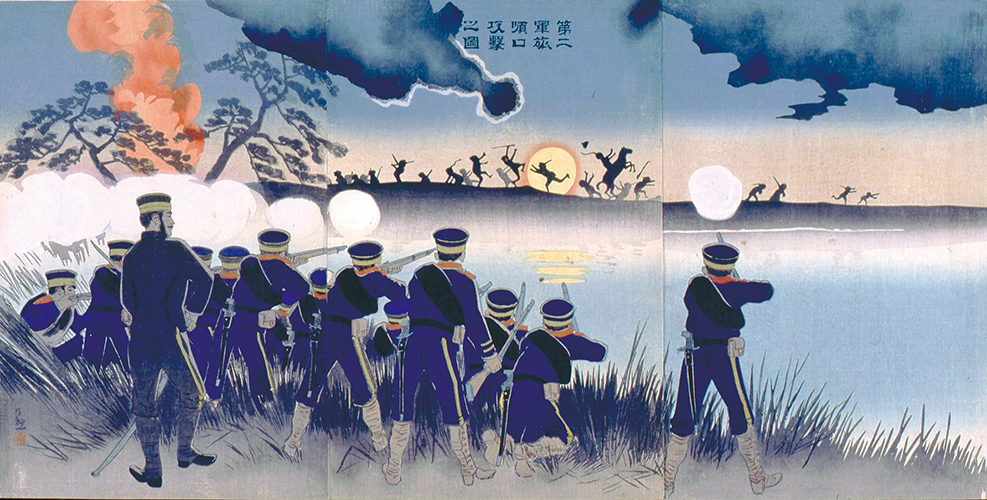 Kobayashi Kiyochika 《Second Army Journey to the Second Order Attack》 1894 (3rd year of Meiji 27) Kawasaki Municipal Museum Collection an>
"The highlight is here !!"
① All the youkai-related materials from the Citizen Museum, including Ishi Toriyama's "Drawing Hundred Nights"!
② Exhibition of works related to the Sino-Japanese Russo-Japanese War with a focus on Nishiki War!
③ A special mummy of the specter "Kudan" held by Hirokazu Kihara, the ghost story writer!

Yoshitoshi Tsukioka << Figure of New Thirty-Six Kaikai Kazunoha Kitsune Doji >> 1890 (Meiji 23) Large size Nishiki-e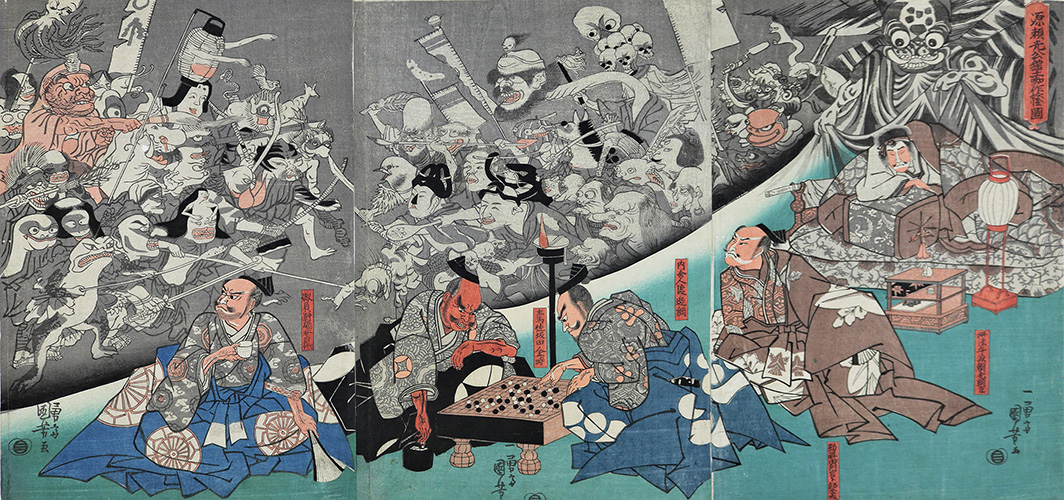 Utagawa Kuniyoshi "Yoritsu Kogyokan Tokusaku Yokai Figure" circa 1843 (Tempo 14) Three large-sized Nishiki-e paintings Kawasaki Municipal Museum Collection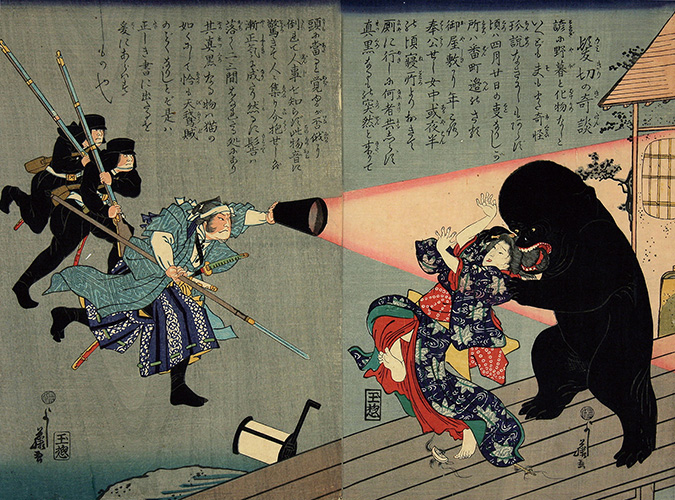 Yoshifumi Utagawa "Haircutting Strangeness" 1868 (Meiji 1) 2 large-sized Nishiki-e paintings Kawasaki City Museum
/wp-content/uploads/2019/05/youkai_10.jpg "alt =" "width =" 679 "height =" 500 "/>
Yoshitoshi Tsukioka 《Hundred Night Tour》 1865 (Keio Gen) 2 large-size Nishiki-e series Kawasaki City Museum
Yokai / Human From Fantasy to Real
[Date] July 6th (Sat)-September 23rd (Mon / Holiday) 9: 30-17: 00 (Last admission 30 minutes before closing)
* Opens until 19:00 on Saturdays (July 20th, 27th, August 3rd, 10th, 17th) during the summer vacation period (entrance is 30 minutes before closing)
[Venue] Kawasaki Municipal Museum Special Exhibition Room 2
[Closed] Monday, July 16 (Tuesday), August 13 (Tuesday), September 17 (Tuesday) * However, July 15, August 12, September 16, September 23 The day is open.
[Price] General ¥ 200, 65 years old and over, high school student ¥ 150, free for junior high school students and below, free for those with disabilities and other caregivers
[Organizer] Kawasaki City Civic Museum
[TEL] 044-754-4500 (9:30 to 17:00 excluding closed days)
* Please check the official website of Kawasaki City Civic Museum for details and the latest information.
* Held at the same time !! If you are viewing the special exhibition " The World of Kobatotsukan " (7/6 (Sat)-9/8 (Sun)), "From Youkai / Human Fantasy to Real" You can see it for free !!
Click here for related events!
0; "> ● Hirokatsu Kihara Ghost talk talk show
This is a ghost story by Hirokatsu Kihara, known as the author of "New Ear Bag".
Sunday, August 11 from 14:00 to 15:30
Venue: 1F Video Hall / Capacity: 270 people / Need to view tickets / First-come-first-served basis * Opening 30 minutes before
● Yokai Shadow Picture Scroll
This is a video experience workshop where you draw an animation that captures your shadow as a video.
September 7 (Sat) 13: 00-16: 30
Venue: 3F Hands-on learning room / Price: 500 yen (including materials and insurance premiums) / Capacity: 10 groups, 20 people / Target: Elementary school students and above (elementary school students are accompanied by parents) / Application required in advance from event page (lottery)
Application period: July 23 (Tue)-August 22 (Thu)
● Art appreciation workshop with the visually impaired
Regardless of whether there is a disability or not, participants will enjoy the work together while exchanging words.
Sunday, September 22 13: 00-15: 00
Venue: 2F Planning Exhibition Room 2 / Price: 500 yen / Viewing ticket required / Capacity: 7 people / Advance application required from event page (lottery)
● Japanese movie masterpiece selection ghost story feature
① "Banmachi Sarayashiki Ogiku and Harima" (Daiei / 1954/92 min / Monochrome / Director: Daisuke Ito)
② "Mysterious Shamisen" (Emerging Kinema / 1938/73 min / Monochrome / Director: Akihiko Ushihara)
July 17 (Wednesday), 24th (Wednesday), 31st (Wednesday) 1) From 10:30 to 2) From 14:00
Venue: 3F Mini Hall / Price: Free / Capacity: 40 people per day / First-come-first-served basis
● Stroller tour
August 1 (Thursday) 14: 00- (about 30 minutes)
Venue: 2F Planning Exhibition Room 2 / Capacity: 6 groups / Target: 0 to preschoolers and their guardians / Viewing tickets required / Advance application required from event page (lottery)
Application period: June 23 (Sun)-July 23 (Tue)
"> ● Gallery talk by the curator
July 13th (Sat), August 17th (Sat), 31st (Saturday) 14: 00- / August 3 (Sat) 17: 00- * To extend the opening hours
Venue: 2F Planning Exhibition Room 2 / Tickets required / Direct to the venue on the day
The Kawasaki City Civic Museum is a museum and art museum complex that opened in November 1988 with the basic theme of "city and people". We are developing various businesses such as lectures and workshops, including permanent and special exhibitions and regular screenings of videos. Furthermore, facilities such as gallery spaces and training rooms are rented out for use in cultural activities of the local community.

Address

1-2 Todoroki, Nakahara-ku, Kawasaki City, Kanagawa Prefecture

TEL

044-754-4500

Business Hour

[Opening hours] 9: 30-17: 00 (Last entry 30 minutes before closing) [Closed] Mondays (open on holidays), holidays (open on Saturdays and Sundays), year-end and New Year holidays

Map