Theater / Dance
2019.07.06
Swans that are too powerful! Addicted to watching! Comedy and ballet only for men!
Kanagawa Kenmin Hall Date: 2019.09.29
Until: -117 days
「Trocadero de Monte-Carlo Ballet 2019 Japan Tour」
(Please note that this page was created using Google's automatic translation service and understand that because of this, its translation may not necessarily be accurate.)
The world's genuine authenticity! The original comedy ballet "Trocadero de Monte-Carlo Ballet" for men is coming to Kanagawa Prefectural Hall. Even on a classic classic ballet, you'll witness a number of scenes that would not be possible with a normal ballet on their stage, which was born out of the desire to be able to enjoy everyone's heart without shoulders and elbows. The ballet men's bold and sincere challenge to ballerina's fairy-like image is as "real ballet" and "real comedy". If you like ballet, or if you're new to ballet, it's a must-see entertainment from New York! The Trocadero de Monte-Carlo Ballet.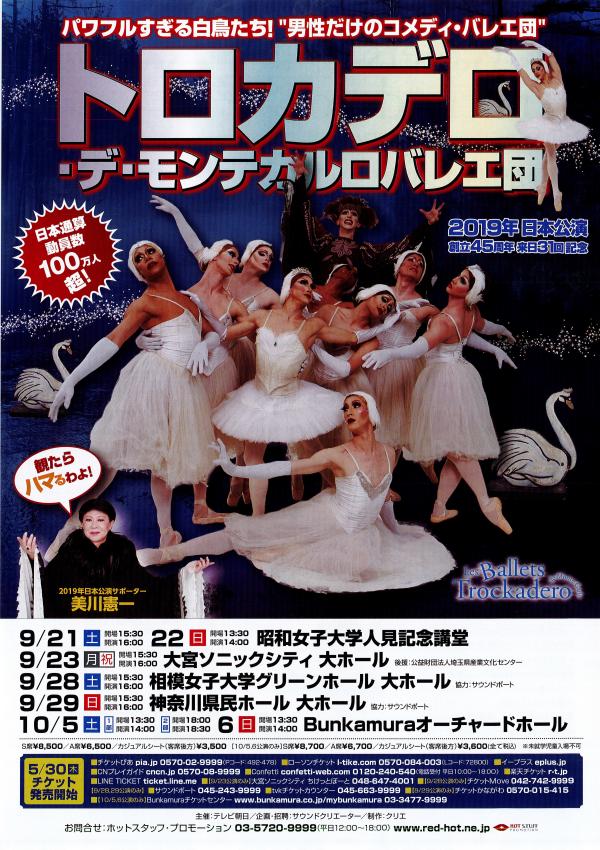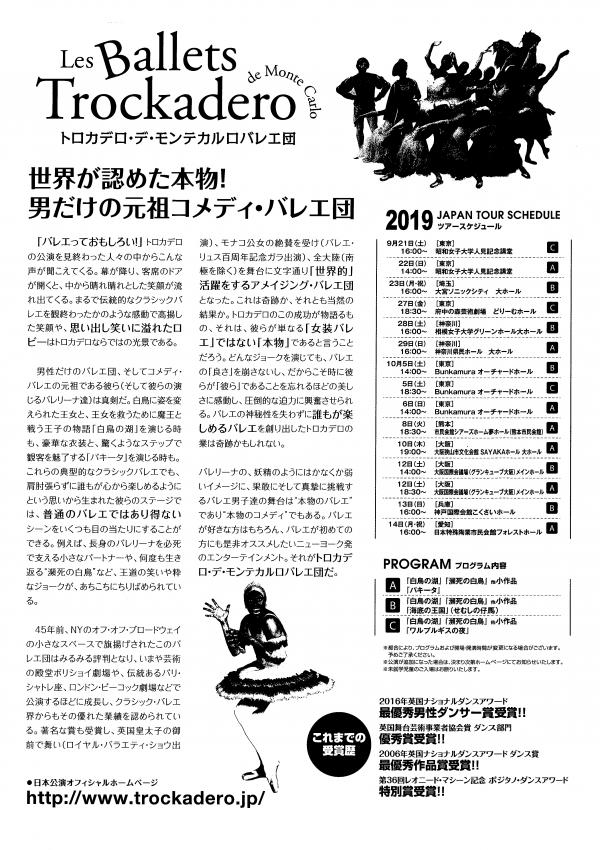 Trocadero de Monte-Carlo Ballet 2019 Japan Tour
[Date] September 29 (Sun) 16:00-(15:30 Open)
[Venue] Kanagawa Prefectural Hall Large Hall
[Cast] Trocadero de Monte-Carlo Ballet
[Price] (All seats specified) S seat ¥ 8,500, A seat ¥ 6,500, casual seat ¥ 3,500
[Organizer] Sound Port
[Ticket Sales] Ticket Kanagawa WEB reservationrts.or.jp/tc/detail?id=36049#.XR3X8S2KVJw">Click here !! TEL.0570-015-415 (10: 00-18: 00)
[Inquiry] 045-243-9999 (sound port)
* Click here for the official website of Kanagawa Prefectural Hall!
* Please refrain from entering preschool children.
In 1975, in a privileged environment such as Yamashita Park, Yokohama Port and Chinatown, it was born as one of the largest large-scale cultural facilities in Japan, and a space familiar with world-class music, performing arts, and art. We hold a variety of performances, centered on artists active in the world, and work to create and promote art and culture.

Address

Kanagawa Prefecture Yokohama City Naka-ku Yamashita-cho 3-1

TEL

045-662-5901

Business Hour

Opening hours: 9: 00 ~ (Closed time depends on performance)

Map