Photo Art and photography
2019.08.20
Japan's first solo exhibition of Finnish designer Kai Frank
The Museum of Modern Art, Hayama Period: 2019.09.21-2019.12.25
Ends in 69 days
「Japan-Finland diplomatic centennial commemoration 30 years after death Kai Frank KAJ FRANCK-GEOMETRY」
(Please note that this page was created using Google's automatic translation service and understand that because of this, its translation may not necessarily be accurate.)
(TOP image) (from left) << 2744-12 cl >> << 2746 >> << 2718 en >> << 27449 cl >> Glass blown glass / Nutajarvi Glass Works / Tauno & Risa Tarna Collection photo by © Rauno Träskelin
Kai Frank (1911-1989), called "The Finnish Design Rabbit", is one of the best creators who brought many cores in 20th century design.
This exhibition will be Japan's first large-scale solo exhibition, the Finnish Glass Museum, Finland's only public glass research institution, and Tauno & Risa Tarna, who collects many products obtained directly from Kai Frank himself. This is an international traveling exhibition that is made up of collections and focuses on the geometrical modeling of the work. This exhibition, which is also Japan's first solo exhibition, will exhibit about 300 items, including products that are still well-known as long-sellers today, as well as glass works that are called art pieces.
In addition, when he came to Japan in the 1950s, he introduced the scenery of Japan and photographs of the people of Ichii, and the footprints of great designers who represented Finland and loved Japan. I will follow.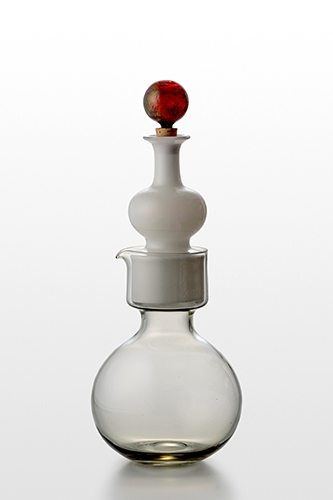 "Kremlin Bell KF500 / 1500" 1957–68 (1957) / Blown glass / Nutajarvi Glass Works / Tauno & Risa Tarna Collection photo by © Rauno Träskelin
ontent / uploads / 2019/08 / 96a528066f3fc69d5f8bc46355679cc2.jpg "alt =" "width =" 711 "height =" 500 "/>
Salt Shaker 1951 / Pottery / Arabian Pottery / Tauno & Risa Tarna Collection photo by © Rauno Träskelin
《Exhibition Highlights》
1. Japan's first solo exhibition of a Finnish designer
This exhibition will be an international traveling exhibition focusing on geometric modeling by Kai Frank, who was called "Conscience of Finnish Design" because he created many everyday products. Based on an exhibition held at the Finnish Glass Museum in 2018, this exhibition consists of the collection of the museum and a collection of Mr. Tauno Tarna, a designer who was deeply intimate with Kai Frank. 300 pieces will be exhibited, and representative works suitable for Japan's first solo exhibition will be introduced.
2. The first Japanese photo taken by Frank who loved Japan
Kai Frank has had a special interest in Japan since childhood and read books about Japan. In 1956, he fulfilled his long-awaited first visit to Japan and met many prominent craftsmen while visiting casual Japanese villages and potters and interacting with people and craftsmen living there. I paid attention to handwork and design. In this exhibition, we will carefully select and introduce precious photographs taken on the date and time of visit, and see the gaze that Kai Frank has poured into Japan.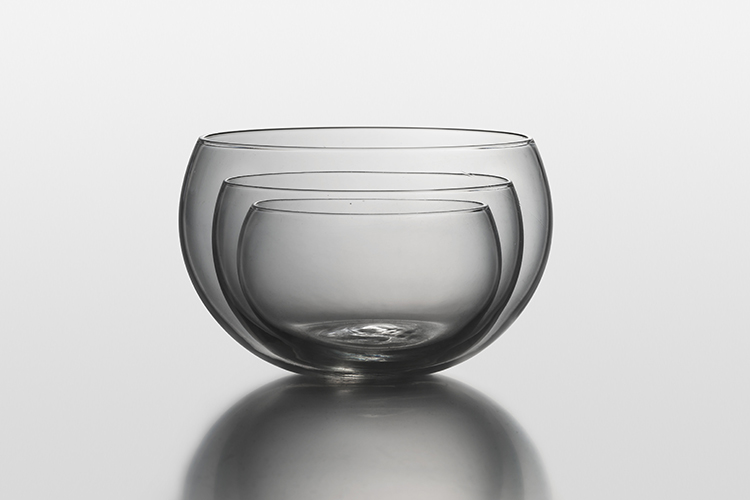 《1337》 Bowl Set 1955–61 / Blown Glass / NutajarVi Glass Works / Tauno & Risa Tarna Collection photo by © Rauno Träskelin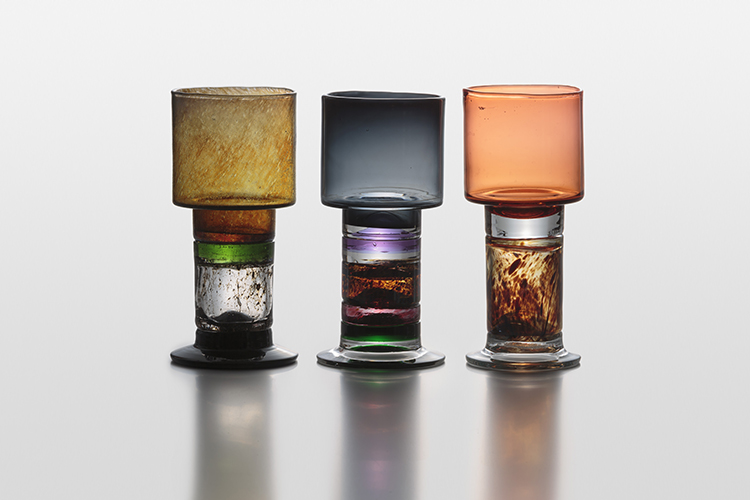 《KF486》 Goblet 1968–71 / Blown glass / Nutajarvi Glass Mfg./Tauno & Risa Tarna Collection photo by © Rauno Träskelin
Japan-Finland diplomatic centennial commemoration 30 years after death Kai Frank
KAJ FRANCK-GEOMETRY
[Date / Time] September 21 (Sat)-December 25 (Wed) 9: 30-17: 00 (last admission 16:30)
[Venue] Kanagawa Prefectural Museum of Modern Art Hayama
[Closed] Monday (open on September 23, October 14, and November 4)
[Price] General ¥ 1,200, under 20 years old, student ¥ 1,050, 65 years old and over ¥ 600, high school student ¥ 100, free for junior high school students and younger, handicapped person etc
[Organizer] Kanagawa Prefectural Museum of Modern Art, NHK Promotion
[Inquiries] 046-875-2800 (Kanagawa Museum of Modern Art, Hayama)
* If you are viewing the "Kai Frank" exhibition, you can also view the collection exhibition "Music to play sounds and to see colors" on the same day with the ticket for the exhibition.
* Free opening date: November 3rd (Sunday / Holiday) "Cultural Day", you can see the exhibitions that are being held for free.
* Family communication days (1st Sunday of each month: October 6, November 3, December 1) Family discount with children under 18 years old (excluding those over 65 years old) SeeI can. On the same day, it will be "Open Communication Day", a day for enjoying conversations.
* Please contact us for other discounts.
Hayamakan was completed in March 2003 as the third building of the Museum of Modern Art, Kanagawa, and opened in October. In addition to an exhibition room that changes the ceiling height and lighting environment, there are various facilities such as an art library room that aims to be a base for collecting and transmitting information, an auditorium with audiovisual equipment, and a collection of storage technology. It is an art museum equipped. You can use the entrance hall, courtyard, restaurant, museum shop, garden, and the art library room on the first basement floor without viewing fee so that you can get close to the museum in your life.

(Photo 2 / Hayamakan Restaurant) © Norihiro Ueno
(Photo 3 / Hayamakan Entrance) Kijuro Yahagi ©

Address

2208-1 Hayamacho, Miura-gun, Kanagawa

TEL

046-875-2800 (Representative)

Business Hour

9:30 to 17:00 (Last admission 16:30) [Closed] Mondays (but open on public holidays and transfer holidays), exhibition change period (however, restaurants and parking lots are open except Mondays), year-end and New Year holidays

Parking Area

Existence (capacity 48, total 2 for disabled people, 3 buses total) [Paid parking lot business] 8: 30-18: 00 (last entry 16:30) * Please check the price on the museum website .

Average Usage

[Viewing fee] (collection exhibition) General ¥ 250, under 20 and student ¥ 150, 65 years old and over ¥ 100, high school student ¥ 100 * The exhibition fee for the exhibition varies depending on the exhibition. * "International Museum Day" and "Cultural Day" are specially open for free.

Map