Art and photography
2019.08.09
Monet, Cezanne, Picasso. Modern art meets great masters
POLA MUSEUM OF ART Period: 2019.08.10-2019.12.01
Ends in 45 days
「Syncopation: Century Masters and Contemporary Art」
(Please note that this page was created using Google's automatic translation service and understand that because of this, its translation may not necessarily be accurate.)
(TOP image) Celeste Bursier-Mujno "Crinamen v.2" 2013
Polyvinyl chloride sheet, pump, heating device, ceramic
Installation view: Center Pompidou-Metz
© Céleste Boursier-Mougenot Photo: Rémi Bertrand
This exhibition introduces a wide range of collections, including paintings, sculptures, and Oriental ceramics from the Pola Museum of Art, along with the works of artists who are active at the forefront of contemporary art. This is the first full-scale exhibition focused on contemporary art writers since its opening in 2002. The Pola Museum of Art, which has been working with the works of masters such as Monet and Picasso, has expanded its outlook to contemporary expression and takes a new step.
The exhibition title "Cincopation" is a technique that deliberately shifts the rhythm in music and gives expressions and tension to the music. Various expressions by contemporary artists, such as installations, sounds, images, outdoor exhibitions, photographs, paintings, etc. that spread throughout the entire space, shed light on contemporary masters' works that transcend eras and borders. It brings various rhythms that shake our sense of living.
The Pola Museum of Art held in the bounty of nature has sought "symbiosis between nature and art" and has been aiming to regain the connection between the two. The expression of past and present in art should not be cut off, but should continue to create new relationships. The time and rhythm contained in the collections meets contemporary expression and creates a new sound in the rich nature of Hakone.
"The highlight here!"
1. First Pola Museum of Art An exhibition of contemporary art
Exciting works of contemporary artists, including many new works, resonate richly with modern masters Monet, Cezanne, Picasso paintings, Rodin sculptures and more.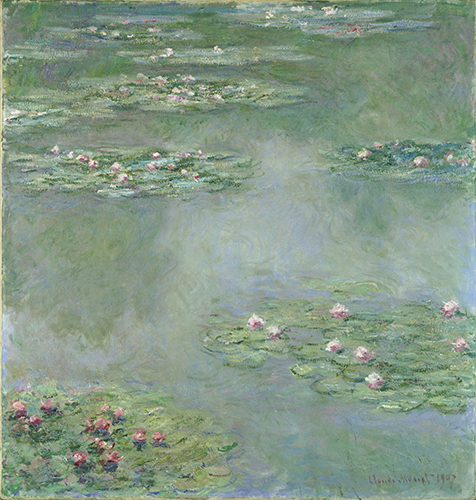 Claude Monet 《Water Lilies》 1907 Oil on canvas
2. Art to experience
In addition to "seeing" such as large installations, video works, and sound works, you can experience and enjoy art.
3. An outdoor installation that appears in the nature of Hakone
Susan Phillips, the leading artist of sound art, has developed a new installation of "Sound" on the forest trail. Fantastic tones produced after staying in Hakone reverberate in the forest.


Oliver Beer 《Devils》 (partial) 2017 16 vessels, sound equipment
Fallinden Museum of Art (Wasesner, Netherlands)
Image courtesy of the artist and Galerie Thaddaeus Ropac
style = "color: # 808080;"> © Oliver Beer Photo: Stephen White
syncopation
syncopation:
Century masters and contemporary art
[Date and time] August 10 (Sat)-December 1 (Sun) 9:00 to 17:00 (last admission is 16:30)
* Open all day
[Venue] Pola Museum of Art
[Exhibitors] Oliver Beer, Abdelkadel Banshanma, Celeste Brusier Mujuno, Candida Hafer, Gentaro Ishizuka, Hiroshi Sugaya, Alicia Kwade, Susan Phillips, Prinz Goram, Wolfgang Tillmans, Yutaka Watanabe, Yokomizo Stillness
[Price] Adult ¥ 1,800, senior discount (65 years old and over) ¥ 1,600, university / high school student ¥ 1,300, free for junior high school students and younger
[Organizer] Pola Art Foundation, Pola Art Foundation
[Inquiry] 0460-84-2111
The Pola Museum of Art was opened in Hakone, Kanagawa in 2002, with the concept of "Harmony's symbiosis between nature and art". The collection of the Pola Museum of Art has been collected over 40 years by Tsuneji Suzuki, the second generation of the founder of Pola. 10,000 points. Hakone's nature and landscape-conscious buildings are 8 meters above the ground, and many of the buildings are placed underground and melt into the forest. In July 2013, we opened a promenade to enjoy the rich nature of Fuji Hakone Izu National Park. In the forest where beech Himeshara grows, you can enjoy nature walks together with art works.

The largest collection of Western paintings centered on Impressionism such as Monet and Renoir is Japan's largest. Despite being in a tourist spot called Hakone, you can relax and enjoy authentic artwork. One of the special points is that the lighting in the exhibition room is set at "Dusk of Paris in July" so that impressionist works can be enjoyed beautifully. In addition, you can renew the original goods and the course menu of the restaurant according to the theme of each special exhibition, so that you can enjoy it without getting tired even if you visit every exhibition or season. Please spend a time to touch abundant collection and work of artist playing an active part in the present age in architectural space full of light.

Address

1285 Otsukayama, Sengokuhara, Hakone-machi, Ashigarashimo-gun, Kanagawa

TEL

0460-84-2111

Business Hour

[Opening hours] 9:00 to 17:00 (Last entry is until 16:30), open all year round (There are temporary closures for exhibition changes)

Credit Card

Available (VISA, MASTER, JCB, AMEX, Diners, UnionPay)

Parking Area

Yes

Average Usage

[Admission fee] Adult ¥ 1,800, University / High school student ¥ 1,300, Junior high school students and younger: Free * Please check the official website for details such as usage fees.

Map