Other Courses / Workshops
2019.09.13
Guide to Kunio Maekawa Design, Prefectural Music Hall! Approximately 60 minutes full-course architecture tour
神奈川県立音楽堂 Date: 2020.03.20
31 days to go
「Maekawa Architecture Tour in Ongakudo」
(Please note that this page was created using Google's automatic translation service and understand that because of this, its translation may not necessarily be accurate.)
The Kanagawa Prefectural Ongakudo, which is regarded as a masterpiece of postwar modernist architecture designed by Kunio Maekawa, is full of charm in the building itself. In order to convey such charm, we decided to start an "architectural tour" with the renewal opening. The tour guide is a volunteer group called bridge, whose motto is "Building bridges between things and people." We will guide you to a music hall full of unknown things and things.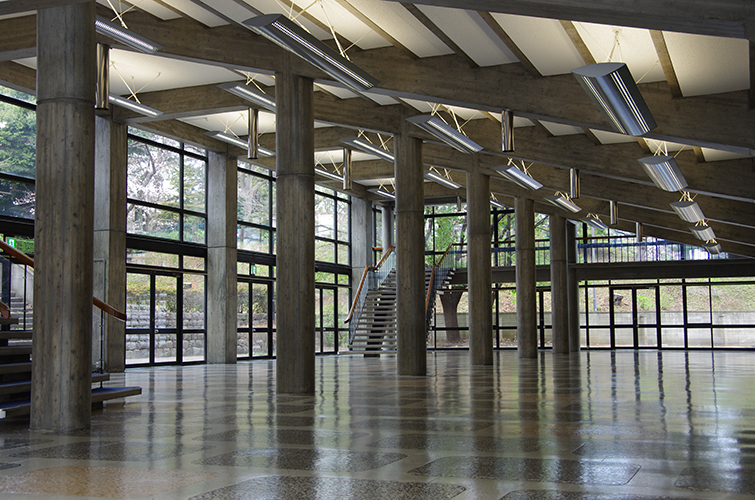 About Kanagawa Prefectural Music Hall ...
Kanagawa Prefectural Ongakudo opened in 1954 as the first full-scale concert hall dedicated to music in Japan as a public facility. The hall designed to give the best acoustic effect, modeled on the Royal Festival Hall in London, was acclaimed as "The Best Sound of the East" at the time of opening, and the sound has been highly evaluated both domestically and overseas. You. The walls of the hall are all made of wood, and its acoustic sound continues to impress people even now, with its 65th anniversary. In 1998, it was selected by the Ministry of Construction as one of the "100 Best Public Buildings" by the Ministry of Construction as an excellent public facility rooted in the area. In addition, in 1999, DOCOMOMO (Docomomo) (International organization established to record and preserve the building and environment involved in the movement).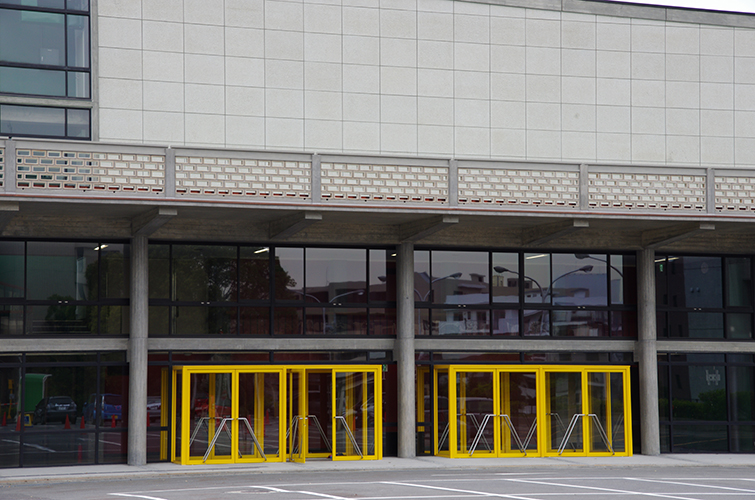 February 20, 2020 (Thursday) 10:00-Start accepting applications !!
Maekawa Architecture Tour in Ongakudo
[Date and time] March 20, 2020 (Friday / holiday) (tour tour full course / duration: about 60 minutes) * Time undecided (will be described later after decision)
[Venue] Kanagawa Prefectural Music Hall
[Tour guide] Volunteer group bridge
[Participation fee] ¥ 500 (including data fee and insurance fee / advance application required) * Please pay on the day of the tour.
[How to apply] Advance application is required (tour application starts 1 month before the date of the event). The application method is a special application form (first come first served) or postcard (lottery).
■ If you use postcards, please fill out the required information below and apply. One postcard per application is required. (If you wish to participate in more than one, apply for each participant.) After the lottery, only the winner will be contacted.
《Necessary items》 1. (Required) Participation desired date, 2. (Required) Participant name (Furigana), 3. (Required) Age, 4. (Required) Postal code / address, 5. (Required) Phone number ( No. during the day), 6. (Optional) Inquiries
《Application》 先 9-2 Momijigaoka, Nishi-ku, Yokohama 220-0044, Kanagawa Prefectural Music Hall
《Application deadline》 Valid for arrival at Ongakudo on Friday, February 28, 2020
* Only winners will be notified by March 10 (Tue).
[Organizer] Kanagawa Prefectural Music Hall (Designated Manager: Kanagawa Arts Foundation)
[Inquiry] 045-263-2567 (Kanagawa Prefectural Ongakudo Business Section / 9: 00-17: 00, closed on Mondays)
* Please note that the tour contents are for adults only.
* Besides climbing up and down stairs, depending on the tour, you may pass through places with bad feet, so please participate in shoes that are easy to walk.
* Participation in a wheelchair is possible, but please note that some places may not be available for tour.
* The personal information provided at the time of application will not be used for any purpose other than this project.
Kanagawa Prefectural Ongakudo opened in 1954 as the first full-scale music hall in Japan as a public facility. The hall designed to give the best acoustic effect, modeled on the Royal Festival Hall in London, was acclaimed as "The Best Sound of the East" at the time of opening, and the sound has been highly evaluated both domestically and overseas. You. The walls of the hall are all made of wood, and its acoustic sound continues to impress people 60 years after its opening. In 1998, it was selected by the Ministry of Construction as one of the "100 Best Public Buildings" by the Ministry of Construction as an excellent public facility rooted in the area. In addition, in 1999, DOCOMOMO (Docomomo) was designated as an important cultural heritage of the 20th century. (International organization established to record and preserve the building and environment involved in the movement).

Address

9-2 Momijigaoka, Nishi-ku, Yokohama, Kanagawa Prefecture

TEL

045-263-2567

Business Hour

It depends on the performance. [Reception hours] 9: 00-17: 00 (Ticket window 13: 00-17: 00) [Closed days] In principle, every Monday and New Year holidays (12 / 28-1 / 4)

Map