Theater / Dance musics
2019.09.13
Japan premiere !! Nobel Prize writer Yasunari Kawabata x Academy Award composer Desplat!
神奈川県立音楽堂 Date: 2020.01.25
131 days left
「The 65th Anniversary Music Hall Chamber Opera Project Borderless Chamber Opera / Kawase Yasunari's 120th Anniversary "Silence"」
(Please note that this page was created using Google's automatic translation service and understand that because of this, its translation may not necessarily be accurate.)
(TOP image) Alexandre Desplat / Solley © Aurélie Lamachère
Filmmaker Maestro Desplat is based in Luxembourg
The world's best modern music ensemble,
Written for Ensemble Lucillin
A new borderless opera!
Based on Yasunari Kawabata's short story "Mutoku", the film music master Alexandre Desplat (known for "Harry Potter and the Deathly Hallows", "The British King's Speech", etc.) and won the Academy Award for "Shape of Water" ) Was the first opera that was fully written. The world premiere in Luxembourg in February 2019 and the performance in Paris in March premiered in Japan. Inspired by the production of Desplat, performed by the ensemble of Luxembourg, "Ensemble Lucillen", known by Japanese fans for contemporary musical expressions, and costumes by Valentino's creative director Pier Paolo Pitcholi, active in France Please look forward to the video that Nagata Tetsuo served as the director of photography, and the "stage to watch now" where top artists of all genres gathered.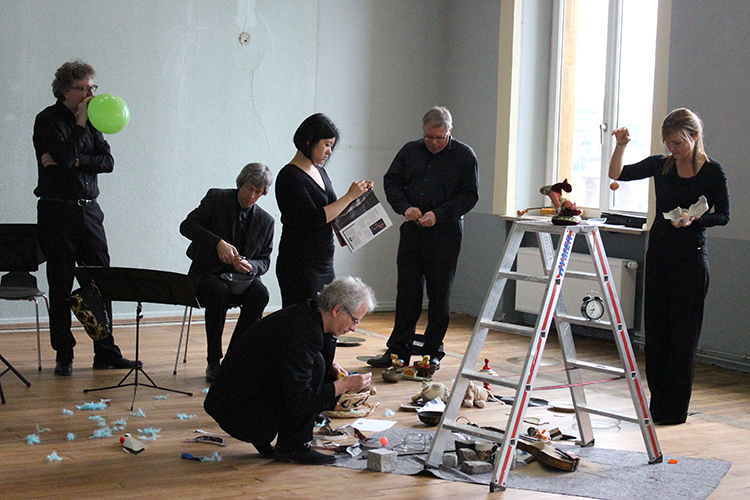 Ensemble Lucillin © Emile Hengen
g "alt =" "width =" 707 "height =" 1000 "/>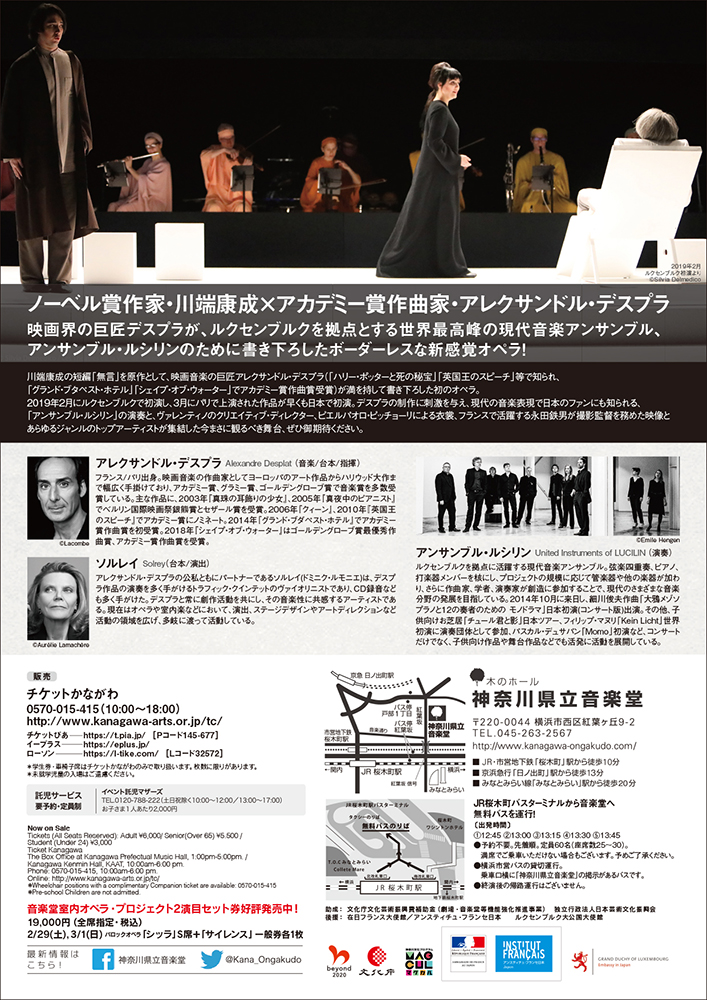 September 7th (Sat) 10: 00 ~ Tickets will be on sale!
The 65th Anniversary Concert Hall Opera Project
Borderless chamber opera / 120th anniversary work of Yasunari Kawabata's birth
"silence"
(French performance / Japanese subtitles) Japan premiere
[Date / Time] January 25, 2020 (Sat) 14: 00- (13:30 opening)
[Venue] Kanagawa Prefectural Music Hall
[Original] Yasunari Kawabata "Mute"
[Music and Conductor] Alexandre Desplat
[Script] Alexandre Desplat / Solley
[Director] Solley
[Performance] Ensemble Lucillin
[Price] (All seats reserved) General ¥ 6,000, Silver (65 years old and over) ¥ 5,500, Student (under 24 years old) ¥ 3,000
* Wheelchair seats available (free for 1 accompanying person).
■ Music Hall Chamber Opera Project 2 Performance Set Ticket ("Silence" general ticket + "Silla" S seat combination ¥ 19,000 / finished as soon as the planned number is reached)
[Ticket sales]
■//www.kanagawa-arts.or.jp/tc/detail?id=36015#.XW3RYy2KVJw">Ticket Kanagawa TEL.0570-015-415 (10: 00-18: 00)
■ Ticket Pia (P code: 145-677) TEL.0570-02-9999
■ Eplus
■ Lawson Ticket (L code: 33166) TEL.0570-084-003
[Organizer] Kanagawa Prefectural Music Hall (Designated Manager: Kanagawa Arts Foundation)
[Inquiries] 045-263-2567 (Kanagawa Prefectural Music Hall / 9: 00-17: 00, closed on Mondays)
* Please refrain from entering preschool children. There is daycare service.
* Tickets cannot be refunded or changed due to changes in performers, etc.
■ Daycare service
Childcare fee: ¥ 2,000 per child, deadline: Advance reservation required one week before the performance. Inquiries: 0120-788-222 (except Mothers / Saturdays, Sundays, and holidays, 10: 00-12: 00, 13: 00-17: 00)
Kanagawa Prefectural Music Hall opened in 1954 as the first full-fledged music hall in Japan as a public facility. The hall, which was designed to give the best sound effects, modeled on the Royal Festival Hall in London, was highly acclaimed as "The Sound of Toyo" at the time of its opening. The The walls of the hall are all made of wood, and its acoustic sound continues to impress people even after 60 years since its opening. In 1998, it was selected by the Ministry of Construction as one of the "100 Best Public Architectures" as an excellent public facility rooted in the region. It was selected as one of "20 Modern Movement Architectures in Japan" by an international organization established for the purpose of surveying and preserving the records of building and environment related to the movement.

Address

9-2 Koyogaoka, Nishi-ku, Yokohama-shi, Kanagawa

TEL

045-263-2567

Business Hour

It depends on the performance. [Reception hours] 9:00 to 17:00 (Ticket counter 13:00 to 17:00) [Closed days] As a general rule, every Monday and New Year (12/28 to 1/4)

Map