Theater / Dance musics
2019.09.13
Biondi and Europa Galante reopen the legend at the Music Hall!
神奈川県立音楽堂 Period: 2020.02.29-2020.03.01
11 days to go
「65th Anniversary Concert Hall Chamber Opera Project Handel "Silla" All 3 Acts Conductor Fabio Biondi Europa Galante」
(Please note that this page was created using Google's automatic translation service and understand that because of this, its translation may not necessarily be accurate.)
World premiere of Biandi and Europa Galante performing the stage version of the handmade opera "Silla". At the peak of Handel's early career, known as "Messiah," the best known singer in the early music world will present an unknown masterpiece called "Biondi", the culmination of Handel's beautiful music. Five years since the enthusiasm for the music hall "The oracle of Messenia". In addition to directing a strong relationship of trust, directed by Tadashi Miroku, Cool Japan Productions presented by up-and-coming creators, and performances only at the Kanagawa Prefectural Music Hall. Do not miss it!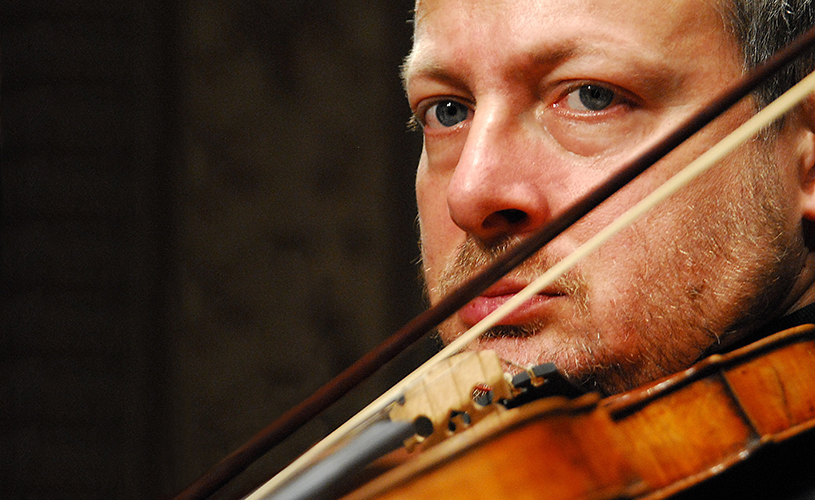 Fabio Biondi © Emile.Ashley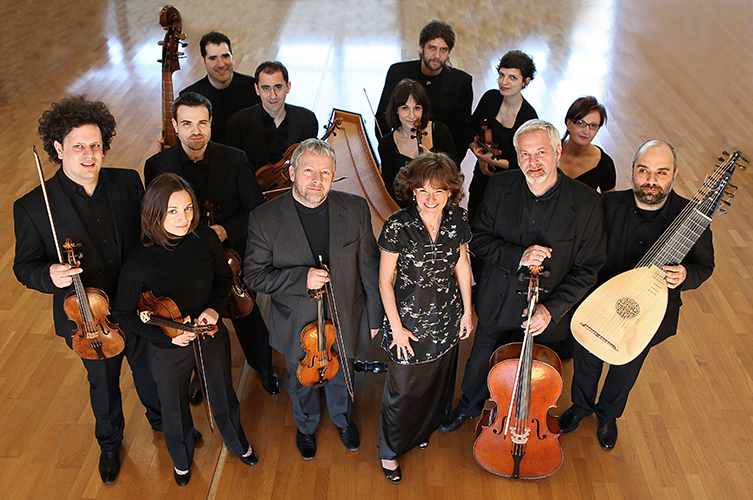 Europa Galante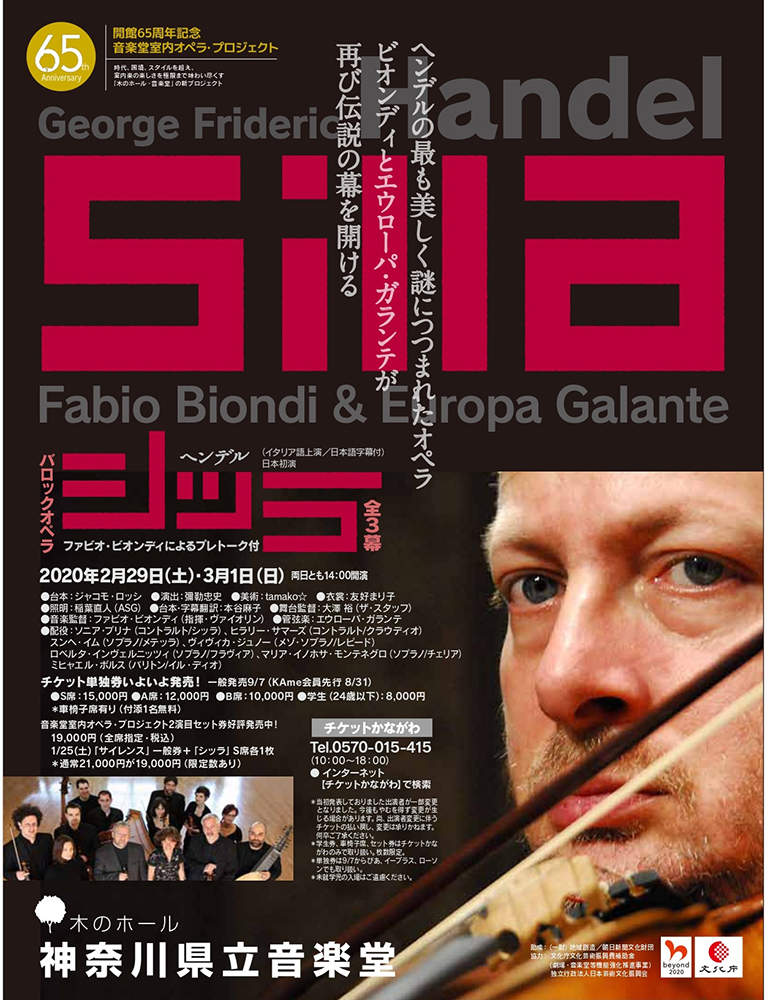 September 7 (Sat) 10:00-Ticket general release!
65th Anniversary Concert Hall Concert Hall Opera Project
Handel "Silla" All 3 Acts
Fabio Biondi Conductor Europa Galante
(Italian / with Japanese subtitles) Premiered in Japan * Two breaks
[Date] February 29 (Sat) and March 1 (Sun), 2020, 14:00 each day (13:30 opening)
[Venue] Kanagawa Prefectural Music Hall
[Music director] Fabio Biondi (conductor, violin)
[Orchestra] Europa Galante
[Performers] Scilla: Sonia Plina (Contrat), Claudio: Hilary Summers (Contralto) *, Meterra: Sunhe Im (soprano), Lepid: Vivica Juno (mezzo soprano), Flavia: Roberta Invernitzi ( Soprano), Celia: Maria Innojosa Montenegro (soprano) *, God: Michael Bors (baritone) *
(*) Some of the performers announced earlier have been changed. No refunds or changes to tickets due to performer changes will be accepted. Humbly thank you for your understanding.
[Director] Tadashi Miroku
[Script / subtitle translation] Asako Motoya
[Stage Director] Yu Osawa (The Staff)
[Price] (All seats specified) S seat ¥ 15,000, A seat 2,00012,000, B seat ¥ 10,000, student (24 years old or younger) ¥ 8,000
* There is a wheelchair seat (attachment free for one person).
■ Musical Hall Indoor Opera Project 2 Performance Set Ticket (Combination of "Silent" General Ticket + "Silla" S Seat ¥ 19,000 / Ends when the scheduled number is reached)
[Ticket sales]
■ Ticket orNagakawa TEL.0570-015-415 (10: 00-18: 00)
■ Ticket Pia (P code: 145-683) TEL.0570-02-9999
■ Eplus
■ Lawson Ticket (L code: 32511) TEL.0570-084-003
[Organizer] Kanagawa Prefectural Music Hall (Designated Administrator: Kanagawa Arts Foundation)
[Inquiry] 045-263-2567 (Kanagawa Prefectural Ongakudo / 9: 00-17: 00, closed on Mondays)
* Please refrain from entering preschool children. There is childcare service.
■ About childcare services
Childcare fee: $ 2,000 per child, Deadline: Advance reservation required at least one week before the performance. Inquiries: 0120-788-222 (Mothers / excluding weekends and holidays, 10: 00-12: 00, 13: 00-17: 00)
Kanagawa Prefectural Ongakudo opened in 1954 as the first full-scale music hall in Japan as a public facility. The hall designed to give the best acoustic effect, modeled on the Royal Festival Hall in London, was acclaimed as "The Best Sound of the East" at the time of opening, and the sound has been highly evaluated both domestically and overseas. You. The walls of the hall are all made of wood, and its acoustic sound continues to impress people 60 years after its opening. In 1998, it was selected by the Ministry of Construction as one of the "100 Best Public Buildings" by the Ministry of Construction as an excellent public facility rooted in the area. In addition, in 1999, DOCOMOMO (Docomomo) was designated as an important cultural heritage of the 20th century. (International organization established to record and preserve the building and environment involved in the movement).

Address

9-2 Momijigaoka, Nishi-ku, Yokohama, Kanagawa Prefecture

TEL

045-263-2567

Business Hour

It depends on the performance. [Reception hours] 9: 00-17: 00 (Ticket window 13: 00-17: 00) [Closed days] In principle, every Monday and New Year holidays (12 / 28-1 / 4)

Map