Bach, Mozart, Gershwin ... feel more comfortable with organ music.
Kanagawa Kenmin Hall Date: 2019.11.03
Until: -82 days
「CD "JOY OF BACH" Japan Sales Memorial Keiko Nakata Organ Recital -JOY OF ORGAN-」
(Please note that this page was created using Google's automatic translation service and understand that because of this, its translation may not necessarily be accurate.)
Because it is a very solemn instrument, I think there are probably many people who feel the distance from the organ. Some may not want to go as casually as a piano or violin concert. Even more so if you think the classics themselves are expensive. While I think that the nobleness that is out of reach is attractive, I would like you to feel a little closer to this instrument without being bound by pre-established concepts, and to enjoy organ music easily.
Aside from the difficult rationale, I created a debut CD "Joy of Bach" with such feelings that I want you to enjoy purely organ music and Bach's favorite music. In this concert, in addition to Bach's work played on CD, I would like to play other composers' works, as well as songs that were not originally composed for the organ. I enjoyed playing myself and chose only songs that seemed purely fun. May it be time to enjoy the organ with everyone !!
--- Keiko Nakata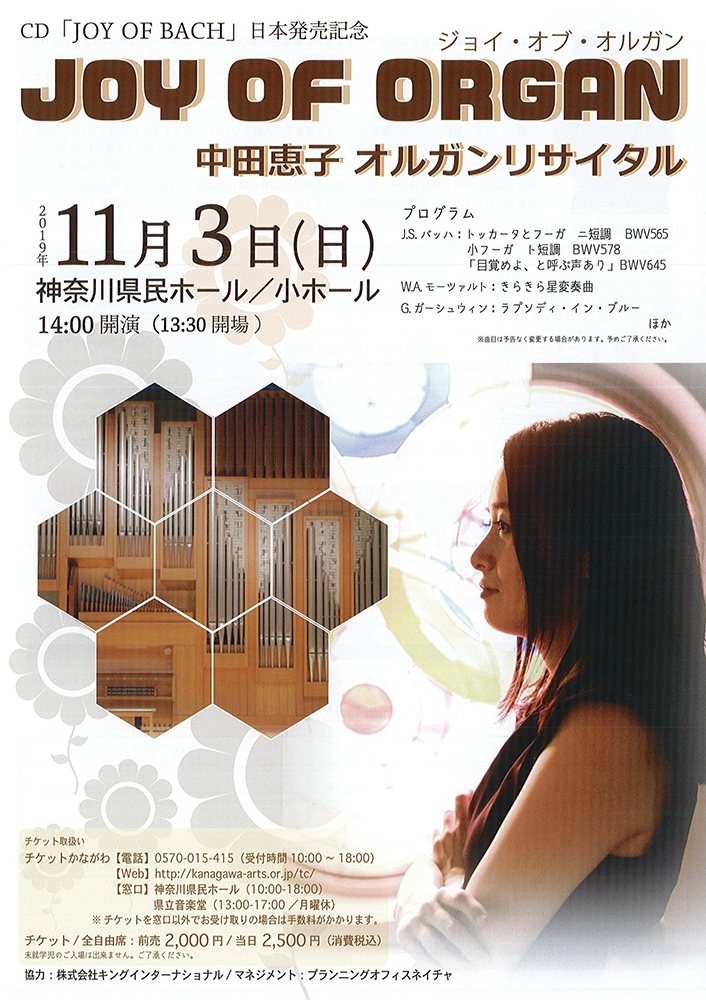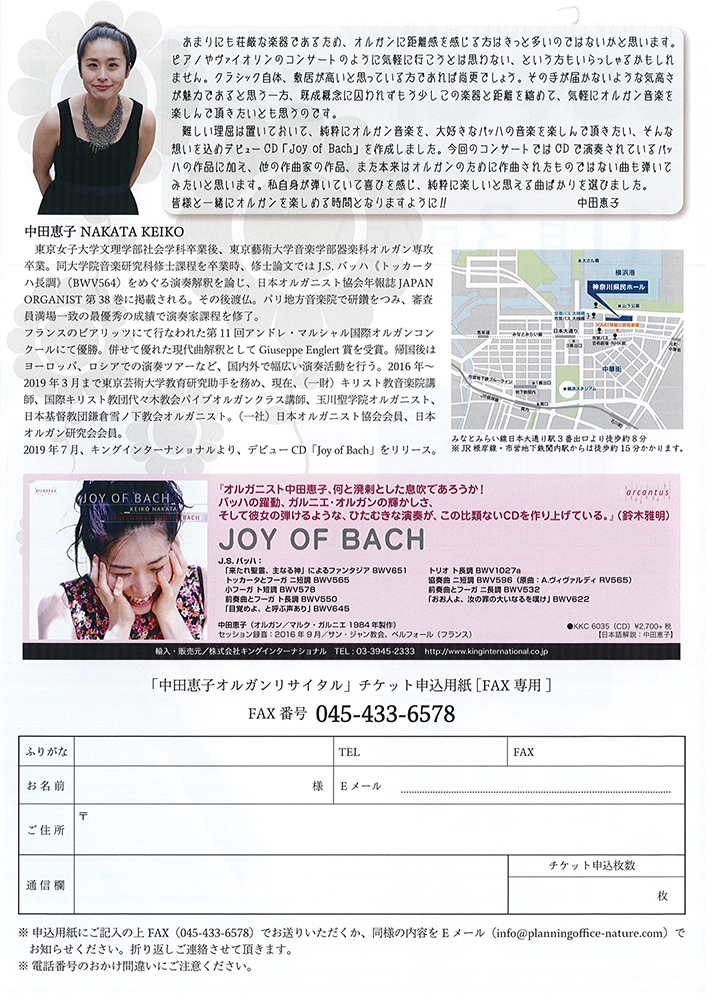 CD "JOY OF BACH" Japan sales commemoration
Keiko Nakata Organ Recital -JOY OF ORGAN-
[Date] November 3 (Sun / Holiday) 14:00-(13:30 Open)
[Venue] Kanagawa Prefectural Hall Small Hall
[Performers] Keiko Nakata (Organ)
[Song] J.S. Bach: Toccata and Fugue in D minor, BWV565, Minor Fugue in B minor, BWV578, "There is a voice to wake up" BWV645, WA Mozart: Variations on a glittering star, G. Gershwin: Rhapsody in Blue, etc.
* Tracks are subject to change without notice. Please note.
[Price] (All seats free) ¥ 2,000
[Organizer] Planning Office Nature
[Ticket sales] Ticket Kanagawa WEB reservation from here ! TEL.0570-015-415 (10: 00-18: 00)
[Inquiry] 045-433-6274 (Planning Office Nature)
* Please refrain from entering preschool children.
In 1975, in a privileged environment such as Yamashita Park, Yokohama Port and Chinatown, it was born as one of the largest large-scale cultural facilities in Japan, and a space familiar with world-class music, performing arts, and art. We hold a variety of performances, centered on artists active in the world, and work to create and promote art and culture.

Address

Kanagawa Prefecture Yokohama City Naka-ku Yamashita-cho 3-1

TEL

045-662-5901

Business Hour

Opening hours: 9: 00 ~ (Closed time depends on performance)

Map