traditional culture
2019.09.18
"Rakugo-kai, where you can wear sandals" will be featured by Ichinosuke Harukatei!
Komyo-Ji Date: 2019.11.02
Until holding: -155 days
「The 19th Zaimoku Rakugo Association」
(Please note that this page was created using Google's automatic translation service and understand that because of this, its translation may not necessarily be accurate.)
Takuza Rakugo Association, based in Kamakura and Zaimaza, is based on the motto "Rakugokai that can be worn with sandals." This is the 19th anniversary of a meeting to laugh together from children to adults in the majestic Komyoji main hall. Appearance is master Ichinosuke Harukatei. This is his third appearance. Please enjoy the fun rakugo of Ichinosuke Takumi, who is very active not only in rakugokai, but also on TV and radio, in the main hall of the temple.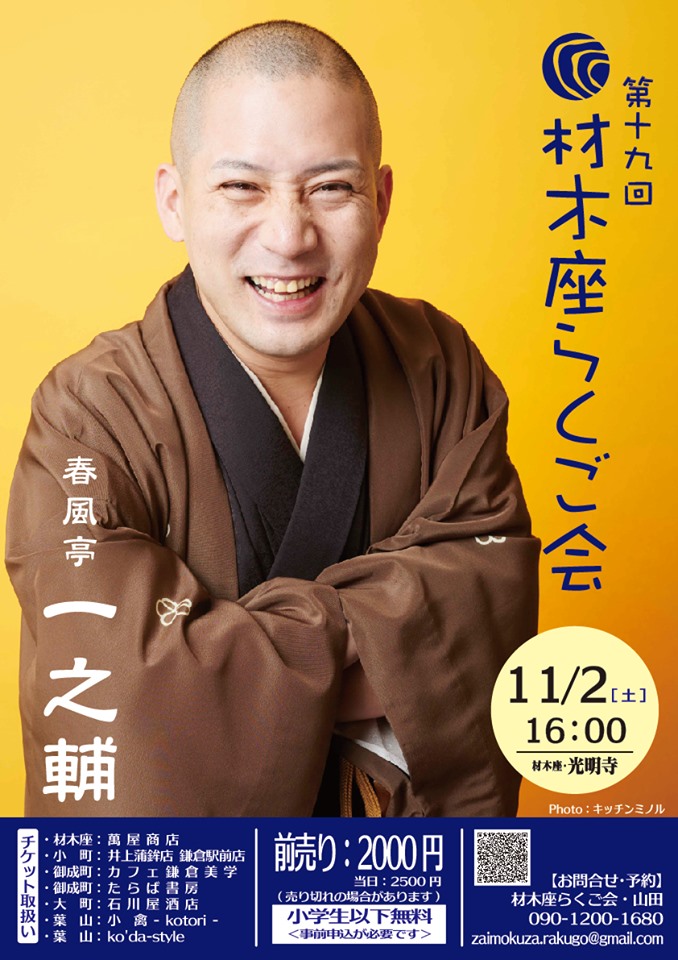 The 19th Zaimoku Rakugo Association
[Date] November 2nd (Sat) 16: 00-17: 30 (Scheduled / 15: 30 opening)
[Venue] Komyoji Main Hall
[Appearance] Ichinosuke Shunfutei
[Price] ¥ 2,000 in advance, ¥ 2,500 on the day, free for children under elementary school age (advance application required)
[Ticket sales]
■ Ticket dealers ... Manya Shoten (Zamukiza), Inoue Kamaboko Kamakura Station (Komachi), Cafe Kamakura Aesthetics (Onari-cho), Taraba Shobo (Onari-cho), Ishikawa liquor store (Omachi), Kotori- (Kotori-) Hayama), ko'da-style (Hayama)
■ E-mail reservation + bank transfer e-mail (zaimokuza.rakugo@gmail.com)
[Inquiry] 090-1200-1680 (Tamukiza Rakugokai, Yamada)
Komyoji is a temple of the Jodo sect in Zaimokuza, Kamakura City, Kanagawa Prefecture. The temple is Omotoyama. The mountain name is called Amaterasu. The main god is Amida Nyorai.
Address

6-17-19 Zaimiza, Kamakura City, Kanagawa Prefecture

TEL

0467-22-0603

Business Hour

[Visit time] 6: 00-17: 00 (10 / 15-3 / 31 7: 00-16: 00)

Parking Area

10 cars (cannot park when there are events etc.)

Smoking

Non-smoking throughout
Map