Theater / Dance Courses / Workshops
2019.09.24
Watch, participate, and experience the appeal of improvised dance! Stay-type participation is also OK!
若葉町ウォーフ Period: 2019.10.09-2019.10.14
-Ends in 130 days
「Wakaba Town Wharf Project [Improvement Dance II] Mud Body Wind Body Tree Body」
(Please note that this page was created using Google's automatic translation service and understand that because of this, its translation may not necessarily be accurate.)
The second part of the Wakabacho Wharf Improv Dance, which follows the "Snow Falling on Fools" held in New Year, is the three pillars of "Workshop", "Dance Improjam" and "Improvement Performance". Unlike the choreography work, the dancer's own accumulation and experience is expressed in a straightforward manner, and the appeal of improvisational dance that approaches the dancer's own existence is deeper and more widely understood through "seeing" and "participating". I want to create an opportunity to have Invite Indonesian Ivan Altajal 伝 統 (traditional instrument) and Bagus Mazaspa (keyboard) to enjoy their live performances and the dance expressed here. There is also a special "stay type participation" where you stay at the wharf and participate.
"workshop"
Workshop participants can participate in the improv jam. (Preferred staying participants up to the first seven applicants)
[Performers] Makoto Matsushima (performer), Sadaho Minami (contemporary dance)
《Improvement》
The intention is to create a new dance expression that is born out of music, space, and relationships with others without dare to set a pre-set theme.
[Performers] Makoto Matsushima (Performer), Sadaho Minami (Contemporary Dance), Hiroyo Kitao (Contemporary Dance), Mikiya Takeda (Contemporary Dance), Ivan Altajaru (Traditional Musical Instruments), Bagus Mother Spa (Keyboard)
《Improvement performance》
"The body of the mud, the body of the wind, the body of the tree" An improvised work spun by solo and duo by three performers of different genres who are experienced in dance.
[Performers] Makoto Matsushima (Performer), Keiko Takeya (Contemporary Dance), Yasuhiko Takeuchi (Dance), Ivan Altajaru (Traditional Musical Instruments), Bagus Mother Spa (Keyboard)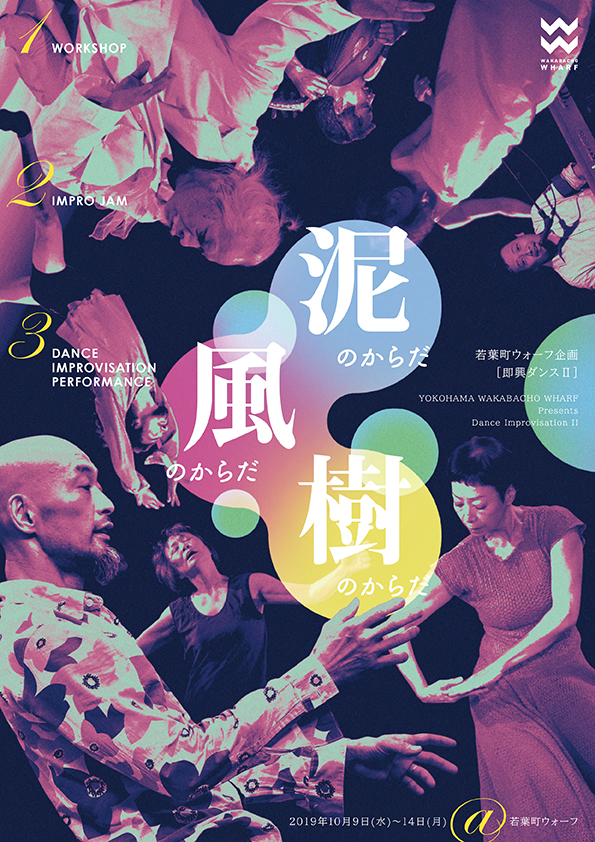 9167 "src =" https://magcul.net/wp-content/uploads/2019/09/3622754aa45b65b549fce6daf1fb9573.jpg "alt =" "width =" 595 "height =" 842 "/>
Wakaba Town Wharf Planning
[Improvement Dance II]
The body of the mud The body of the wind The body of the tree
[Date] October 9 (Wed)-14 (Mon / Holiday)
■ Wednesday, October 9 << workshop (Sadaho Minami) >> from 13:00 to 17:00
■ 10/10 (Thu) 《Workshop (Sadaho Minami)》 13: 00-17: 00 / 《Improvement》 19: 00-20: 00
■ October 11 (Fri) << Workshop (Matsushima Makoto) >> 13: 00-17: 00 / << Improvement Performance >> 19: 00-20: 00
■ 10/12 (Sat.) 《Workshop (Matsushima Makoto)》 10: 30-14: 30 / 《Improval Jam》 16: 00-17: 00
■ Sunday, October 13 << improvisation performance >> from 16:00 to 17:00
■ 10/14 (Mon./holiday) "Improvement performance" (+ Improvement) 16: 00-17: 30
[Venue] Wakabacho Wharf
[Fee]
《Workshop participation fee》 One-time ticket ¥ 3,500, Two-time ticket ¥ 6,000, Three-time ticket ¥ 9,000, Four-time ticket ¥ 11,000
《Performance Ticket / Improval Jam》 General ¥ 1,500, Student ¥ 1,000
《Performance Ticket / Improvement Performance》 General ¥ 3,000, Student ¥ 2,000
《Stay type participation》 ¥ 28,000
[We will send you the workshop application / return application form] Wakabacho Wharf (Please apply by TEL, FAX or email below)
[Concert ticket application] dedicated <a style = "color: # 33cccc;" href = "https://www.quartet-online.net/ticket/inpro-dance2"> Please apply from the ticket reservation site.
[TEL] 045-315-6025
[FAX] 045-315-6027
[Email] info.wharf01@gmail.com
Yokohama downtown, Wakaba town. Become Isezaki-dori, beside the Ooka River, this is the wharf for those who cross the border. A 50-year-old building that preserves the Showa era, and a building that quietly tells the history of the town after its role has been recreated. "Accommodation isn't fun just at the inn," "Studio isn't fun just at the studio," "Theater isn't fun at the theater alone."

Theater with accommodation
Studio with theater
An inn with a studio

Is an arts facility that was born in 2017. There are theaters, studios, and accommodations that anyone can use.

Address

3-47-1 Wakaba-cho, Naka-ku, Yokohama-shi, Kanagawa

TEL

045-315-6025

Map