Other Art and photography
2019.10.25
An array of clay figurines, including unpublished works from the Okada Collection
Okada Museum of Art Period: 2019.10.05-2020.03.29
Ends in 110 days
「DOKI earthenware! Bronzeware exhibition on clay figurines-An ancient parade with babies」
(Please note that this page was created using Google's automatic translation service and understand that because of this, its translation may not necessarily be accurate.)
(TOP image) "Women with a cup of coffee" Women with cups "Kofun period 5th-6th century Okada Museum of Art
In this exhibition, about 80 ancient ceramics and bronze wares from Japan and China will be exhibited in one hall, and Persian pottery developed in exchange with China will be unveiled for the first time. Jomon pottery, born more than 10,000 years ago, was decorated with a variety of techniques, such as sticking clay strings and openwork, as well as Jomon patterns. There, you can find beauty that goes beyond cooking and storage. Unique clay figurines are also made at the same time, and are thought to have prayed for prosperity and fertility. The character Minowa, which has a simple look as opposed to a clay figurine, was created in the Kofun period (5th to 6th centuries) and was placed on the old tomb to reproduce the ritual. On the other hand, bronze ware of ancient China (around the 17th to 3rd centuries BC) is mainly used as a ritual to enshrine the spirits of its ancestors, highlighting its profound and tense modeling and precise patterns.
This time, as a unique attempt to store a wide range of Oriental art, there is also a corner for comparing Japanese and Chinese works. Compare the Jomon pottery and bronze ware, Minowa and Samurai (Chinese doll <Hitogata> sub-funeral) while paying attention to the shape and pattern. A variety of DOKI earthenwares, thinking in eternal time! Please feel
In addition, there are about 400 items including permanent paintings and ceramics such as Ito Wakatsuki.
"This is the highlight!"
◎ Ohada Museum of Art
Masterpieces including unpublished works gathered from the Okada Collection
◎ Watch the key points of appreciation = "patterns"!
Approaching the thoughts of ancient people
◎ A valuable opportunity to compare Japanese and Chinese masterpieces!
An exhibition corner unique to the Okada Museum, which houses a large number of Chinese art
6efd2e67f3206073c.jpg "alt =" "width =" 375 "height =" 500 "/>
"Fukabuchi-type pottery (fired pottery)" Middle Jomon period 3000 BC-2000 BC The Okada Museum of Art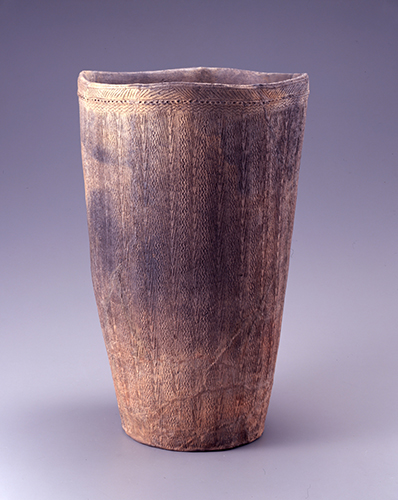 "Fukabuchi-shaped pottery" Early Jomon period 5000 BC-3000 BC The Okada Museum of Art
《Exhibition composition》
① "Jomon pottery, clay figure"
15 pieces of earthenware and clay figurines from the Jomon period including the first public exhibition
② "Minowa"
A healing world created by Minowa with simple expressions
③ "Let's compare Japan and China"
The first attempt at the Okada Museum to compare Jomon pottery and bronze ware
④ "Chinese ancient bronze ware, pottery, candy"
A collection of ancient collections from the Okada Museum of Art
⑤ Initial release! Persian pottery
11 Persian ceramics developed during the East-West exchange
⑥ "Japanese ware that Japanese painters loved"
Introducing Minowa drawn by Yasuharu Yamaguchi and Raku Maiko from the former collection of Yasuhiko Yasuda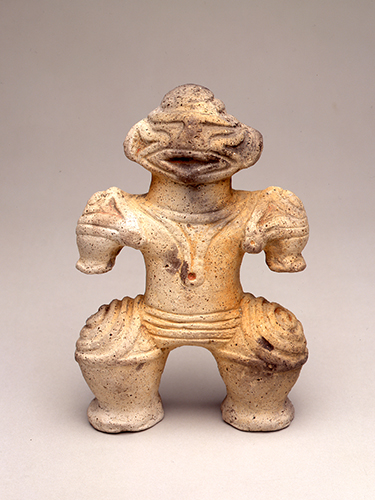 ""Dodo" Late Jomon Period 1000 BC-400 BC Okada Museum of Art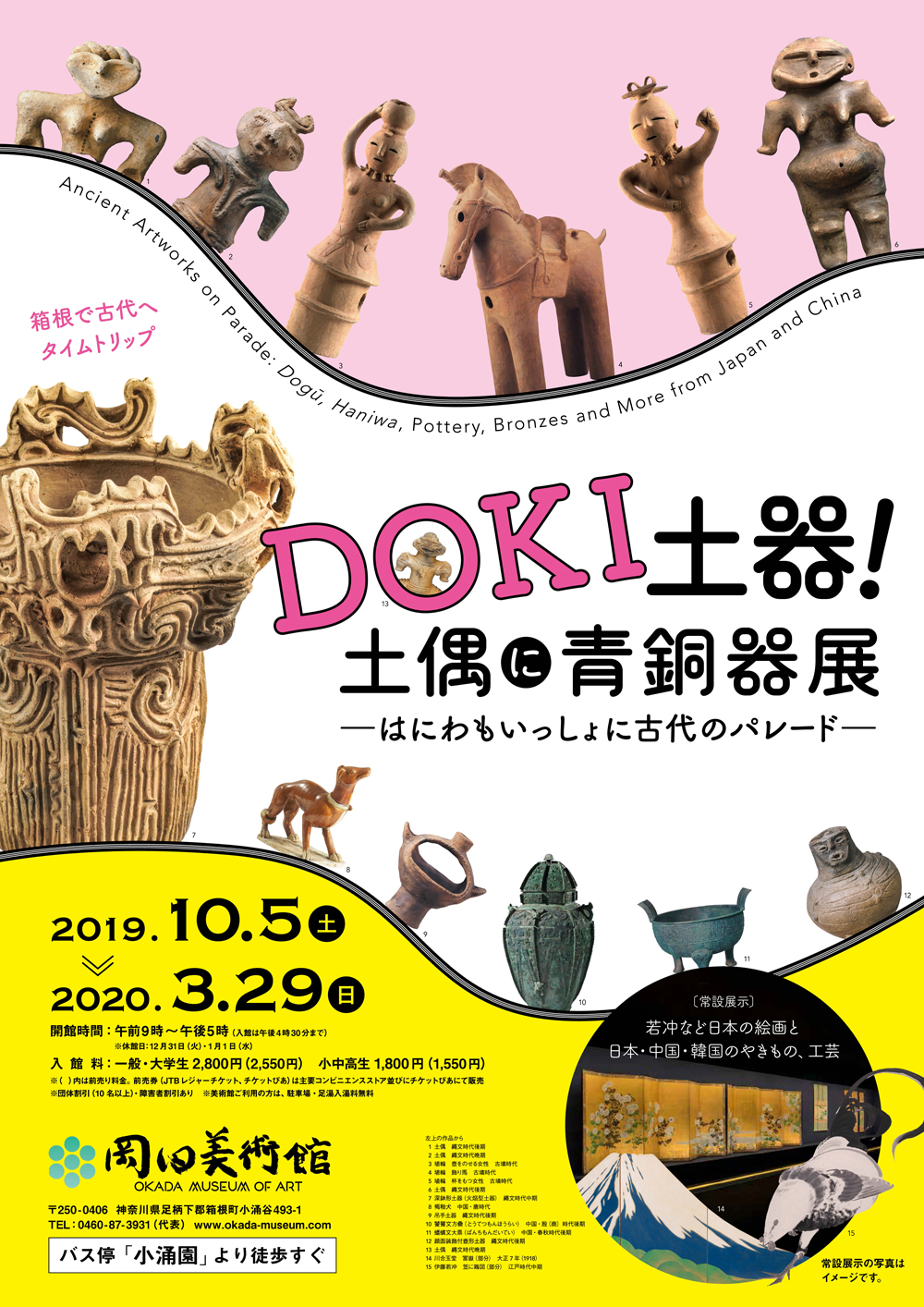 DOKI earthenware! Bronzeware exhibition for clay figurines
-An ancient parade with chickens
[Date / time] October 5 (Sat)-March 29, 2020 (Sun) 9:00-17:00 (Admission until 16:30)
[Venue] Okada Museum of Art
[Closed] December 31 (Tue), January 1 (Wed)
[Price] General / university students ¥ 2,800, elementary, middle and high school students ¥ 1,800
[Organizer] Okada Museum of Art
[Inquiries] 0460-87-3931 (Okada Museum of Art)
Check related events!
[Lecture]
● How to apply ●
Please tell us your name, number of people and contact information by phone (0460-87-3931). As soon as the capacity is reached, the application will be closed.
① The clay figure in the Jomon world
[Date] December 1st (Sunday) 13: 00-14: 30
[Venue] Okada Museum of Art 5F Hall
[Lecturer] Masayuki Harada (Chief Cultural Property Investigator, Arts and Culture Division, Agency for Cultural Affairs)
[Capacity] 80 people
[Participation fee] Free (Admission required)
② Fun of clay figurines and Minowa
[Date] Saturday, March 14, 2020, 13: 00-14: 30
[Venue] Okada Museum of Art 5F Hall
[Lecturer] Tadashi Kobayashi (Director, Okada Museum of Art)
[Capacity] 80 people
[Participation fee] Free (Admission required)
[Gallery Talk]
● AllApplication not required ●
◎ Gallery talk by Director Kobayashi
[Date]
October 17, 2019 (Thursday), November 7 (Thursday), 21st (Thursday), December 5 (Thursday), 19th (Thursday)
January 3rd (Friday), 15th (Wednesday), February 6th (Thursday), 20th (Thursday), March 5th (Thursday) and 19th (Thursday) 13: 30 ~
[Participation fee] Free (Admission required)
◎ Gallery talk by curator
[Date] Every Friday from October 18th (Friday) to March 20th 2020 (Friday / holiday) 11: 00 ~
[Participation fee] Free (Admission required)
The Okada Museum of Art opened in October 2013 in Hakone / Owakudani. Approximately 450 works of art such as ceramics and paintings from Japan and the Orient are on display at all times in the vast hall proud of Hakone's premier indoor exhibition area of 5 floors and approximately 5,000 square meters. The museum was conceived with the desire to carefully protect the artworks that have been handed down in Japan, share the joy of encountering beauty, and pass it on to the next generation. The front of the museum is a large mural of "Kaze Toki" (2013) drawn by contemporary Japanese painter Etaro Fukui, 12 meters long and 30 meters wide. After viewing, you can enjoy a 100% source-flow footbath cafe and a stroll in the garden.

Address

49-1 Owakudani, Hakone-machi, Ashigarashimo-gun, Kanagawa

TEL

0460-87-3931

Business Hour

[Opening hours] 9:00 to 17:00 (Last entry is at 16:30) [Closed] December 31 and January 1

Parking Area

Available (80, including 2 for disabled people). Parking fees are free for those using the museum.

Average Usage

[Admission Fee] General / University Students ¥ 2,800, Elementary / High School Students ¥ 1,800

Map