Subscription concert of the choir "Johan Sebastian Kammerkore Yokohama"
Kanagawa Kenmin Hall Date: 2020.01.26
2 days until the event
「Johann Sebastian Kammerkore Yokohama 95th Subscription Concert」
(Please note that this page was created using Google's automatic translation service and understand that because of this, its translation may not necessarily be accurate.)
We will hold the 95th regular concert. We ask that you listen to us.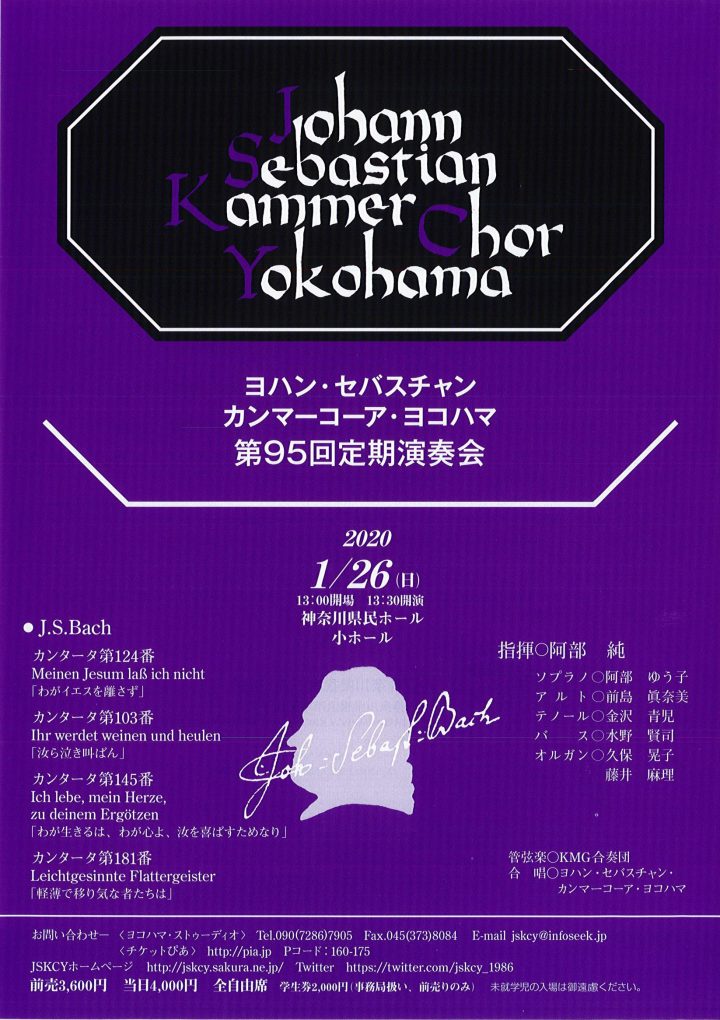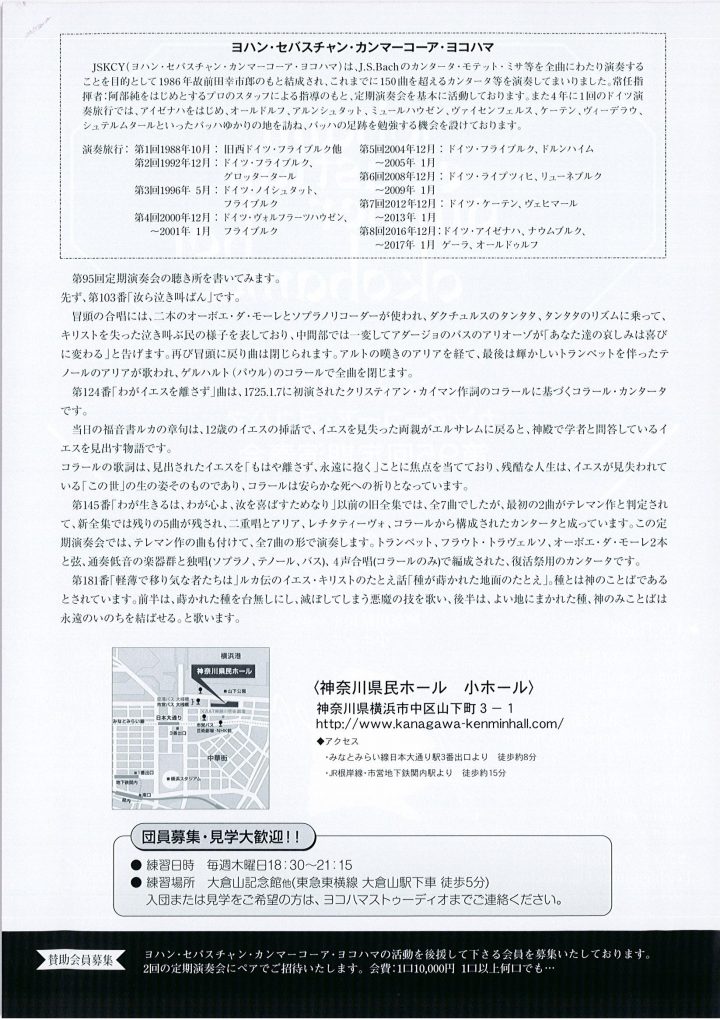 Johann Sebastian Kammerkore Yokohama
The 95th Subscription Concert
[Date] January 26, 2020 (Sun) 13:30-(13:00 opening)
[Venue] Kanagawa Prefectural Hall Small Hall
[Performers] Jun Abe (conductor), Yuko Abe (soprano), Manami Maejima (alto), Seiji Kanazawa (tenor), Kenji Mizuno (bass), Akiko Kubo (organ), Mari Fujii (organ), KMG Orchestra (Orchestra) ), Johann Sebastian Kammerkore Yokohama (choir)
[Song number] JS Bach: Cantata No. 124 "Keep my Jesus", Cantata No. 103 "Cry for you", Cantata No. 145 "My life is my heart, to please you" Cantata No. 181 Flirtatious and Moody
[Fee] (All seats are free) Advance ¥ 3,600 ($ 4,000 on the day), Student ¥ 2,000 (handled by the secretariat, advance only)
[Ticket sales]
■tps: //t.pia.jp/pia/ticketInformation.do? eventCd = 1935458 & rlsCd = 001 & lotRlsCd = "> Ticket Pia (P code: 160-175) TEL.0570-02-9999
[Inquiry] 090-7286-7905 (Yokohama Studio)
[MAIL] jskcy@infoseek.jp
In 1975, in a privileged environment such as Yamashita Park, Yokohama Port and Chinatown, it was born as one of the largest large-scale cultural facilities in Japan, and a space familiar with world-class music, performing arts, and art. We hold a variety of performances, centered on artists active in the world, and work to create and promote art and culture.

Address

Kanagawa Prefecture Yokohama City Naka-ku Yamashita-cho 3-1

TEL

045-662-5901

Business Hour

Opening hours: 9: 00 ~ (Closed time depends on performance)

Map